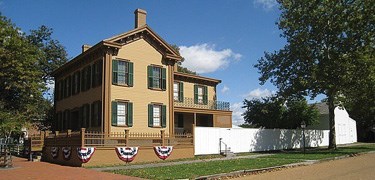 Welcome to the Neighborhood!
Follow in the footsteps of Abraham Lincoln as you explore the historic neighborhood surrounding his home of seventeen years. Restored to its 1860 appearance, the four-block area contains twelve historic structures dating back to Lincoln's time.

As you take a self-guided stroll through the neighborhood, you will find outdoor exhibits introducing Mr. Lincoln's neighbors and daily life in 1860s Springfield. The Dean House and the Arnold House are open to the public and contain exhibits on the Lincoln Home and the restoration and preservation of the neighborhood.

Take a Virtual Tour
Through a partnership with Google Arts and Culture, you can now take a virtual tour around the Lincoln neighborhood.