Traveling Trunk
Lincoln Traveling Trunk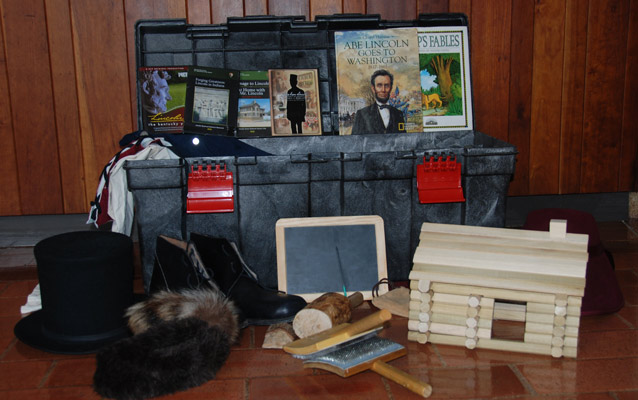 The trunks are available for loan to schools to provide an opportunity for students to explore the life of Abraham Lincoln from his birth in a log cabin, to his pioneer years as a boy, to his election as our 16th president. The trunks contain reproduction period items such as a writing slate, clay marbles, a log cabin model, clothing, curriculum guides, DVDs, and numerous other items representing Lincoln's Kentucky, Indiana, and Illinois years.
Borrowing Instructions
The trunks are designed so that teachers and students can receive hands-on educational materials and lesson plans delivered right to their door. The only cost associated with "borrowing" the trunk is the return postage at Library Rate (approximately $18-$20).

Traveling Trunk policies
Traveling Trunks can be reserved by calling the park. They are distributed on a first come, first served basis. The trunks are available for two weeks at a time starting from the day you physically receive your trunk in the mail and ending on the day that the trunk arrives back in our facility. Our Traveling Trunk program is very popular so if you are interested in making a reservation please call well in advance in order to allow us to serve your needs more efficiently.
Trunks are shipped by US Mail (Library Rate). Shipping costs and time will vary depending on your location.
The borrower is responsible for paying shipping costs to return the trunk to the park.
For more information and to reserve a Traveling Trunk for your school call the park at 812-937-4541.
Details
Subject:

Architecture (Building Styles and Methods), Community, Family Life, History, Language Arts, Leadership, Performing Arts, Pioneer America, Reading, Regional Studies, Social Studies, U.S. Presidents

type:

Traveling Trunk
Last updated: April 10, 2015