Field Trips
Plan Your Field Trip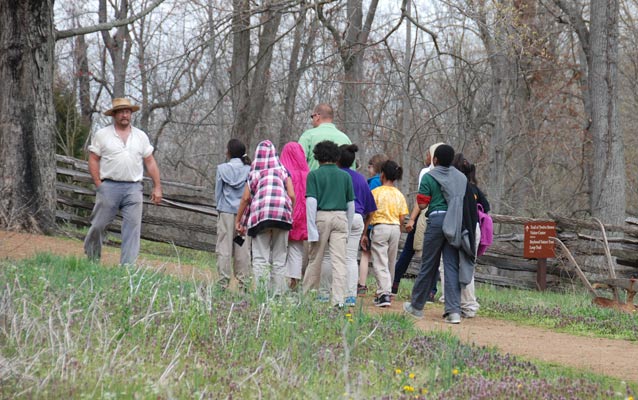 Description
Bring your students on a field trip to Lincoln Boyhood National Memorial.
Ranger guided programs are available at the Memorial Visitor Center and the Lincoln Living Historical Farm. Programs are offered for ages K-12.  PROGRAM RESERVATIONS BEGIN AUGUST 1, 2017 for the 2017-18 school year. Call for information on availablity for adult tours.
Fall 2018 Programs: Start September 4, 2018 - September 28, 2018 on Wednesday, Thursday, and Friday only.
Spring 2018 Programs: Start April 18, 2018 - May 25, 2018 on Wednesday, Thursday, and Friday only.
By Request Ranger Programs
Reserve a Ranger
Lincoln Boyhood rangers offer a limited number of free, ranger-led, curriculum-based programs. These programs are correlated to Indiana learning standards, and provide students with an engaging learning experience by utilizing the park's natural and cultural resources as teaching tools. Programs are 2 hours long and are available between 8 am and 3 pm, Wednesdays through Fridays mid-April through May and during the month of September.
Stop by the Memorial Visitor Center
There is no cost to visit the park. Two memorial halls, sculptured panels, and interpretive museum displays showcase the cultural history of the park. The 15-minute orientation film "Forging Greatness: Lincoln in Indiana" plays at the visitor center auditorium throughout the day. Ranger-led programs of the visitor center are available upon request.
Discover the Lincoln Living Historical Farm
The Living Historical Farm is a working pioneer homestead with a log cabin, outbuildings, split rail fences, livestock, gardens and field crops. Rangers dressed in period clothing perform a variety of activities typical of daily life in the 1820s. Ranger-led programs of the farm are available upon request.
All programs require pre-registration. To arrange a special ranger program, please call the park at 812-937-4541. Ranger availability is not guaranteed. Calling ahead will increase the likelihood of a ranger being available on the day you plan to visit the park.
Promptness: if your group is scheduled for a ranger-led program, please be on time. A late arrival can cause your scheduled program to be shortened or cancelled, as rangers are often assigned to several activities throughout the day.
Contact
Paula Alexander
812-937-4541
Details
Subject:

Biology: Animals, Biology: Plants, Community, Environment, Family Life, History, Pioneer America, U.S. Presidents

type:

Field Trips