Lewis and Clark Trail Series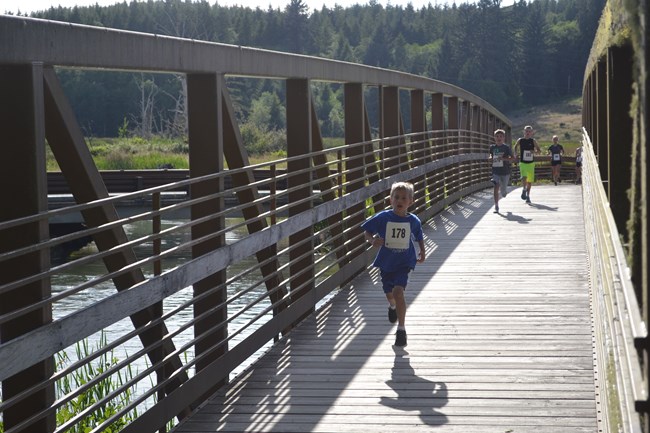 2020 Lewis and Clark Trail Run Series
The 2020 Lewis and Clark Trail Run Series will include two events along beautiful forested trails. Both events are open to walkers and runners of all ages and provide the opportunity to experience the northwest coast the way people have for thousands of years - on footpaths.
Both events occur on National Park fee free days!
Dates for 2020 runs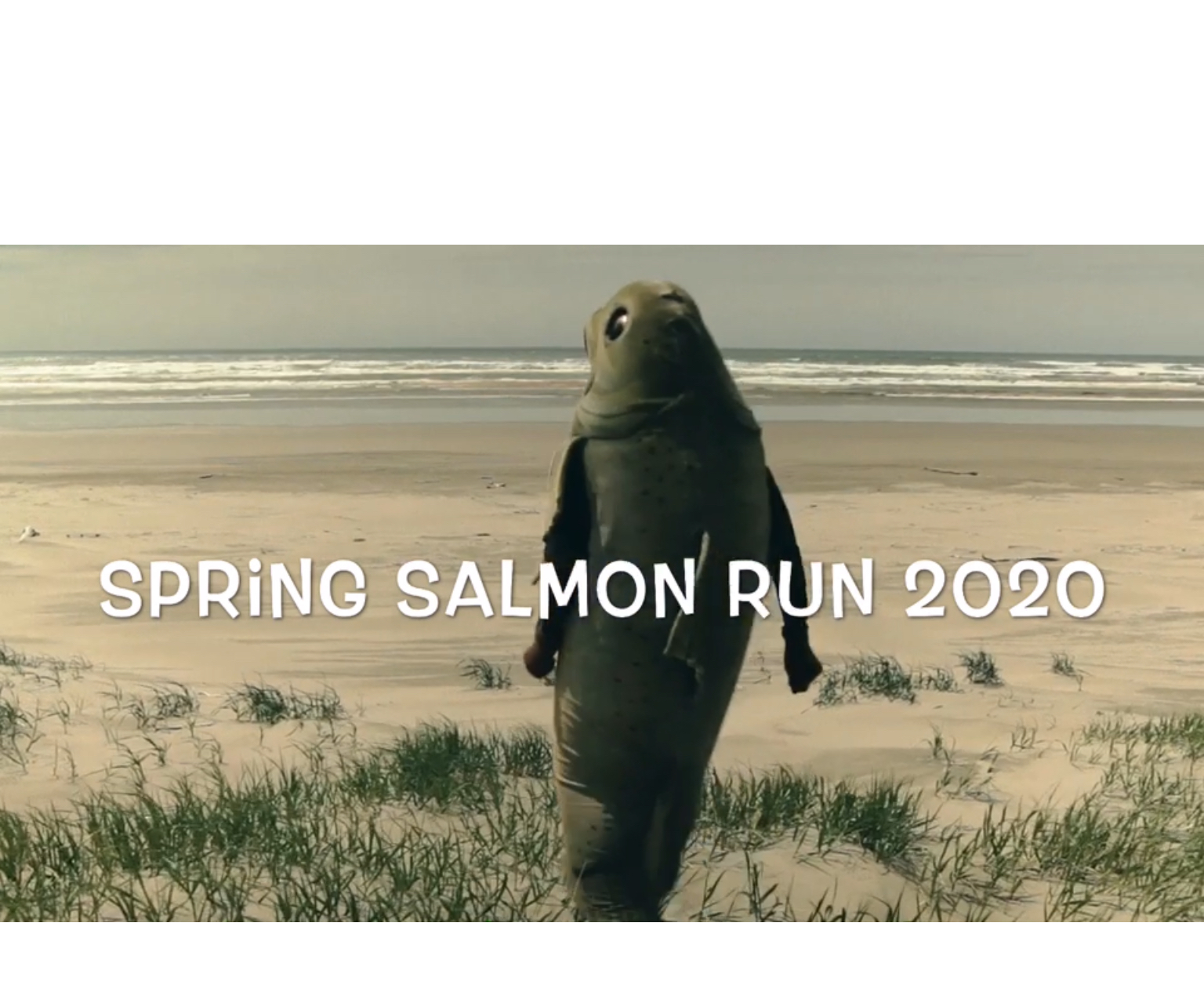 Spring Salmon Run - Virtual!
Saturday April 18, 2020
On the 18th, post on THIS Salmon Run event page what fitness you do that day while following COVID-19 precautions. It could be an actual 5K along an open sparsely used route, a treadmill run/walk, yoga, playing/exercising at your home alone or with family, etc. Have fun, be creative, and get some exercise!
To compete for a prize, include a picture of your exercise (PG please). Extra points will be granted for salmon-themed or junior ranger – themed fitness. Winners will be contacted through Facebook messenger.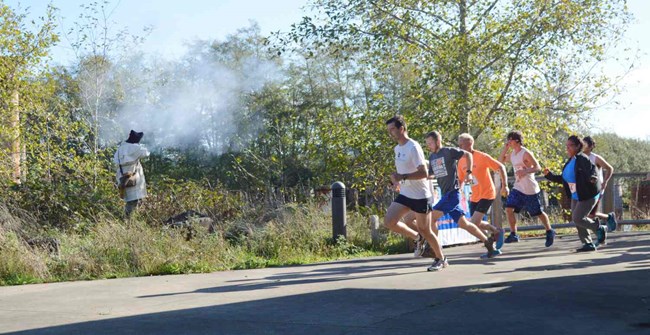 South Slough Scramble
Saturday September 26th, 2020
Runners and hikers can register for one of two options – a roughly 3-mile "short loop" and a 5.5-mile "long loop." Both loops will take participants along South Clatsop Slough, through bottomlands, into the coastal hills and along the Netul River. The loops have great views of Saddle Mountain and cross a number of scenic boardwalks and bridges.
There's no pre-registration. The route is not accessible for a wheelchair or stroller. Please, no pets. The event will be held rain or shine.
Virtual Salmon Run 2020 Winners

10k run or 5K walk/run times & results
Saturday, September 28, 2019
| | | | |
| --- | --- | --- | --- |
| Place | Bib # | Time | Name |
| Men's 10k | | | |
| 1 | 133 | 38.39 | Squire |
| 2 | 58 | 45.21 | Dahlberg |
| 3 | 63 | 50.11 | Dean |
| 4 | 134 | 50.40 | Wiegardt |
| 5 | 135 | 52.49 | Craze |
| 6 | 65 | 52.50 | Connell |
| 7 | 64 | 53.16 | Heiner |
| 8 | 60 | 60.06 | Fischer |
| 9 | 132 | 60.54 | Blacker |
| 10 | 136 | 70.20 | Nichols |
| | | | |
| Women's 10k | | | |
| 1 | 61 | 51.12 | Nowak |
| 2 | 131 | 53.22 | Hutmacher |
| 3 | 59 | 55.32 | Rzewnicki |
| 4 | 66 | 56.35 | Egleston |
| 5 | 68 | 60.54 | Blacker |
| 6 | 62 | 70.07 | Smith |
| | | | |
| Men's 5k | | | |
| 1 | 335 | 23.28 | Rocher |
| 2 | 437 | 24.37 | B. Evans |
| 3 | 441 | 24.37 | J. Evans |
| 4 | 446 | 30.58 | Murphy |
| 5 | 438 | 32.20 | Ornie |
| 6 | 350 | 38.03 | Miller |
| 7 | 337 | 39.52 | Neal |
| 8 | 347 | 44.41 | Nelson |
| 9 | 443 | 49.01 | Verihe |
| 10 | 433 | 75.14 | L. Kuller |
| 11 | 436 | 75.15 | D. Kuller |
| | | | |
| | | | |
| Women's 5k | | | |
| 1 | 447 | 31.15 | Squire |
| 2 | 444 | 32.28 | Simmons |
| 3 | 339 | 33.09 | Vanderburg |
| 4 | 445 | 35.04 | Heigh |
| 5 | 442 | 38.22 | Veriha |
| 6 | 349 | 38.41 | Miller |
| 7 | 341 | 40.12 | J. Isom |
| 8 | 342 | 41.55 | Plancon |
| 9 | 348 | 44.41 | Choi |
| 10 | 334 | 44.59 | Fields-Lardie |
| 11 | 336 | 48.01 | Creel |
| 12 | 67 | 49.01 | Kellner |
| 13 | 346 | 52.58 | R. Woodrich |
| 14 | 343 | 53.00 | B. Moss |
| 15 | 434 | 56.09 | Kuller |
| 16 | 340 | 58.36 | A. Isom |
| 17 | 344 | 63.23 | H. Moss |
| 18 | 345 | 63.23 | A. Woodrich |
| 19 | 338 | 65.06 | Ficher |
| 20 | 439 | did not finish | T. Evans |
| | | | |
Last updated: April 30, 2020