Fort to Sea Trail and Associated Trails
Blazing a Trail to the Ocean
Fort to Sea Trail 6.5mi Point-to-Point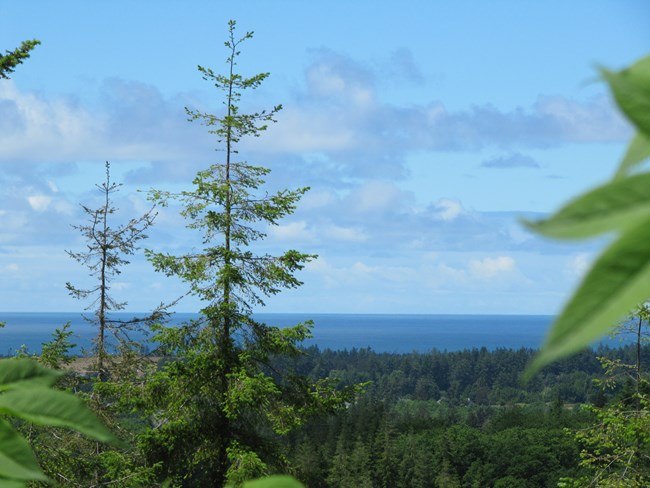 Once the Corps of Discovery built Fort Clatsop, they turned their attention to exploring the land nearby. Some of their travels took them southwest to the area's bounteous beaches, including what are now Sunset Beach and Seaside. While the Corps forged its way through deep woods, muddy bogs and windswept beaches, a 6.5-mile trail now runs much of the same forest, fields and dunes that the Corps traveled. The Fort To Sea Trail wends its way through the woods south of Fort Clatsop to Sunset Beach on the Pacific Ocean, covering land that once was home to the Clatsop Indians who helped the Corps.
The Fort To Sea Trail starts from the Visitor Center at Fort Clatsop. The first two miles take you up a gentle climb to the top of Clatsop Ridge, where on a clear day you can see through the trees to the Pacific Ocean. From there, you descend through deep woods and reach wooded pasture dotted with small lakes. The wooded pasture leads to the crossing tunnel under U.S. Highway 101 and near Camp Rilea. This stretch of the trail marks the beginning of sandy soil and gentle dunes and leads into beach woods before arriving at the Sunset Beach/Fort to Sea Trail parking lot. From there, travel the 1-mile path to the beach.
While the Fort to Sea Trail is navigable in any weather, please note that rain can make the trail slick in some places and muddy in others. Also, while the abundant wildlife that you might see, such as deer, elk or eagles, or bear, bobcat or beaver, might be shy, the domesticated animals, such as cows, you can encounter in the pastures on the south side of U.S. 101 might not be. Finally, a one-way trip requires pickup at one end of the trail. A cab or wait car should be arranged.
IF YOU GO: To start the trail at Fort Clatsop, From Astoria, head south on U.S. Highway 101 and follow the signs to Fort Clatsop. From Seaside, head north on U.S. 101 and follow the signs. The Fort to Sea Trail starts at the park's Visitor Center. To start the trail at Sunset Beach, travel to just past Milepost 13 on U.S. 101 and turn onto Sunset Beach Lane. Drive to the Sunset Beach/Fort To Sea Trailhead parking lot. For more Information, call Lewis and Clark National Park, (503) 861-2471. The park entrance fee can be payed at the Visitor Center. If you are a frequent hiker consider purchasing a LEWI pass. Lewis and Clark National Historical Park and trails are maintained by your fee dollars.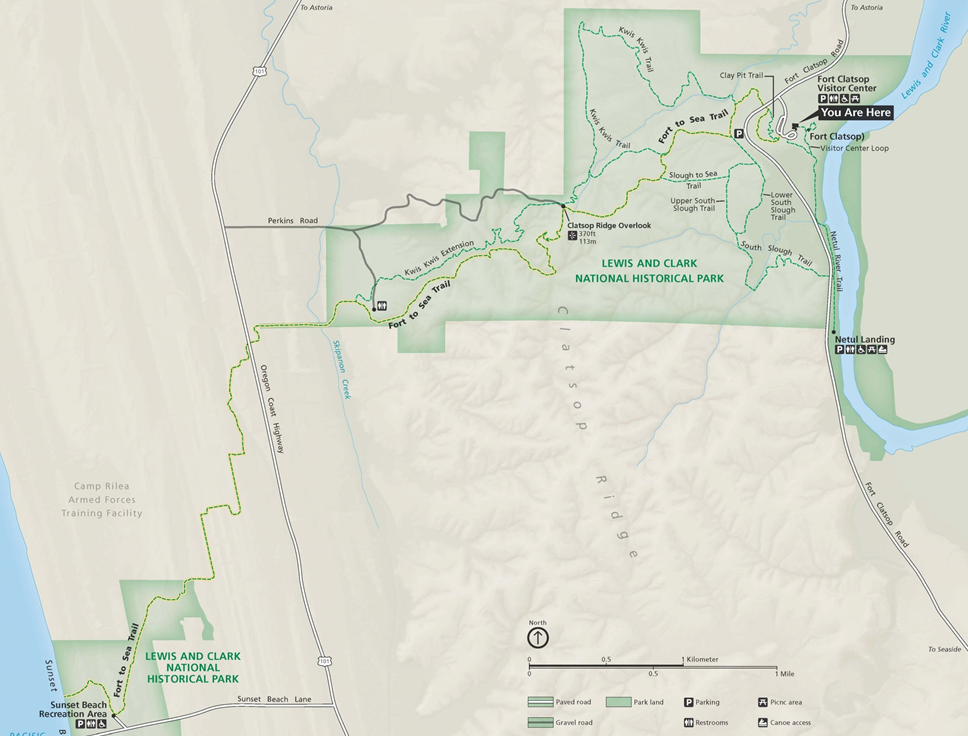 Last updated: November 11, 2019