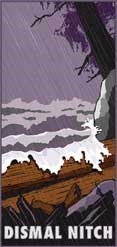 Imagine this. It's early 1805, the fresh food had run out. The clothes were literally rotting off the backs of the members of the Corps of Discovery. They were traveling as fast as they could down the Columbia River, though, to meet one of the last trading ships of the season. If they made it, they'd send a set of journals and some collections home as requested by President Jefferson. But foremost was the chance to use an unlimited letter of credit from the president, a chance to "charge" all the goods the tired explorers needed, plus perhaps get a little rum, from the trade ship.
What the Corps didn't realize, however, was that it was about to run into some of the journey's most treacherous moments. A fierce winter storm forced the Corps off the river Nov. 10 and pinned the group to a north shore cove consisting of little more than jagged rocks and steep hillside. Captain William Clark named the dreary spot "that dismal little nitch." For six stormy days, the group was trapped by fierce wind and high waves at the rocky shoreline. For only the second time in the expedition, Clark said he was concerned for the safety of the Corps. "A feeling person would be distressed by our situation," he wrote in wet misery, as the expedition became in danger of foundering just within a few miles of its destination — The Pacific Ocean. Finally, the storm broke and allowed the group to move on. It missed the trading ship, but eventually achieved its exploration goals.
Today, this dramatic piece of history is preserved, thanks to help from the Conservation Fund, a non-profit that works with landowners to preserve special places. More than 150 acres of that historic coastal forestland surrounding Dismal Nitch will be protected.
For visitors, great views of the Columbia River and the vibrant shipping lane that passes close to Astoria await. It's also a great place to bird watch, with multiple bald eagle nesting sites nearby, or to watch modern tradeship glide past on the river. Plans are underway for a short trail and additional visitor facilities.
If you're a bridge buff, check out the nearby Astoria Bridge. The 4.1 mile-long bridge features a main span 1,232 feet in length, the longest "continuous truss" in the world. Before the bridge's construction, travelers relied upon ferry service from Astoria to Megler, near Clark's Dismal Nitch. That included trains that needed to cross the river. It was eventually converted to a car ferry before the bridge was constructed.