Outdoor Camps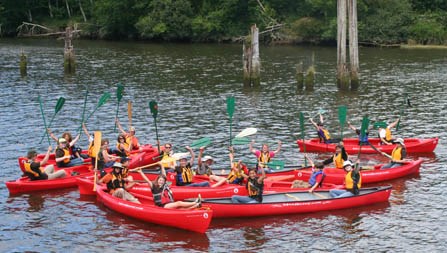 Survive and Thrive in Nature July 2022!
Get Outdoors at Nature Survival and Nature Adventure Camps

Kids can explore the woods, water and animals at camps this summer through Lewis and Clark National Historical Park. Educators from the Lower Columbia Estuary Partnership and the park will lead two weeklong camps, both featuring exciting overnight opportunities.

Nature Adventure Camp, held in July 2022 offers a week's worth of adventures at the park and nearby, as well as an overnight in Fort Clatsop! Nature Adventure Camp is open to students entering fourth grade through sixth grade. Hours for Nature Adventure Camp are 9 a.m. to 5 p.m. Monday through Wednesday. For the overnight, drop off is at 9 a.m. Thursday and pickup is 11 a.m. Friday. The camp is 100% outdoors. Participants have the opportunity to build skills in teamwork, make new friends, build a fort, paddle in a lake and dip for aquatic animals, hike the fort to sea trail, and spend the night inside Fort Clatsop. The cost is $140. Scholarships are available.

Nature Survival Camp, held July 2022 takes campers on the water and into the woods, deep into the park and to other sites, as they explore and practice skills to survive and thrive in nature, including navigation and foraging. Campers also spend two nights camping at the beach. This camp is open to students entering seventh, eighth, and ninth grades. Hours for Nature Survival Camp are 9 a.m. to 5 p.m. Monday & Tuesday, with a 9 a.m. drop-off on Wednesday and 11 a.m. pick up on Friday for the two-day camping trip at the beach. The cost is $150. Scholarships are available.

Registeration opens April 2022! Enrollment is limited. For questions, or to request a registration or scholarship form, please call (503) 861-4422 or email.
Last updated: June 18, 2021