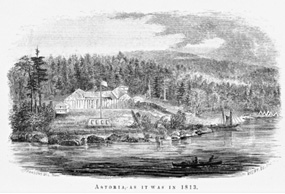 Fort George Research Inventory and Assessment [pdf] 47 pages; 5.9MB
Located in what is today Astoria, Oregon, Fort George (also known as "Fort Astor" or "Fort Astoria") was a fur trading post of particular importance in the history of the Pacific Northwest. Established in 1811 - only five years after the departure of Lewis and Clark's Corps of Discovery - by employees of John Jacob Astor's Pacific Fur Company, the fort would become the first permanent American settlement west of the Rocky Mountains. This fort, commonly called "Fort Astor" or "Astoria" in honor of its founder, quickly became the hub of a regional fur trade centered on the lower Columbia River. A diverse polyglot of Native peoples converged at this fort, which was operated by Pacific Fur Company employees who, themselves, represented French Canadian, Scots, American, Native Hawaiian and various eastern Native American ethnicities.
During the War of 1812, this fort became the focal point of international tensions in the region, and by 1813 the Pacific Fur Company employees transferred ownership of the fort to representatives of the British-owned North West Company. The fort continued operation as before, under the name of "Fort George." In 1818, the fort was ceremoniously returned to the United States at the end of that war, under the terms of the Treaty of Ghent, but the North West Company continued to operate the fort largely uninterrupted after that date. In 1821, the North West Company was merged into the Hudson's Bay Company, which assumed management of the fort and used it as the company's principal depot in the region until the construction of Fort Vancouver in 1825. Fort George was gradually eclipsed in its regional significance by Fort Vancouver, but continued to operate as a HBC fort until 1848, when the Oregon Treaty designated Astoria as indisputably American territory.
Despite its gradual decline, the fort served as a key trading center for Native peoples of the Pacific coast and lower Columbia region, and as a cornerstone of Anglo-American settlement in the region. In the years following HBC abandonment of Fort George, the lands formerly occupied by the fort were gradually reoccupied and redeveloped as part of the urban fabric of Astoria, Oregon. Today, the site is commemorated in a small city park, but the bulk of the fort site underlies roadways, residential and commercial structures, parking lots, parks, and private yards.