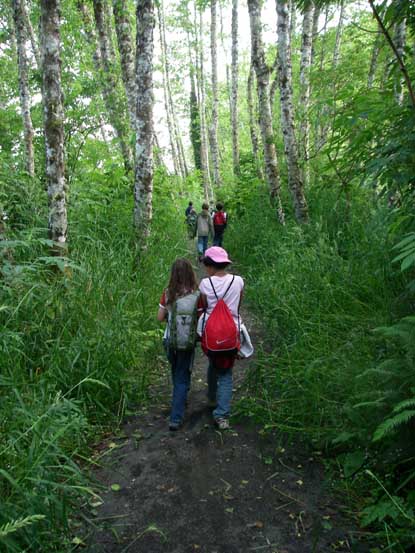 Self-Guided Program
Not able to flex your schedule to fit into one of the ranger-conducted programs? The park offers a self-guided visit options: "Diligent Pursuit." This program allows your group to experience the park on its own as if your school group were a large family. No formal ranger-conducted fort program is included with these programs, but your group may join any public programs that are available.
Reservations for self-guided visits should be made as soon as you know you are coming.
Due to the large number of visitors and groups, self-guided school visits are coordinated with the park's Tour Reservations Office. During the school year, group visits are scheduled at least 30 minutes apart, seven (7) days a week. Due to the large volume of requests please provide alternative times and dates.
"Diligent Pursuit" of Fort Clatsop This self-guided program begins with a brief welcome and orientation from a park ranger followed by the movie "A Clatsop Winter Story" if you choose. Then enjoy self-guided activities while you visit the park on your own in small family sized groups. The activity pack includes three activities, corresponding to the visitor center, the trails and the fort. Your group may join any public programs available as well.
Fee Waiver [pdf]
Reservation Instructions
Directions to the Park
Things to See and Do In the Area