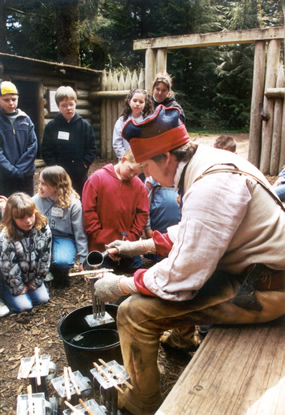 Life at the Fort: Ranger Conducted Program
What was life like for the "Corps of Discovery" at Fort Clatsop in 1805-06?
This program explorers what life was like for the "Corps of Discovery" at Fort Clatsop in 1805-06. Groups of 20 students rotate through 30-minute activity sessions coordinated by the park staff: Visitor Center "Exhibit Seek and Find," "Pioneering Naturalists Trail Activity" and one interactive interpretive program with a ranger in buckskin at the fort. Concludes with a Flintlock Muzzle Loading Rifle or Musket program. Note: For groups of 61 to 80 students, a fourth activity is offered.
Chaperone Ratio: 1:10 minimum, 1:3 maximum
Grades: 3-5, 6-8, High School
Group Size:
20 to 60 Students
9:45 a.m. - noon OR
12:45 p.m. - 3:00 p.m.
60 to 80 Students
9:15 a.m. - noon OR
12:45 p.m. - 3:30 p.m.
Program Dates click here
Reservations
Instructions: Make sure to download , print, and fax in the reservation and fee waiver forms. Click Here
Pre-Visit Preparation
It is suggested "Life at the Fort" groups view at least one Lewis and Clark AV program as part of their pre-vist preparation. "We Proceeded On..." 32-minute movie about the expedition from beginning to end; "A Clatsop Winter Story" 22 minute movie telling
of the Corps of Discovery's winter at Fort Clatsop from the Clatsop Indian's
perspective; or the Living History Demonstrations video which is comprised of the daily life demonstrations often seen at the park.
Indicate on your reservation form which video you would like to borrow and it will be sent to your school 2 weeks prior to your visit (including shipping time).