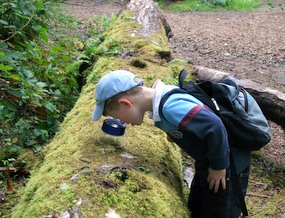 What is Fort Clatsop? Who stayed there? This program will involve your students in an interactive program to discover what's so special about Fort Clatsop and who built it. Groups of 20 students rotate through 2 self-directed activities (visitor center and trails) and a program at the fort with a ranger in buckskin. Muzzle loading flintlock program by request only. If you request a muzzle loading program, please add 15 minutes to the program time.
Chaperone Ratio: 1:5 min. 1:3 max.
Grade: Preschool-3rd grade
Group Size: 20-50 students
Time:
9:45 a.m. - 11:30 a.m.
OR
1:00 p.m. - 2:45 p.m.
Program Dates: Check Availability Calendar
Reservation Form: Click Here