Trail Challenge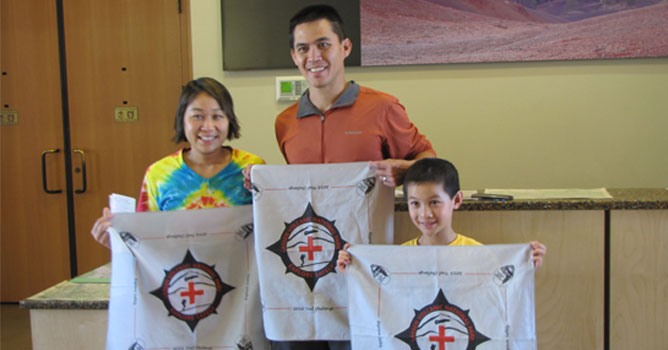 Take the Challenge to Explore Safely
The 2013 Trail Challenge kicked off on Saturday, June 8 in celebration of National Get Outdoors Day. Participants obtained a brochure at an entrance station, the Loomis Museum, or the Kohm Yah-mah-nee Visitor Center. Once they completed the challenge, participants took their brochure to the Loomis Museum or Kohm Yah-mah-nee Visitor Center to receive a free bandana. View the 2013 challenge brochure (1.5 MB, pdf)
Note - All of the commemorative bandanas for this year's challenge have been awarded to trail challengers.

Safety Notes
Here are a few of the many ways trail challengers helped to ensure their safety while hiking at Lassen:
Told people where we were hiking and when we would return

Stayed on the trail
Took breaks often

Finished before dark
Worse sturdy shoes
Brought clothes, food, and water
Brought a first aid kit
Wore sunscreen
Watched out for twigs and rocks that may trip you
Kept kids close by in hydrothermal areas
Did not wear flip flops on a rocky trail
Stayed on the boardwalk at Bumpass Hell
Read signs
Did not feed wildlife
Stretched
Stayed in the shade to avoid overheating
Brought headlamps for an afternoon hike
Wore a hat
Watched children when close to water
Brought snacks
Wore sunglasses
Parked outside the fog line near Bumpass Hell parking area (white line)
Talked to rangers about conditions before hiking
Attended a ranger-led program about trail safety
Watched out for loose rocks
Look out for hikers heading the other way on Lassen Peak trail
Used trekking poles for balance

Paced myself
Wore good shoes - not high heels!
Did not shortcut trails
Brought a map
Watched out for bees
Hiked with a buddy or in a group
2012 Challenge Participants
Congratulations to the nearly 1,000 hikers who completed Lassen's first Explore Safely Trail Challenge! The trail challenge encourages preparedness, awareness of risk, and safe outdoor adventure. Participants completed one of three challenge levels including: Explorer, Adventurer, and Trail Master. To celebrate the challengers' accomplishments in hiking safely, we've listed many participants and their challenge level below, as well as a number of safety notes explaining how they kept themselves safe while exploring Lassen Volcanic National Park.
View photos from the Explore Safely Trail Challenge.
| | | |
| --- | --- | --- |
| Challenger Name | City, State | Challenge Level |
| Cherl Barber | Sacramento, CA | Trail Master |
| Claire Ames | Oakland, CA | Trail Master |
| Sou Saephan | Oakland, CA | Trail Master |
| Leslie & Jeff | Yuba City, CA | Trail Master |
| Alethea | Woodland, CA | Trail Master |
| C. Klubertanz | San Francisco, CA | Trail Master |
| Sebastian Lute | Belmont, CA | Trail Master |
| Peter Oel | San Francisco, CA | Trail Master |
| Sudhit Rao | Cupertino, CA | Trail Master |
| Abhinar Rao | San Jose, CA | Trail Master |
| Gigi Mahdiaon | Daly City, CA | Trail Master |
| Abe Guado | Daly City, CA | Trail Master |
| Becky Miller & Joel Cohen | Vallejo, CA | Trail Master |
| Steve Zachary | Red Bluff, CA | Trail Master |
| Shona Flake | Sacramento, CA | Trail Master |
| Jane Luckhardt | Sacaramento, CA | Trail Master |
| Scott Flake | Sacramento, CA | Trail Master |
| Ivan Ijzernan | Palo Alto, CA | Trail Master |
| Jon & Maryanne Pecaut | Redding, CA | Trail Master |
| Aaron Simons | Newmarket, Ontario | Trail Master |
| Liana Simons | Newmarket, Ontario | Trail Master |
| Robert Simons | Newmarket, Ontario | Trail Master |
| Linda & Tom Petrich | Walnut Creek, CA | Trail Master |
| Jon Petricy | Walnut Creek, CA | Trail Master |
| Ryan, Cathy & Emily Laughy | Shingletown, CA | Trail Master |
| Ved Sinha | Pleasanton, CA | Trail Master |
| Ram Subbaroxan | San Francisco, CA | Trail Master |
| Britta Homer & Family | England | Trail Master |
| Denyse Variaro | New York | Adventurer |
| Vincent | New York | Adventurer |
| Ea Variaro | Berkeley, CA | Adventurer |
| N. Franskin | Palo Alto, CA | Adventurer |
| Avelyn Gaskin | Palo Alto, CA | Adventurer |
| Eli Gaskin | Palo Alto, CA | Adventurer |
| Craig Wilson | Sacramento, CA | Adventurer |
| Jennifer Gaskin | Palo Alto, CA | Adventurer |
| Packroy Liao | Danville, CA | Adventurer |
| David Lucas | Lafayette, CA | Adventurer |
| Angela M. Lucas | Lafayette, CA | Adventurer |
| Marcus Latrance | Lafayette, CA | Adventurer |
| Tom Ruffin | Augusta, GA | Adventurer |
| Patricia Ruffin | Augusta, GA | Adventurer |
| Sara Simmonds | Los Angeles, CA | Adventurer |
| Bill Haffey | Roseville, CA | Adventurer |
| Mackenzie Danziger | Elk Grove, CA | Adventurer |
| Chandra Wright | Elk Grove, CA | Adventurer |
| Nicolas Family | Pleasanton, CA | Adventurer |
| Kuzmicn Family | Sacramento, CA | Adventurer |
| Colleen Lafferty | Reno, NV | Adventurer |
| John Livingston | Palo Cedro, CA | Adventurer |
| Yvette Findlay | Vancouver, WA | Explorer+ |
| Art Hanley | Vancouver, WA | Explorer+ |
| Lain Hanley | Vancouver, WA | Explorer+ |
| Kirrin Peart | Bellingham, WA | Explorer+ |
| Trixine Peart | Chico, CA | Explorer+ |
| Tim Castelli | Wiltow, CA | Explorer+ |
| Kevin Castelli | Wiltow, CA | Explorer+ |
| Robyn Brown | Sunnyvale, CA | Explorer |
| Jonathan Rivera | San Carlos, CA | Explorer |
| Jason Sloan | San Francisco, CA | Explorer |
| Bonnie Chapman | Cloquat, MN | Explorer |
| Pat Chapman | Tarpon Sps, FL | Explorer |
| Wendy Bodily | Kaysville, UT | Explorer |
| Urusla Waldmann | Erlanger, Germany | Explorer |
| Jenny Cribbs | Point Reyes, CA | Explorer |
| Monica Delmartin | Lagunitas, CA | Explorer |
| Jasmine Smith and family | San Francisco, CA | Explorer |
| Yuchu Huang | Albany, CA | Explorer |
| Meiyi Chu | Berkeley, CA | Explorer |
| Jumeng Chi | Oakland, CA | Explorer |
| Tsnghsien Lin | Oakland, CA | Explorer |
| Denali Elsley | San Jose, CA | Explorer |
| Jasper Elsley | San Jose, CA | Explorer |
| Keagan Elsley | San Jose, CA | Explorer |
| Jenny Yu | San Jose, CA | Explorer |
| Philip Rich | Oakland, CA | Explorer |
| Mierk Schwabe | Berkeley, CA | Explorer |
| Bettina Alles | Germany | Explorer |
| Benjamin Schwabe | Berkeley, CA | Explorer |
| Anna Righero | Yuba City, CA | Explorer |
| Gabe Orvis | Longmont, CO | Explorer |
| Karrie Roth | Red Bluff, CA | Explorer |
| Woojong Ko-Keel | Herald, CA | Explorer |
| Bob Reel | Herald, CA | Explorer |
| Eric Schmitz | Pleasanton, CA | Explorer |
| Stephanie Betts | Palo Alto, CA | Explorer |
| Buckley Dowdle | Red Bluff, CA | Explorer |
| The Kim Family | Foster City, CA | Explorer |
| The Johnson Family | Woodland, CA | Explorer |
| The Garcia Family | Sacramento, CA | Explorer |
| Wedha Kini | Sunnyvale, CA | Explorer |
| Anath Kini | Sunnyvale, CA | Explorer |
| Krupa Kini | Sunnyvale, CA | Explorer |
| Anizudh Rao | San Jose, CA | Explorer |
| Naga Chandika | Cupertino, CA | Explorer |
| Spicciati Family | Fremont, CA | Explorer |
| Stella Panov | Cupertino, CA | Explorer |
| Liz Mattin | San Francisco, CA | Explorer |
| Allison McCarthy & Justin Vanderer | San Francisco, CA | Explorer |
| Dawn Porter | Mineral, CA | Explorer |
| Bauer Sabine, Wernes | Germany | Explorer |
| Robert & Maureen Eberle | Shingletown, CA | Explorer |
| Kathi Daughtry | Pacficia, CA | Explorer |
| Brett Daughtry | Pacficia, CA | Explorer |
| John Lynd | Morgan Hill, CA | Explorer |
| Elizabeth Koweur | Redding, CA | Explorer |
| Karen Perry | Redding, CA | Explorer |
| Nicholas Pester | S. San Francisco, CA | Explorer |
| Catherine Obillo | Daly City, CA | Explorer |
| Norland Obillo | Daly City, CA | Explorer |
| Laundy Daworu | Auburn, CA | Explorer |
| Rebecca Taber | Auburn, CA | Explorer |
| Patrick & Terrie Burns | Napa, CA | Exporer |
| Steve Knight | Carson City, NV | Explorer |
| Patty Knight | Carson City, NV | Explorer |
| Lili Adkins | Folsom, CO | Explorer |
| Dana Adkins | Folsom, CO | Explorer |
| Isaac Adkins | Folsom, CO | Explorer |
| Jeff Adkins | Folsom, CO | Explorer |
| Joel & Margaret Shannon | Houston, TX | Explorer |
| Lauryn Ping | San Jose, CA | Explorer |
| Marissa Ping | San Jose, CA | Explorer |
| Gloria Aristo | Redding, CA | Explorer |
| Angelo Aristo | Redding, CA | Explorer |
| Pete, Charlie, Trish, Cody & Conor Haggerty | Magalia, CA | Explorer |
| Manuel Manzano | Spain | Explorer |
Last updated: August 29, 2013