Snowshoeing

Winter at Lassen offers the opportunity to step outside of the boundaries by trying something new or exploring new terrain. Once the roads disappear and the trails are hidden under snow, and snowshoes are a great way to explore.
View ski and snowshoe routes in the winter newspaper
Learn more about winter safety at Lassen
Explore on Your Own
Snowshoe routes are available at both the north and south entrances. Be sure to bring your own snowshoes. You may rent snowshoes before arriving at the park at sports stores in Redding and Chico. The park does not rent snowshoes or other winter equipment.

Ranger-led Snowshoe Walks
If you are new to snowshoeing, consider joining a ranger-led snowshoe walk. Snowshoes are available for participants with a suggested $1 donation. If you are part of a group of 10 or more people, you must schedule a snowshoe walk in advance. Please call 530-595-6132. For those more familiar with snowshoeing, opportunities abound at both the north and south entrances. Be sure to bring your own snowshoes if you'd like to explore on your own! Read about suggested ski and snowshoe routes below or in the winter newspaper. For more information on ranger-led snowshoe walks click here.

Winter Ecology Snowshoe Program for School Groups (Grades 3 - 8)
As part of Lassen Volcanic National Park's Education Program the park is offering Ranger-led snowshoe walks and winter ecology programs for school groups. Programs are by reservation only. Please visit our Field Trips page for more information.
Ski and Snowshoe Routes
A variety of routes are available from both the north and south park entrances. View more information about winter routes in the park newspaper. View the maps below for route locations.

Manzanita Lake Snowshoe Loop
This trail is not recommended for skiing
Distance: 1.6 mile loop
Elevation: 5800 feet to 5850 feet
Average Time: 1.5 hours
Nanny Creek via McGowan Ski Trail
Located in adjacent Lassen National Forest
Distance: 5 miles to Nanny Creek one-way
Elevation: 6080 feet to 5110 feet
Average Skiing Time: 4 hours
Main Park Road to Lake Helen
Distance: 12.4 miles round-trip
Elevation: 6700 feet to 8200 feet
Average Skiing Time: 6 hours
Intermediate Routes
Forest Lake
Distance: 2 miles round-trip
Elevation: 6700 feet to 7500 feet
Average Skiing Time: 2 hours

Manzanita Creek
Distance: 7.5 miles round-trip
Elevation: 5850 feet to 7400 feet
Average Skiing Time: 6 hours

Advanced Routes

Brokeoff Mountain
Distance: 8 miles round-trip
Elevation: 6650 feet to 9250 feet
Average Skiing Time: 8 hours

Ridge Lakes
Distance: 2 miles round-trip
Elevation: 7000 feet to 8000 feet
Skiing Time: 2 hours

Lassen Peak
Distance: 20 miles round-trip
Elevation: 6700 feet to 10,457 feet
Average Skiing Time: 3 days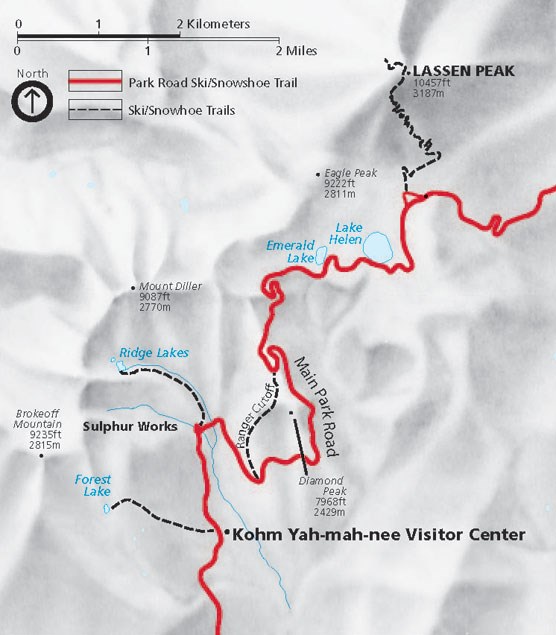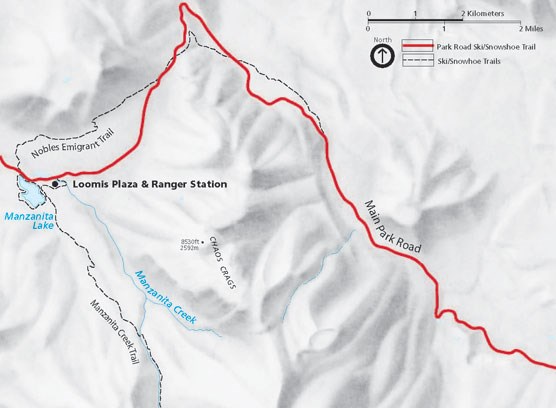 Last updated: January 26, 2017