Hiking Manzanita Lake Trail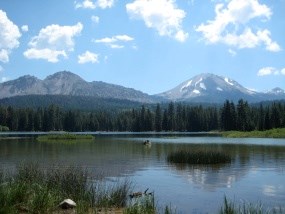 Start: Manzanita Lake Picnic Area
Round Trip Distance: 1.5 miles
Round Trip Time: 1-2 hours
Elevation: 5,890 ft
Elevation Change: Negligible
This easy trail winds gently around
Manzanita
Lake and is an ideal choice for families or others unable to hike on difficult terrain. Well shaded by looming Jeffrey pines and bordered by lush willows, this trail offers a welcomed respite from the heat of the day. As the trail wanders along the shoreline numerous openings offer hikers an opportunity to spot ducks, geese and the occasional muskrat and beaver. The surrounding forest also offers birdwatchers and wildlife enthusiasts opportunities to catch glimpses of woodpeckers and deer. The trail is perhaps best known for its spectacular views of Lassen Peak and Chaos Crags which are best viewed in the morning.
The trail circles the lake and may be picked up at any point including a spur trail from
Loomis
Museum and the
Manzanita
Lake picnic area.
Please note that pets are not permitted on trails, boardwalks, in the backcountry, or in any body of water.


Last updated: February 9, 2018