Bumpass Hell Trail
Start: Bumpass Hell parking area
Round Trip Distance: 3 miles
Round Trip Time: 2 hours
Terrain: easy 300 foot descent
Elevation: 8000 feet
2019 Trail Closure
To ensure the safety of both staff and visitors, the Bumpass Hell Trail is closed for rehabilitation. Park trail crew will resume trail improvement efforts on the second half of the trail as soon as it is clear of snow. Trail crew anticipates completion one month after work begins. As with the normal summer trail opening of this high elevation trail, this date is largely dependent on winter snowpack and spring conditions. Due to heavy winter snowfall, the trail may not be accessible to begin work until well into August. Please note the following:
The Bumpass Hell Trail is closed at the Bumpass Hell and Lake Helen parking areas (see the closure map below).
The closure area includes slopes above and below the trail to help prevent injury to visitors or staff from rockfall.
It is unlawful to enter a closed area; violators may be ticketed.
The Bumpass Hell Basin and boardwalk can be accessed via the 5.2-mile round-trip, Cold Boiling Lake Trail. Learn more here.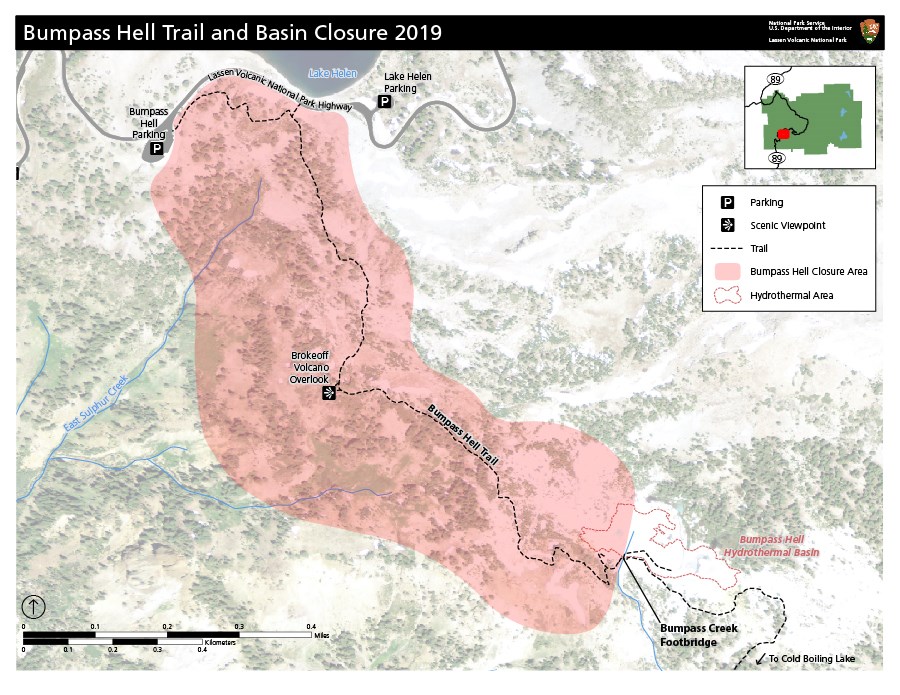 Alternatives to Visiting Bumpass Hell
There are numerous opportunities to view hydrothermal features in the park during the Bumpass Hell Trail and Basin closure. Here are a few suggestions:
Seasonal Trail Opening Information
The trail to reach Bumpass Hell is at a high elevation and recieves significant snowpack. Every spring, the trail will close due to severe winter hazards. On average, it opens by Fourth of July weekend each summer, however actual opening dates vary with each year's snow pack. For more information about Bumpass Hell trail status and conditions, please contact the visitor center (530) 595-4480.
Previous trail opening dates: July 13, 2011 | June 29, 2012 | June 25, 2013 | June 11, 2014 | June 7, 2015 | July 9, 2016 | August 22, 2017 | Trail Closed in 2018
The Largest Hydrothermal Area in the Park
Bumpass Hell is the largest hydrothermal area in the park and marks the principal area of upflow of steam and discharge from the Lassen hydrothermal system. The temperature of high-velocity steam jetting from Big Boiler, the largest fumarole in the park, has been measured as high as 322°F (161°C), making it one of the hottest fumaroles in the world. The steam heated waters are typically acidic and are not safe, even for bathing. Learn more about hydrothermal features in Lassen in a U.S. Geological Survey publication,
"Hot Water" in Lassen Volcanic National Park
.

Last updated: April 30, 2019