Dark Sky Festival
Visit our keyboard shortcuts docs for details
Duration:

2 minutes, 34 seconds
Enjoy a peak at Lassen Volcanic National Park's incredible dark, night sky and learn more about what the Lassen Dark Sky Festival is all about. go.nps.gov/darksky
Lassen Dark Sky Festival
*There will be no on-site events in 2023, however you can still explore from your own spot under the night sky
Junior Ranger Night Explorer Booklet
Kids age 5 and older can complete the Junior Ranger Night Explorer booklet in the park and earn a Junior Ranger Night Explorer patch. Here's how:
Pick up a booklet at a park visitor center.
Complete the booklet. Make sure you have set aside time to complete the booklet in the park. We are not able to mail out patches.
Share your completed booklet with a ranger at a park visitor center to receive your free patch.

Explore the Night Sky On Your Own
Visit our stargazing webpage for information including tips on how to best view the night sky in the park or where you live.

2020 Virtual Dark Sky Festival
View recordings of two virtual Dark Sky Festival presentations offered via Facebook Live.
Ask a NASA Astrobiologist
In this 30-minute virtual presentation, astrobiologists Dr. David DesMarais and Dr. Niki Parenteau from the NASA Ames Research Center answer visitor-submitted questions about astrobiology and the park.
Ask an Amateur Astronomer
In this 30-minute virtual presentation, Dave Schlom, host of the North State Public Radio Podcast Blue Dot answers visitor-submitted questions about how to enjoy the night sky in the park and wherever you live.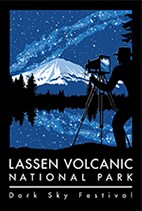 Purchase Your Lassen Dark Sky Festival Items Online
Lassen Association, a non-profit park partner, offers Lassen Dark Sky Festival items including a poster, pin, decal, patch, magnet, and postcard as well as other stargazing/astronomy items at lassenassociation.org. These items are also available in Lassen Association stores inside the Kohm Yah-mah-nee Visitor Center and Loomis Museum.
Lassen Dark Sky Festival Partners
The annual Lassen Dark Sky Festival is made possible by the support of numerous partners who contribute their time, expertise, and passion for our dark night sky. Each year the festival draws thousands of visitors who are eager to discover the wonders of the night sky. Our partners volunteer their time each summer, to share their knowledge with our park visitors. The Lassen Dark Sky Festival would not happen without our partners! Since we are not able to gather for the Dark Sky Festival in-person this year, please take a moment to learn about some of our dedicated partners and see what they do. We hope that you are able to meet them in-person next year.
NASA's Ames Research Center, one of ten NASA field centers, is located in the heart of California's Silicon Valley. There is a close connection between the park and Ames Research Center. Astrobiology research by scientists from the Ames Research Center and astrobiology student interns contribute to an ever-growing collection of documentation on the diverse thermal features and microbial populations in the park. Research Scientists including Niki Parenteau, Dave Des Marais, and several others from Ames Research Center participate in the annual Lassen Dark Sky Festival by giving presentations about discoveries on Mars and staffing a tent with astrobiology specimens and demonstrations.
The Astronomical Society of Nevada (ASN) is a non-profit service organization introducing the pubic to astronomy. Several members of the ASN participate in the annual Lassen Dark Sky Festival by providing access to telescopes pointed at planets, star clusters, and distant galaxies, as well as daytime solar scope viewing.The ASN also offers public telescope viewing in the Reno area, conduct public star parties at Washoe County schools and parks, and more. Learn more about ASN programs and activities.
Shasta Astronomy Club (SAC) is composed of amateur astronomers and night sky enthusiasts in the Redding and the North State community. The club's emphasis is observing with telescopes and binoculars, and offering public outreach. SAC offers special events at nearby Whiskeytown National Recreation Area and participates in the Lassen Dark Sky Festival.
Schreder Planetarium is located in Redding, CA and serves students and citizens of northern California. You can enjoy a variety of programs in the domed theater, from scientific documentaries to science fiction stories.The planetarium often offers special programs during the annual Lassen Dark Sky Festival.
The International Dark Sky Assocationa (IDA) works to protect the night skies for present and future generations. The IDA works to preserve and protect dark sites through responsible lighting policies and public education and is the organization responsible for designating places as an International Dark Sky Park, Reserve, Sanctuary, or Community. Lassen Volcanic National Park is currently working through the process of obtaining its Dark Sky Park designation. Each year the IDA sends volunteers to participate in the Lassen Dark Sky Festival, during which they staff a tent and provide information about how we can preserve dark night skies.

The International Dark Sky Assocation has produced several videos about reducing light pollution, preserving night skies, astronomy, and more, which can be found on the IDA YouTube Channel. Two videos that we recommend are Protecting and Celebrating the Natural Night Sky in the National Park Service and Losing the Dark film.
The Stratospheric Observatory for Infrared Astronomy (SOFIA) is an extensively modified Boeing 747SP aircraft carrying a reflecting telescope with an effective diameter of 2.5 meters (100 inches). SOFIA studies many different kinds of astronomical objects and phenomena, including the lifecycle of stars, the formation of new solar systems, black holes at the center of galaxies, and complex molecules in space. The observatory's instruments — cameras, spectrometers, and photometers — operate in the near-, mid- and far-infrared wavelengths, enabling scientists onboard to study the solar system and beyond while flying at 38,000- 45,000 feet. The SOFIA Program Office is at NASA Ames Research Center in Moffett Field, Calif., which helps manage SOFIA's science and mission operations. Learn more on the SOFIA YouTube Channel.

Instrument Scientist Sachin Shenoy from SOFIA Science Center participates in the Lassen Dark Sky Festival each year. He typically staffs an information tent and tells visitors about SOFIA, presents an "Ask an Astronomer" Question & Answer session, and assists with laser-guided night tours of the constellations.
Founded in 1956, the National Radio Astronomy Observatory (NRAO) provides state-of-the-art radio telescope facilities for use by the international scientific community. NRAO telescopes are open to all astronomers regardless of institutional or national affiliation. Observing time on NRAO telescopes is available on a competitive basis to qualified scientists after evaluation of research proposals on the basis of scientific merit, the capability of the instruments to do the work, and the availability of the telescope during the requested time. NRAO also provides both formal and informal programs in education and public outreach for teachers, students, the general public, and the media.

See what the Very Large Array and Atacama Large Millimeter Array are observing at any given moment at NRAO Mission Control. You can also discover how to Explore the Radio Universe From Home! Suzanne Gurton, the Assistant Director for Education and Public Outreach for NRAO, and her adult family members, volunteer each summer for the Lassen Dark Sky Festival. Suzy usually presents a public program about radio telescopes, and she and her family assists with public telescope viewing.
The Space Telescope Science Institute is located in Baltimore, Maryland, operated by the Association of Universities for Research in Astronomy. They help humanity explore the universe with advanced space telescopes and ever-growing data archives. Established in 1981, they helped guide the most famous observatory in history, the Hubble Space Telescope. Since its launch in 1990, they have performed the science operations for Hubble. This is one of the newest partners to Lassen's Dark Sky Festival. Dr. Christopher Britt, Education and Outreach Scientist, was eager to participate in our virtural dark sky festival and suggested virtual space exploration and science-learning sites like the James Webb Space Telescope, Hubble Space Telescope, August 2020 Night Sky Viewing, and NASA's Universe of Learning.
Independent Partners
We'd like to acknowledge and thank our independent partners and volunteers including Dave Schlom, Dave Samuels, Adam Back, Bruce Agee, Bob Shoulders, Chad Moore, David McMullen, Norm Nasise, Mike Ryan, Kevin McLin, Valerie Kircher, Shreeni Manievannan, Anna Roedocker-Mann, Vic Maris, and many others who have contributed their time over the years. We apologize if we have left any names off the list. We truly value and appreciate any time and contributions that you've given to us each and every year, and we look forward to working with you for many more years in the future!
Last updated: May 20, 2023