Auto Touring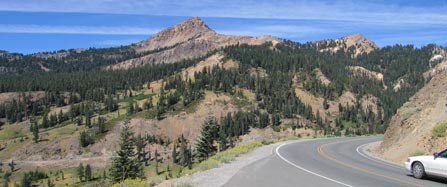 Lassen Volcanic National Park Highway Highlights
The 30-mile Lassen Volcanic National Park Highway offers and excellent introduction to the park. For a more in-depth auto-tour, pick up the Road Guide to Lassen Volcanic National Park at the Loomis Museum or Kohm Yah-mah-nee Visitor Center.

1. Sulphur Works
Have a safe hydrothermal experience at a roadside fumarole (steam vent) or surround yourself in the gurgling symphony of boiling mudpots at the park's most easily accessible hydrothermal area.
2. Bumpass Hell Overlook
Can you spot the former Brokeoff Volcano, also known as Mt. Tehama, in the volcanic remnants that surround you? The nearby boulder tells the story of this massive volcano's destruction.

3. Lassen Peak Parking Area and Viewpoint
Experience the majesty of Lassen Peak from the highest point on the park road at 8,512 feet.

4. Kings Creek Meadow Scenic Pull-out
Get your camera ready for this scenic spot where Kings Creek meanders through an expansive meadow at the foot of Lassen Peak.

5. North Summit Lake Picnic Area and Loop Trail
This perfect picnic spot invites you to take a dip in Summit Lake, stroll around the Summit Lake loop trail, or get ready for a trek out to Twin Lakes.

6. Hat Creek
Don't miss this area's fantastic fall colors. Use the crosswalk to access hidden Hat Creek meadow at the base of Lassen Peak. Can you tell what animal used to
live here?

7. Devastated Area
Discover the devastation of Lassen Peak's last eruption on this short, accessible trail.

8. Chaos Crags and Jumbles Scenic Pull-out
Look for this pull-out on the north side of the road about a half-mile after you emerge from the forest. Can you imagine the rock slide racing up to 100 miles an hour down Chaos Crags to create Chaos Jumbles?

Last updated: July 1, 2016