Current Lassen Peak Trail Status
Lassen Peak Trail
New!
The 5-year restoration work was completed in the fall of 2014. There will be no restrictions for hiking the season of 2015; the trail will be open to the summit throughout the hiking season.
Be Prepared for the Season
Due to intermittent park highway closures in the fall, travel to Lassen Peak may involve some method of over the snow travel for at least six miles. A winter ascent requires one or more nights of backcountry camping. Conditions on the mountain can be severe including strong winds, sub-zero temperatures, and avalanche danger. Sun exposure can also be a serious hazard. Use sunscreen and eye protection even on cloudy days. Use of technical climbing gear (i.e. ice axe, crampons, etc.) may be required, experience in its use is highly recommended. Prior experience with winter camping is also recommended. Due to the remote location and hazardous conditions, emergency response could require an extended period of time. Be self-reliant.
Safety and Preparedness
Always read and follow the signs posted at the trailhead and visitor centers.

Stay on the trail and don't cut switchbacks.

Parts of the trail will be closed during construction. Respect these closures. They are for your safety.

Check weather reports, www.nps.gov/lavo, telephone recordings, and talk with rangers about the most up-to-date information.

When work is not actively going on, tools and materials may be located next to the trail and in the parking lot. They will be marked "closed" or "stay off." Do not climb on or venture close to these areas.

Climb with a partner if you can, or let someone know your itinerary.

Weather can change rapidly, and snow is possible any month of the year. Get an early start to avoid afternoon storms and lightning.

If coming from an elevation near sea level, a day or two of acclimatizing can help.

If you start to experience any symptoms of altitude related ailments (headache, dizziness, shortness of breath, confusion, pain behind the eyes, nausea), Descend Immediately. Seek medical attention from a ranger or doctor.

Practice trail etiquette. People going up have the right of way, please carefully step off the trail to allow them to pass or when taking a breather.

Drink plenty of water and bring snacks. Carry at least a liter of water per person.

Wear sturdy hiking boots.
Lassen Peak Off-trail Travel Restriction
Hiking to the summit of Lassen Peak is only allowed on the established trail in the summer months.

Ensure the safety of visitors
Off-trail travelers may unknowingly travel through potentially dangerous rock fall zones under ongoing trail work.

Help protect fragile alpine plants
Off-trail travelers can trample fragile plants that struggle to grow in the harsh alpine environment.
Traveling in closure area is against the law, and endangers yourself and others.
| | | | |
| --- | --- | --- | --- |
| Closure Boundary | Latitude | Longitude | Elevation |
| West side of Lassen Peak parking area to the summit of Eagle Peak | 40.4771° | 121.4792° | 9180' |
| Summit of Eagle Peak to the Crescent Cliffs | 40.4870° | 121.5291° | 7740' |
| Crescent Cliffs to the Crescent Crater | 40.5034° | 121.4941° | 8175' |
| Crescent Crater to the intersection of the Terrace and Hat Lake trails | 40.4787° | 121.47918° | 7903' |
| Summit of Terrace Lake and Hat Lake trails following the Terrace Lake trail to the Terrace Lake trailhead on the Lassen Park Highway | 40.4762° | 121.4792° | 8045' |
| Following the Lassen Park Highway to the Lassen Peak parking area | | | |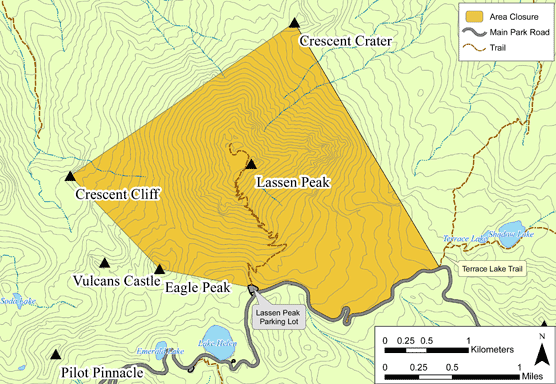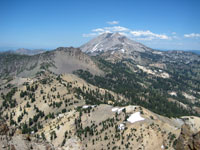 Climb Another Volcano
Brokeoff Mountain offers spectacular views of Lassen Peak from part of the eroded rim of what was once the park's largest volcano. Well before the formation of Lassen Peak, Brokeoff Volcano, or Mount Tehama, once towered over this area of the park. Remnants of this ancient volcano include Brokeoff Mountain, Mount Diller, Pilot Pinnacle and Mount Conard. See if you can identify the rim as you gaze out from the top of Brokeoff Mountain. Read more about Brokeoff Mountain trail.
NOTE: Parking is limited at the Brokeoff Mountain Trailhead. An early ascent is advised. Park entrance fees apply.
Last updated: September 13, 2016