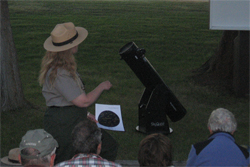 Look up and explore the universe far beyond the park.
Lake Roosevelt offers the following programs on a very limited basis:
Activities are from Astronomy From the Ground Up and presented by a National Park Service Sky Ranger.

Choose from the links above or contact our educational specialist for more information.