2017 Artists-In-Residence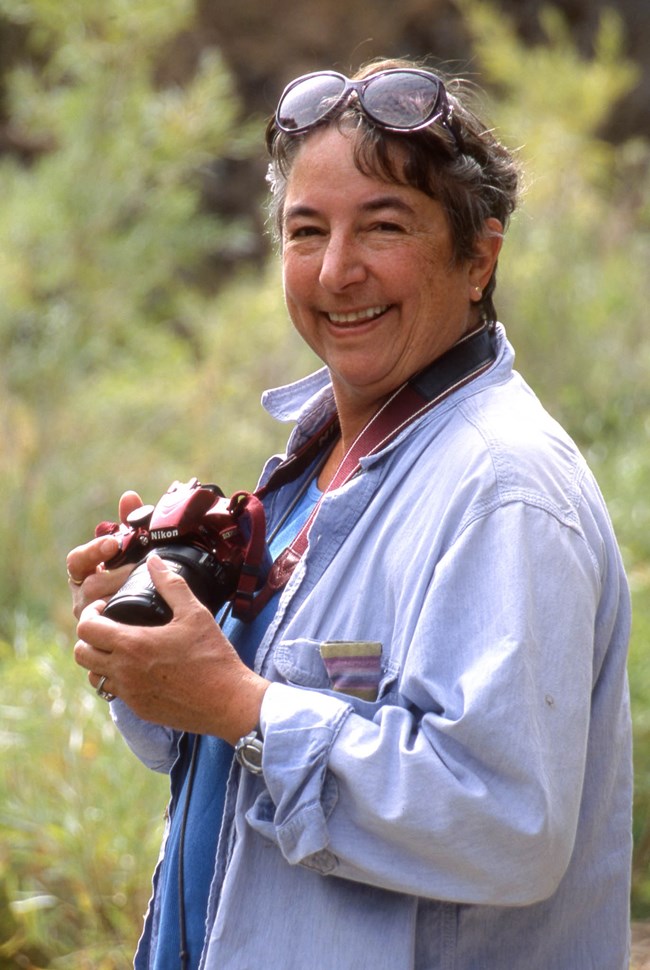 Leslie Hauer

RESIDENCY DATES: April 13th - 23rd
I've always been an artist. I've kept a crayon drawing that my third-grade teacher thought was remarkable and I still have oil paintings from junior high days, when my mother allowed me to take over the kitchen table. In the 1980s, I painted rock forms and scenes from mountain climbing in watercolor. Several paintings were accepted into national juried shows, then life in the form of a profession and children intervened. For several years I detoured through fiber arts—weaving, knitting, and spinning—and ceramics before returning to painting about three years ago.
Oil paint is my preferred medium at present, as I love the ability to work quickly and build up textures. I've also discovered the joy—and frustration—of working "plein air," as it requires focus in the present and on the moment that only lingers briefly before disappearing forever, sometimes far more quickly than one would like. But sometimes, an artist can share the magic of the special moment when light, shape, and color converge, by finding the simplest and most direct way to capture it to canvas.

I am drawn to the drama of bold shapes and colors, shadows and light. I try to find the essence of landscape by limiting details and concentrating on the features that attracted my eye. I hope that my work provides a way to see and experience life.

The project that I propose is a sort of performance art. During the residency consisting of at least a week in the spring and another week in the fall, I plan to seek out places to paint where I will encounter visitors to the National Recreation Area with the hope that visitors will engage with me and with the scenery. I will also search for locations that represent the essence of Lake Roosevelt in the hope that the representation on canvas will capture something of the nature of the landscape.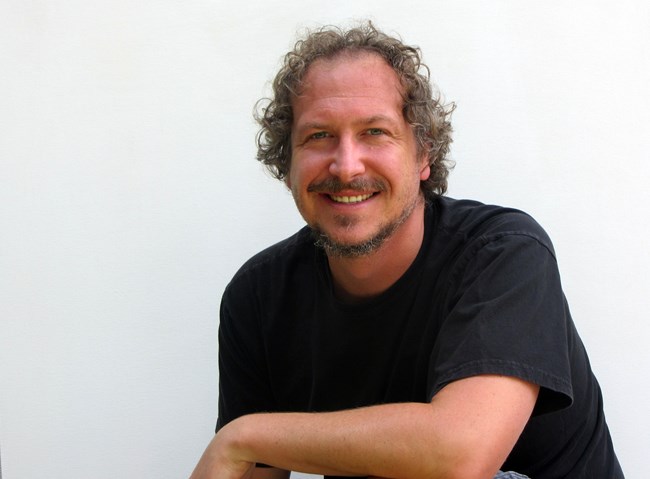 Shawn Camp

RESIDENCY DATES: May 12th - 26th
I am an artist living in Austin, Texas - but I spent my formative years in northern Idaho. After finishing my undergraduate education at University of Idaho, I received an MFA in Painting from Virginia Commonwealth University. I then began exploring, painting, and exhibiting throughout the United States and abroad as an artist and musician. In addition to my art career, I teach painting at Texas State University.
My work includes painting, sound, installation, and video. I often incorporate soundscapes and manipulation of lighting in the gallery space to create immersive environments through which to view my paintings.
For my residency at Lake Roosevelt, I will be working on pieces for a show in Texas that opens in the Fall. My goal is to execute a number of paintings and begin work on an original musical composition - together, these will form a "portrait" of the Lake Roosevelt area. Daylight hours will be spent hiking, taking field recordings, collecting video footage, and doing sketches. In the evenings I plan to work by painting, editing footage, and mixing/composing sound.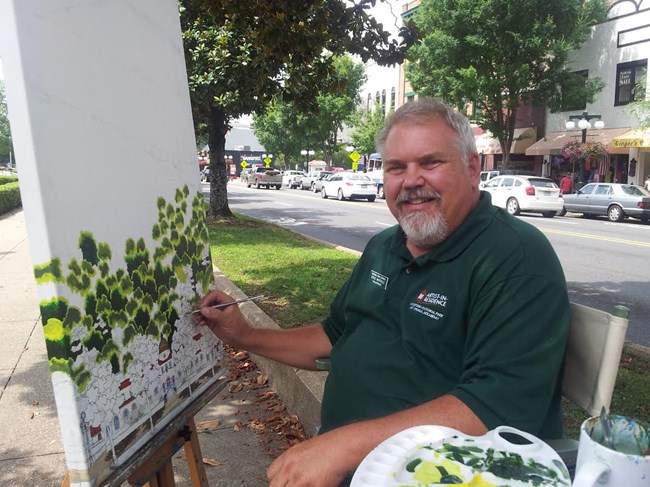 Steve Whitefield

RESIDENCY DATES: May 31st - June 15th
Steve Whitfield is an artist from Oklahoma City, Oklahoma. He is looking forward to bringing his painting talents to the Northwest part of our country for the first time this summer.
Steve started his professional life in the field of architecture, before moving into teaching and educational leadership. Most of the year he teaches art at an alternative high school in Oklahoma City. Summertime finds him producing paintings and sculptures inspired by his experiences in both nature and urban environments. His recent work has focused on the Southwest and Central part of the United States, with projects that reflect the hill country of Texas, the Ozark mountains' of Arkansas, and the rivers and lakes of his home state. Steve's artwork can be found in private collections and galleries across the country.
In recent years he was selected to serve as an Artist in Residence at Hot Springs National Park, and as the featured artist for the Paseo Arts Festival. He is proud to have been chosen three times, by the City of Oklahoma City, as a pre-qualified artist for the creation of public artwork in his community.
Steve is married to Cindy, and they have four adult children, and two grandchildren. They enjoy traveling, remodeling, and sailing in their free time.
Working as an art history educator for many years, Steve developed an appreciation for the identity which an artist's style can acquire. He says, "For a long time, I felt like I was technically proficient at many styles of drawing and painting but, that work could have been done by anyone with the same training as I've had. Finally, at this point in my life, I feel that I have created some individual techniques that viewers can connect to a piece as being one that was done by me." Steve looks forward this summer to exploring these techniques in a place he's never experienced, Lake Roosevelt National Recreation Area.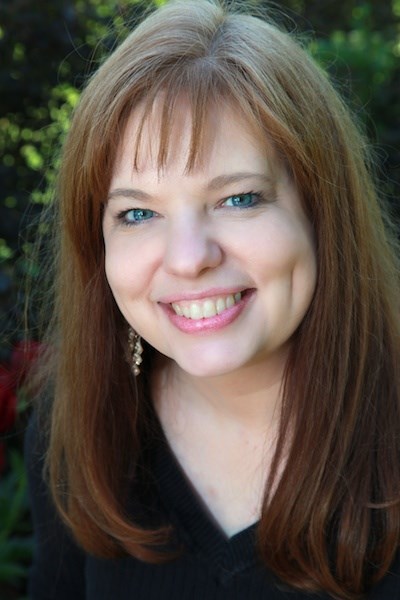 Joan has been nominated five times for Pop Entertainer of the Year by the Chicago Music Awards. (Other nominees have been R. Kelly, Kanye West, Mavis Staples, Wilco and Jennifer Hudson.) ASCAP (American Society of Composers, Authors and Publishers) gave her their fifth ASCAPLUS Writer's Award. The Robert M. MacNamara Foundation awarded her one of its residencies where she wrote new music. Her music is available on major digital distributors like iTunes and is available in over 100 countries.
Her first full length CD entitled joanland is a collection of 11 original songs performed by Joan and a variety of talented musicians and was included on the Grammy Awards Nominations Ballot in four different categories. Appearing are members of the Cryan' Shames and blues legend Corky Siegel, as well as Skip Griparis of the Major League movies. Joan was also the vocalist on the recording of Oh Lady Di for the late Princess of Wales benefiting her Foundation and charities. This recording also put Joan on the Grammy Awards Nominations Ballot in a number of categories.
Joan was the singer on America recorded after 9-11. It can currently be heard on the website for the Flight 93 Memorial in California, and is included in the Artist Registry for the National 9-11 Memorial in New York City. The song led to Joan being chosen by Washington for a nine-day USO tour to entertain the troops including Cuba and landed her another appearance on the Grammy Awards Nominations Ballot. Other performance highlights include appearing as a headliner during the Winter Olympics in Salt Lake City,in the Caribbean and in Las Vegas. She has shared billing with entertainers like Buddy Rich, Koko Taylor, Lonnie Brooks, the Chi-Lites, the Cryan' Shames, David Sanborn, Brenda Russell, Shirley King, Taj Mahal, Rare Earth, James Moody and the Second City Comedy Troupe.
Commercials and television work include working with a variety of sports legends like Mike Ditka and Dr. Julius Irving.. Film work includes working with stars like Bill Murray, Robert DeNiro, Andie MacDowell, Dolly Parton, James Woods among others. The film Last Day in Chicago, in which she had a starring role, won its division of the Chicago International Film Festival. She was a part of the team that won an Emmy for Best Children's Special at CBS-TV Chicago.
During her time at Lake Roosevelt National Recreation Area, Joan will be composing new original songs inspired by the landscapes and stories held within.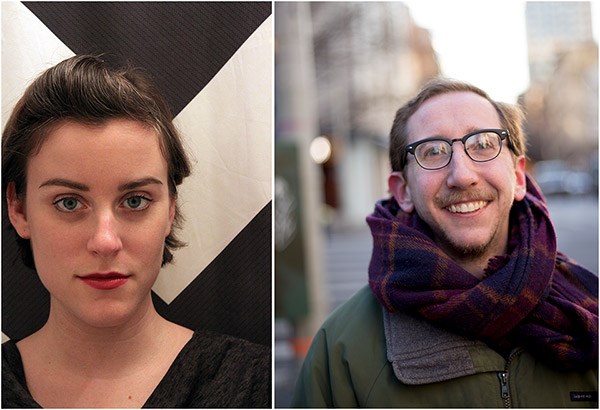 Heather Heckel is an artist and educator living in New York City. She earned her BFA in Illustration from the Ringling College of Art and Design and her MAT in Art Education from the School of Visual Arts. She teaches Computer Arts Technology and is the Work Based Learning internship coordinator at the High School of Art and Design, a public arts high school in Manhattan. Her responsibilities include writing curriculum and teaching Adobe Photoshop and Illustrator, as well as managing over 50 student interns placed around the city.

Heather is also a practicing artist and freelance designer. Her clients include Whole Foods Market, Kids Footlocker, Juice Pharma Worldwide, The Renwick Hotel and the Park Sloper Reader. Her artwork has won international awards including the Pushing Boundaries Award at the International Scratchboard Exhibition in Australia, and several Merit awards in the 3x3 Magazine Professional Illustration Show. Her children's book that she wrote and illustrated, What Will Snarl Fig Be? / Nutsy and Her Tree, won the Moonbeam Children's Book Silver Medal for Best First Picture Book, and the Next Generation Indie Book Award for Best Overall Design.

Her medium of choice is oil paint and colored pencils, with a fondness for representative art including portraits and landscapes. During her artist residency Heather will be creating a series of realistic plein air landscapes of the surrounding terrain in oil paint. She may also compose sketches in colored pencil of additional subject matter on location. She is looking forward to donating a piece to Lake Roosevelt National Recreation Area, as well as interacting with visitors during her stay.

Heather is also interested in farm animal advocacy and social justice, vegan cooking (and eating!), traveling, swimming, biking and kickball.

--------------------------------------------------------------
Tim Israel is a large format photographer. He shoots on film, using view cameras that are quite a lot older than he is. Tim is especially interested in alternative techniques for capturing light, such as the use of infrared sensitive film.

This summer he will be making a series of comparative images at Lake Roosevelt, representing both the seen and unseen wavelengths of light which permeate the vast landscape.

Tim teaches photography and digital filmmaking at The Ellis School in Pittsburgh, Pennsylvania; he is a 2008 graduate of Carnegie Mellon University. He is thrilled to spend another summer with his partner, Heather Heckel, making art at the invitation of the National Park Service.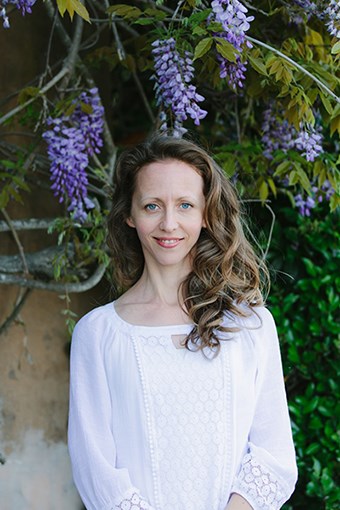 Anna Cox
RESIDENCY DATES: July 30th - August 27

My artistic roots sprouted early and were entangled in my explorations of the heavily wooded property of my childhood home. Long walks along the creek were interspersed with making creations from found materials. I learned drawing techniques from my aunt and uncle and saw masterpieces in Paris art museums with my father. Travel was a priority during my college and graduate school years. A cross-country trip through national parks opened my eyes to the grand beauty of this country, and a research trip to Cuba revealed a tropical light that bleached bright colors.

It was not until my first full-time job (in a cubicle where I redesigned other cubicles) that I searched for instruction to demystify painting in oils. I took an evening class at the Corcoran School of Art which led to a workshop in Italy the summer before moving to Charleston, SC. I love oil paint for its buttery consistency and its many possibilities for texture and layering color. In Charleston I found an incredible landscape that begged to be painted. I have grown through friendships in Charleston's supportive arts community and workshops with nationally-known artists. The process of painting outdoors helps me observe nature in a deeper way, sharpening my senses and making me more observant of the cycles of the tides and the angle of light.

The desire to explore this beautiful world has once again become a priority, and my life's next exciting chapter is a cross-country trip for a month-long residency at Lake Roosevelt National Recreational Area. While there, I will take field notes and paint studies from life that can then be used to create larger studio paintings. My goal is to create a body of work that will visually record the beauty and serenity of Lake Roosevelt.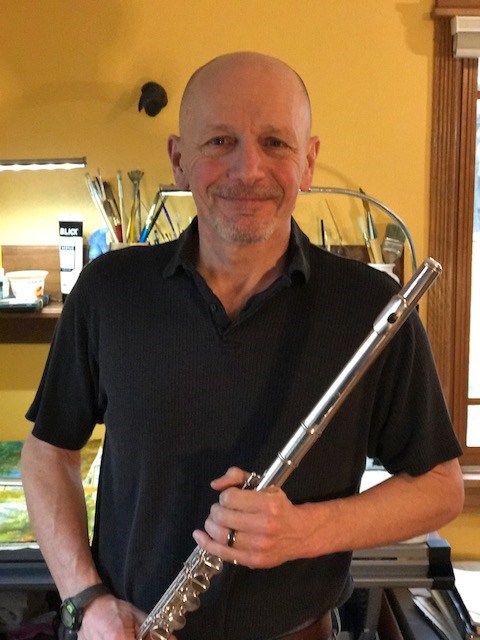 Hal Ide

RESIDENCY DATES: September 1st - 17th
Hal Ide, painter, composer, flutist and pianist, has lived a life immersed in the arts. Born in Cleveland and raised in Rochester, Michigan, near Detroit, he was drawn to music at an early age and spent hours listening to his parents collection of classical music recordings. Ide spent Jr. and Senior High School summers at the National Music Camp at Interlochen, Michigan and earned Bachelors and Masters degrees in music from Central Michigan University and the University of Iowa respectively.
His career includes work at the world class performing arts center Hancher Auditorium at the University of Iowa, and with the American Institute of Musical Studies in Graz, Austria. He has thrice won competitions with the National Flute Association in the Professional Flute Choir category and he has performed in China, Italy, Slovenia, Austria, Spain, the Czech Republic and Hungary with the International Flute Orchestra. Ide has composed, performed, and produced 7 CD's of his work. He is currently flutist with the LIROS Woodwind Quintet.
A strong interest in visual arts led Ide to try his hand at painting when he retired in 2015. He quickly developed his own style of using watercolors. Since then he has had two solo shows and been accepted at the Iowa Artisans Gallery, a juried collection in Iowa City, IA.
For his residency at Lake Roosevelt National Recreation Area Ide will be taking a unique approach. Having lived through and been greatly impacted by the epic flooding of eastern Iowa in 2008, Ide will be looking at the "other side of the coin", seeing how, after 76 years,
the intentional flooding of the area upstream of the Grand Coulee Dam has benefitted and brought beauty to the eastern Washington area.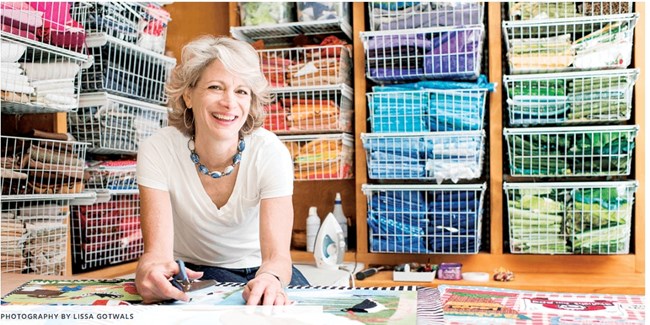 For over two decades, Elaine O'Neil has captured the essence of beloved places through carefully chosen fabrics, meticulously cut by hand, layered and sewn into award-winning textile collages. Each collage depicts a scene and stirs nostalgia by featuring the emotionally salient aspects of the location, rather than ensuring physical accuracy.

This Hillsborough, North Carolina, textile collage artist discovered her connection to place growing up in Maine - where lighthouses set on steep northern banks and lobstermen dot the bays. And as the daughter of a home economics teacher with a talent for sewing, O'Neil's sewing skills were developed and honed from an early age. After high school, she left Maine to continue her education at Philadelphia College of Textiles and Science. After graduation, she combined her love of place, her sewing and textile education and her innate artistic abilities into the first of hundreds of textile collages.

Since then, O'Neil has sold hundreds of custom collages, capturing as many places, to clients across the United States and Europe. Galleries up and down the East Coast have displayed her work and some of the nation's leading hospitals, including Mayo Clinic, Yale-New Haven Hospital and the North Carolina Cancer Hospital currently exhibit her work. Her collages have been featured on the covers of numerous books and magazines.

Given the chance to be away from the daily routine of running a studio and a house, along with careful observation and immersion in the physical beauty of Lake Roosevelt National Recreation Area, she will focus with "new eyes" and excitement on color, pattern and texture so important to her work. O'Neil looks forward to coming back to her studio to create an original textile collage capturing the emotional bond, and "sense of place" inspired by her art residency at Lake Roosevelt National Recreation Area.

Last updated: April 18, 2017