Swimming - Lake Mead National Recreational Area

Please be aware that there are no lifeguards or designated swim beaches at lakes Mead or Mohave. Always wear a lifejacket. Most fatalities at Lake Mead National Recreation Area could have been avoided if the person in the water was wearing a lifejacket. Keep a very close eye on children and choose areas to wade where there isn't any boat traffic. Distances are deceiving at Lake Mead National Recreation Area, and most coves are too big to swim across. Know your limits. Swimming is prohibited at all marinas and launch areas.
Lifejacket Loaners Available at Lake Mead NRA
Lifejacket loaner stations are available at Boulder Beach and Cottonwood Cove near the beach for easy access. There are lifejackets in sizes infant to adult and instructions to help visitors choose the right size. Visitors can borrow a lifejacket at no cost to use during the day and return it before they leave.
"What we are trying to do is raise awareness of the risk associated of swimming without a lifejacket and change behavior by providing lifejackets to people who otherwise wouldn't be using them on the shoreline," said Chief Ranger Mary Hinson.
A recent study of fatality reports, dating back five years, showed that the number one cause of unintentional death at Lake Mead NRA was drowning. This prompted a study to observe and record lifejacket use at the park. Student volunteers from the University of Nevada, Las Vegas and Veterans Tribute Career and Technical Academy were trained in risk management and data collection. They recorded lifejacket use by visitors on boats, personal watercraft and on the shoreline.
The results showed that only ten percent of all swimmers observed at Lake Mead NRA wore a traditional lifejacket.
Visitors who don't wear lifejackets can unexpectedly find themselves in life threatening situations while swimming in the lakes. In 2012 and 2013, 100 percent of drowning victims were not wearing a lifejacket. Earlier this year, two women using pool toys at Boulder Beach were swept away by the wind and unable to swim back to shore.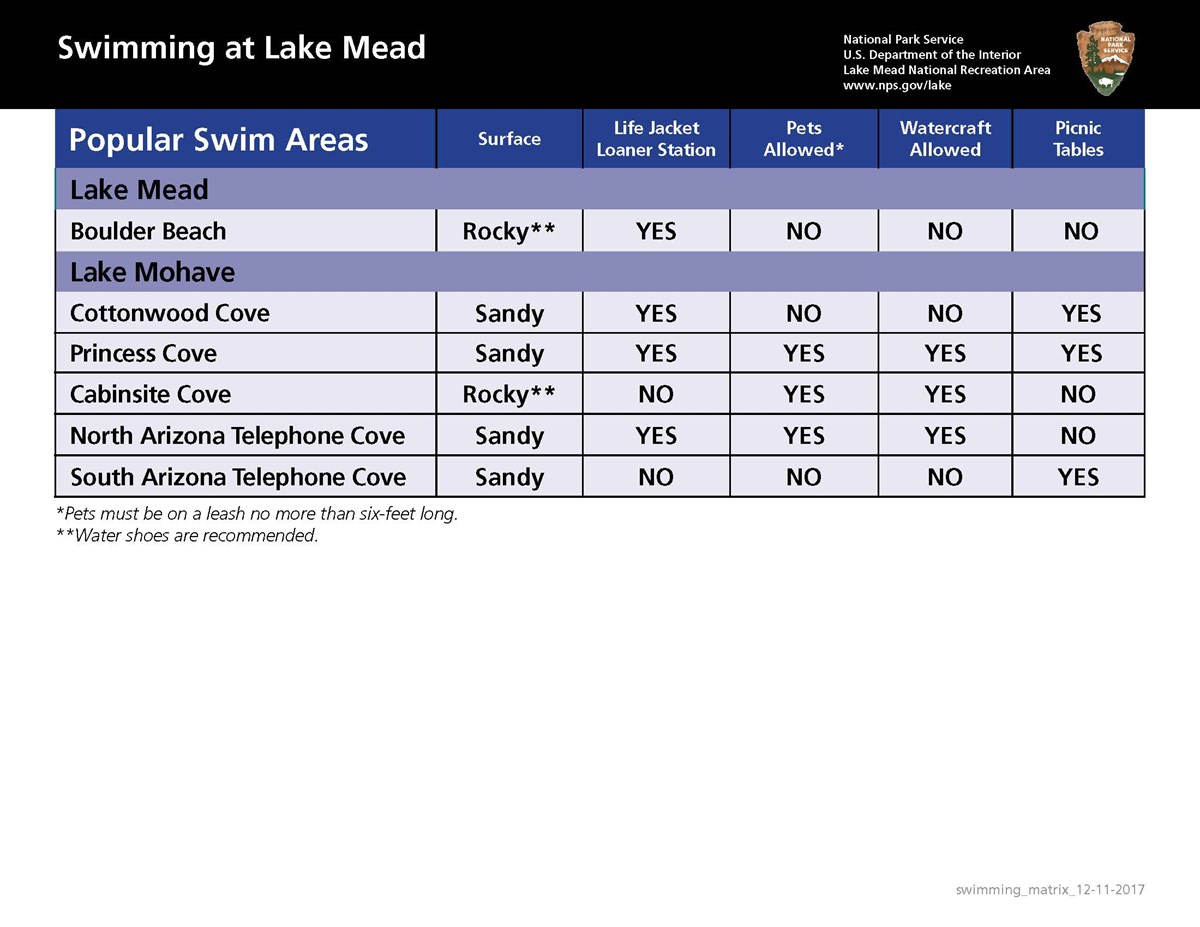 ---

Swim at your own risk.
There are no lifeguards at Lake Mead NRA.
For information on "Swimmer's Itch" please click this link.
---
Invasive Mussel Found at Lake Mead NRA
Live quagga mussels (a nuisance invasive species closely related to, and commonly referred to as zebra mussels) were discovered in Lake Mead on January 6, 2007 at the Las Vegas Boat Harbor marina. In order to not spread the mussel to other bodies of water, please follow the suggestions below. Effective ways boaters (including personal watercraft, canoe, and kayak users) and fisherman can ensure that their boats, vehicles, trailers and other equipment do not become the means of infecting other waters:
1. Drain the water from your motor, live well, and bilge on land before leaving the immediate area of the lake.
2. Completely inspect your vessel and trailer, removing any visible mussels, but also feel for any rough or gritty spots on the hull. These may be young mussels that can be hard to see.
3. Wash the hull, equipment, bilge and any other exposed surface with hot, soapy water or use a 5% solution of household bleach.
4. Clean and wash your trailer, truck or any other equipment that comes in contact with lake water. Mussels can live in small pockets anywhere water collects.
5. Air-dry the boat and other equipment for at least five days before launching in any other waterway. Do not reuse bait once it has been exposed to infested waters.


Last updated: January 6, 2020