Getting Around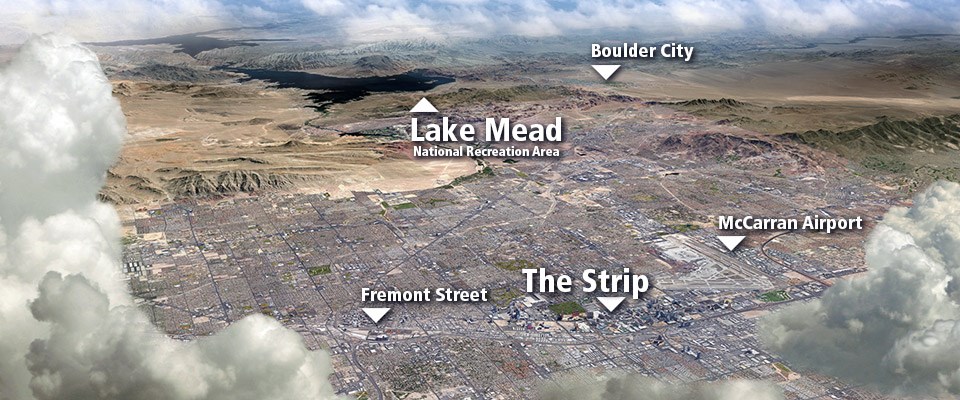 Lake Mead National Recreation Area is located only 25 miles from the Las Vegas Strip and McCarran International Airport. There are smaller airports in the area surrounding Lake Mead NRA. Once here there are several alternatives for exploring Lake Mead NRA.


---
Getting to Lake Mead National Recreation Area

By Air:
The closest major airport is McCarran International Airport in Las Vegas, approximately 25 miles from Lake Mead NRA. There are several other smaller airports in the vicinity, such as North Las Vegas Airport and Laughlin/Bullhead City Airport which is approximately 78 miles from Boulder City but is located just South of the southern point of Lake Mead NRA.
By Automobile:
We have nine paved accesses into Lake Mead NRA. For more information please see our
Maps page
. Lake Mead NRA is located just minutes from most of the Las Vegas region and Lake Mojave is located just minutes from Laughlin, Nevada, and Bullhead City, Arizona.

By Public Transportation:
There is no public transportation to Lake Mead NRA, however many tour operators are available to transport from many Las Vegas resorts and attractions.
Getting Around Lake Mead National Recreation Area
By Automobile:
Most major sites and attractions at Lake Mead NRA are accessible by automobile on well maintained paved roads. There are backcountry roads which are dirt and gravel and are preferably accessible via 4-wheel drive vehicles. We have a backcountry road map available on our
Map Page
.
Approved Backcountry Roads:
A network of backcountry roads has been developed to provide access to the lakeshore and other areas of interest in the backcountry. Approved roads are signed with a yellow arrow. The black number in the center of the arrow designates the road number. Driving on roads or trails not marked with the yellow arrow is prohibited.
Driving off roads, in washes, or cross country damages the fragile desert soil and is prohibited by National Park Service regulations.Please be prepared and cautious in the backcountry. Conditions can change without warning.
If you have any comments about the backcountry, please contact us at (702) 293-8990.

Walking:
With many trails, backcountry roads, and paved roads, walking around Lake Mead NRA is a fun and enjoyable experience. Be sure to remember safety procedures when walking, such as carry plenty of water, protect yourself from the sun and leave an itinerary. We do not recommend walking or hiking in the park during the hot summer months. See our
hiking page
for more information.

Biking:
Most of Lake Mead NRA is accessible with a road or mountain bike. There are specific rules for bikers to abide by so please visit our
biking page
for more information.
Last updated: August 24, 2016