Firearms rules for Lake Mead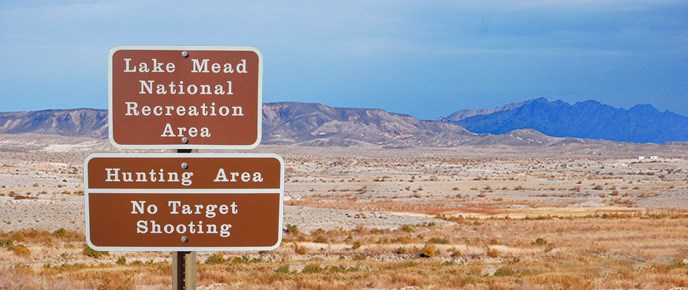 Visitors to Lake Mead National Recreation Area may legally possess firearms within the guidelines of state and federal laws. Please read the following information to educate yourself with applicable state and federal laws regarding use of firearms in the park.
---

Federal law allows people who can legally possess firearms under applicable federal, state, and local laws outside the park, to legally possess firearms in this park. (Sec. 512 of the Credit Card Accountability Responsibility and Disclosure Act of 2009, Public Law 111-24)
It is the responsibility of visitors to understand and comply with all applicable state, local, and federal firearms laws before entering this park. See below for links to state laws governing firearms.

FIREARMS IN FEDERAL BUILDINGS
Firearms are prohibited in federal buildings where federal employees work. This includes visitor centers, park administrative offices, and ranger stations. (18 U.S.C. § 930)
TARGET SHOOTING
Target shooting of any kind is prohibited in the park. Shooting is allowed on certain lands managed by the Bureau of Land Management.
STATE FIREARMS LAWS
Arizona - ARS Title 13, Chapter 31
Nevada - NRS Chapter 202

State of Nevada requires a valid permit to carry a firearm concealed. The permit must be issued or recognized by the state that the park area is in. Arizona doesn't require a permit to carry a concealed weapon.
Below are popular park areas and the state they are located in.
| | |
| --- | --- |
| Park Areas | State |
| Arizona Telephone Cove | Arizona |
| Boulder Beach | Nevada |
| Callville Bay | Nevada |
| Cottonwood Cove | Nevada |
| Echo Bay | Nevada |
| Six Mile Cove - Lake Mohave | Nevada |
| Government Wash | Nevada |
| Hemenway Harbor | Nevada |
| Katherine Landing | Arizona |
| Nevada Telephone Cove | Nevada |
| Placer Cove | Nevada |
| Princess Cove | Arizona |
HUNTING
Hunting is permitted in designated areas of Lake Mead National Recreation Area and is regulated by state game agencies. Park rangers and state game wardens enforce game regulations. See park hunting maps for designated hunting areas. Be sure to review state hunting regulations for seasons and ensure you possess the appropriate hunting licence.
Hunting Maps
Arizona Game & Fish Department
Nevada Department of Wildlife
Last updated: February 13, 2014