Boulder Beach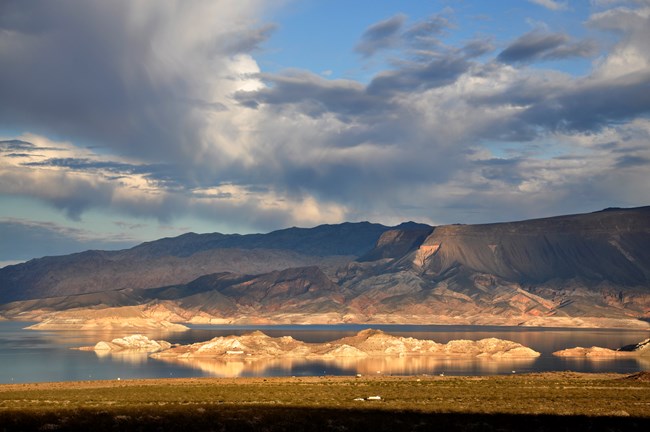 Explore Boulder Beach
Located in the western part of Lake Mead National Recreation Area, Boulder Bay is just minutes from Las Vegas and stretches more than a mile along the shoreline of the Boulder Basin of Lake Mead.

When you visit Boulder Beach, you'll have access to many recreation opportunities. Boulder Beach, Special Events Beach, Canoe/Kayak Beach, and PWC Beach are 1-2 miles away. At these locations you can kayak and jetski. If you prefer to explore the park on land, the River Mountains Loop Trail passes right by the campground. This paved trail is more than 30 miles long and leads to the Historic Railroad Trail.

Nearby Hemenway Harbor offers a fishing pier, boat launch ramp access, and Lake Mead & Las Vegas Bay Marinas. You can rent a boat for a few hours or dine at the docks. Lake Mead Cruises provides cruises on the lake to the Hoover Dam and back.


Recreation at Boulder Beach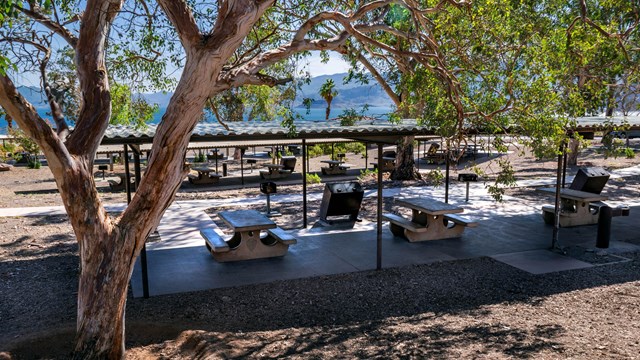 Picnicking
You're invited to enjoy shaded picnic areas throughout the park. Bring your meal or snacks and enjoy your picnic with a view.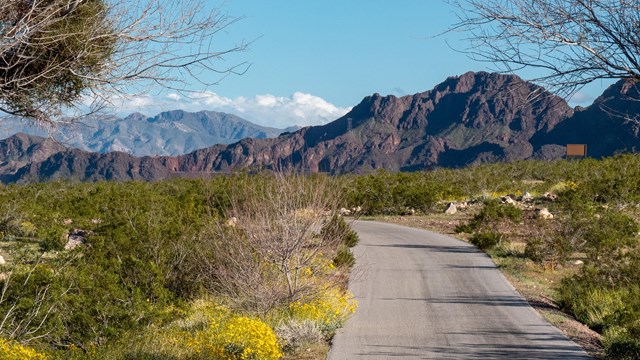 Hike the River Mountains Loop Trail
Adjacent to the entrance of the campground is access to the 34-mile River Mountains Loop trail.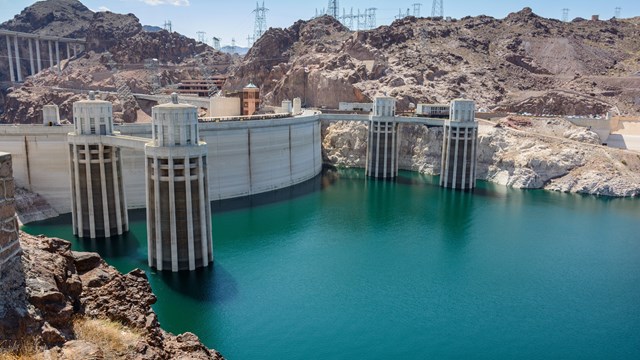 Nearby Attractions
The Hoover Dam, managed by the Bureau of Reclamation, is just minutes to the south along U.S. Highway 93.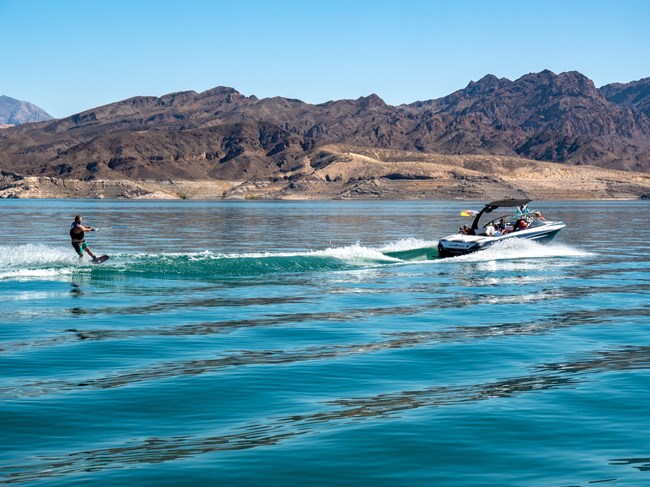 Boat Lake Mead
Lake Level Changing: Keep Alert & Launch At Your Own Risk
Boaters should excercise caution and be watchful of unexpected underwater and exposed water hazards.
Hazard buoys do not mark every hazard on the water.
Be prepared for longer wait times for launching and recovery
Ongoing maintenance/construction at ramps may require temporary closures.
The nearest motorized boating access from Boulder Beach is at Hemenway Harbor launch ramp. Rental boats are located nearby at Las Vegas Boat Harbor. Water-access fuel is located at the Las Vegas Boat Harbor (Hemenway Harbor), which is located near Boulder Beach.

Visitors may launch personal watercraft from the rocky beaches south of the swim area. These locations include: Boulder Beach, Special Events Beach, Canoe/Kayak Beach, and PWC Beach.




Hemenway Harbor Launch Ramp Status

Location

Availability

More Information

Small Motorized Vessels

Non-Motorized Vessels

Callville Bay

Operable

Operable

Two lanes on pipemat, only shallow-hulled boats not exceeding 24' in length.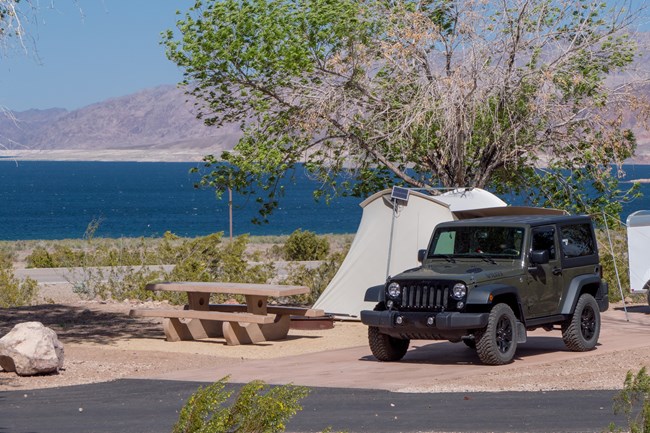 Camping
Boulder Beach Campground is open year-round and features large paved sites that can accommodate tents or large RVs, along with tables, fire pits and/or grills. Restrooms and water spigots are located throughout the campsite.

Temperatures usually surpass 100F (37C) degrees June-August. In May and September, daytime highs are around 90F (32C). October-April, temperatures are much cooler. Lows can dip to freezing temps December-February. The area averages 4 inches of rain each year.

Lush vegetation provides shade, and many sites have pristine views of the lake. Boulder Beach is about a 15-minute walk from the campground.



NPS Operated Campgrounds
*50% discount with Senior/Access Pass
**RV's may park in any NPS campsite; however, there are no hookups.
***WiFi in campgrounds is operated by a concessionaire service. Contact them directly with questions at:
| Campground | Reservations | Nightly Fee | Total # of Sites | | | | | |
| --- | --- | --- | --- | --- | --- | --- | --- | --- |
| Boulder Beach | | $20 | 135 | | | | | |
| Boulder Beach (Group) | | $80 | 5 (tents) | | | | | |
Concession Operated Campgrounds
*Information is subject to change. For up-to-date info, contact each concessionaire directly via corresponding reservation page.
RV Park

Reservations

Nightly Fee
Total # of Sites

Lake Mead

Info on
concessionaire
website


115
Accesible sites ——

Wifi ——

Dump Station


Pets allowed on leash ——
Pay showers ——
Included at site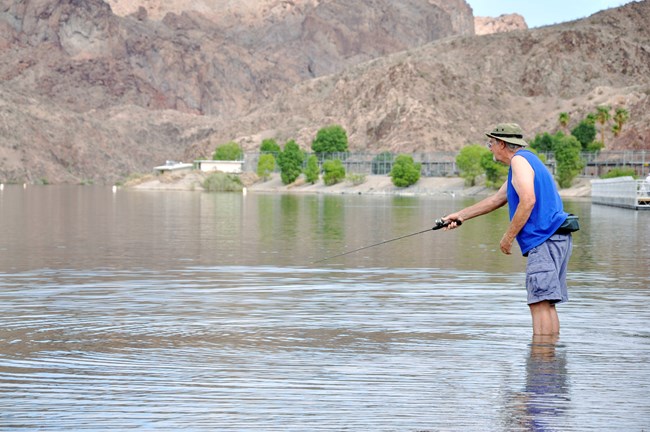 Fishing
Fishing is a year-round activity at Lake Mead; each season bringing its own exciting opportunities.

Due to low water conditions, Hemeway Harbor no longer has a fishing pier, however shore fishing at Hemenway Fishing Point is allowed in the designated area marked by bouys.

In order to be considered wading, a person fishing must be standing with their feet on the bottom and not capable of free flotation through the use of any device. As water recedes, be aware of the potential for soft mud.

All other water-oriented activities, such as boating, fishing from vessels and floating devices, swimming, snorkeling, and SCUBA diving, are prohibited in this designated area.

Fishing equipment, bait and supplies are available at the marina store. A convenient fish cleaning station is located at the top of the launch ramp parking lot.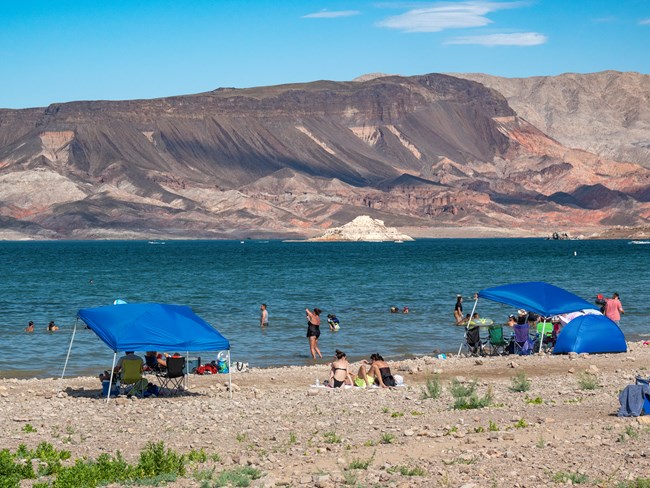 Beaches & Coves
Boulder Beach has a variety of multi-use beaches, including North and South Swim Beaches at Boulder Beach which is popular for families and triathletes alike. The surface is graded regularly, but tends to be rocky.

Be aware that as the lake levels get lower silty mud becomes exposed and people and vehicles have been known to get stuck. Always carefully test the ground before committing - even if it looks dry on top.

To the south, visitors can setup for the day with their watercraft and enjoy boating in the Boulder Basin.

Open dawn till dusk.
Last updated: February 28, 2023