Boat Launch from Hoover Dam Permit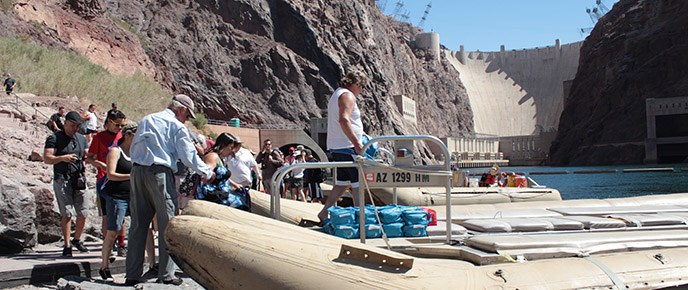 Hoover Dam Paddle Craft Rental, Launch and Retrieval Service Permit Holders
Launching from Hoover Dam is quite a thrilling experience. However, due to security restrictions launching a craft from the Dam requires a special permit which is available from the following authorized outfitters.
Only authorized vehicles are permitted within the Bureau of Reclamation restricted security area near Hoover Dam, including the launch site. Groups that choose to rent canoes and equipment from authorized liveries will have the launch and retrieval included in their packages. Any others who bring private craft and equipment will need to use one of the authorized livery services to launch at Hoover Dam, and may arrange retrieval, shuttle of passengers, or other rental services as they desire. These requirements are due to security and liability concerns associated with Hoover Dam.
For a list of authorized liveries, please visit our page on the
Black Canyon Water Trail
.

Please remember that there are only a limited number of permits per day so call ahead of time to reserve your dates.
Last updated: September 10, 2018