Scientist Spotlight: Todd Tietjen, Ph.D.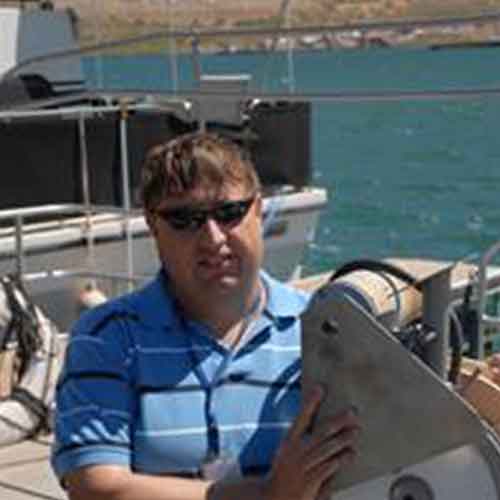 For scientist Todd Tietjen, Ph.D. of the Southern Nevada Water Authority, a love of science took him all the way across the country to Las Vegas. Todd grew up just outside of New York City and he's been moving west ever since. His early passions were both environmental science as well as theater, but Todd now focuses his career on science.
---
Over the years, Todd has worked in many states across the country – from lush forested areas to the dry desert – but the common thread to his research are reservoirs. These man-made lakes are different than traditional lakes and after years of studying them, he has a great knowledge of how they work.
"Reservoirs are much more dynamic than natural lakes because of their flow - that has drawn me to them."
Todd has a very interdisciplinary job; he has to be part biologist, part chemist, and part physical scientist to understand these complex water systems. He also must understand all of the species that call the reservoir their home, including algae. Part of Todd's job is knowing what algae make Lake Mead and Lake Mohave their home, as well as where algae prefer to grow, how quickly they reproduce, and whether or not the algal species are beneficial or harmful. Todd has spent his career trying to understand these questions.
Todd's day-to-day job has changed over the years; he once spent most of his time in the field collecting samples (which is initially what got him interested in this work). The love of fieldwork hasn't left Todd, but as the years have gone by, his passion has shifted towards data analysis and the coordination with management and other groups.
"Being able to look at data and tell what's happening on the lake is definitely an enjoyable part of my job and keeps me interested in this line of work."

Last updated: April 4, 2017