Sacred Places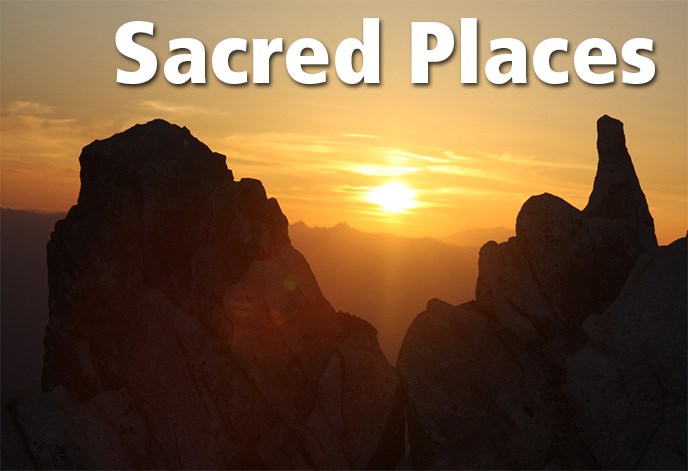 The region around Lake Mead National Recreation Area has been inhabited since prehistoric times. To the native peoples who lived here many places in the region were, and are, seen as sacred to their beliefs and customs.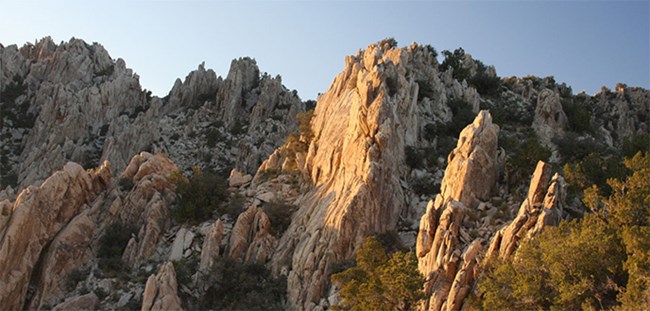 Spirit Mountain
Rising to an elevation of 5,639 feet above sea level, Spirit Mountain and the surrounding canyons are sacred grounds for the Yuman speaking tribes of the lower Colorado River. The mountain plays a prominent role in the religion and mythology of these people. They believe the mountain (called Avikwame by the Mohave people and Wikame by the Hualapai) is the spiritual birthplace of the tribes. Their creation story says...At one time all people belonged to one tribe, but they began to quarrel. The Creator, Mutavela, settled the dispute by dividing the great land into four sections, the North peoples, the South peoples, the East peoples and the West peoples. The Mohave were the west people and occupied the land along the Colorado River from what is now Black Canyon to the Bill Williams River. The other groups moved north, south and east.
Spirit Mountain and the surrounding canyons collectively have been named a Traditional Cultural Property and are listed on the National Register of Historic Places because of their significance to the Yuman speaking tribes which include Mohave, Hualapai, Yavapai, Havasupai, Quechan, Pai pai and Maricopa. This area is still sacred to the members of these tribes.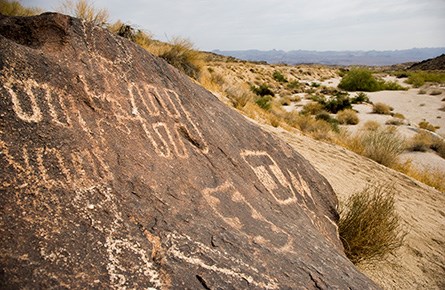 Grapevine Canyon
Grapevine Canyon, located within Spirit Mountain, is one of the earliest and largest petroglyph sites in Southern Nevada. This remote canyon is sacred to the Yuman and Numic speaking tribes indigenous to this area. The Yuman-speaking tribes include the: Mojave, Hualapai, Yavapai, Havasupai, Quechan, Pai pai, and Maricopa. The Numic-speaking tribes include the: Chemehuevi and Southern Paiute. The springs and plants in this canyon attract people and many animals including desert bighorn sheep which are integral parts of this unique cultural landscape.
The trail meanders along the bench on the edge of Grapevine Wash. As it approaches the canyon mouth, the first petroglyph panels can be seen on the boulders and cliff faces on either side of the wash. The designs and figures carved here pose many questions. What do the petroglyphs mean and why were they put here?
When visiting please remember even touching these ancient treasures can cause irreversible damage. Be respectful and take a moment to listen to the land, water, plants, and animals.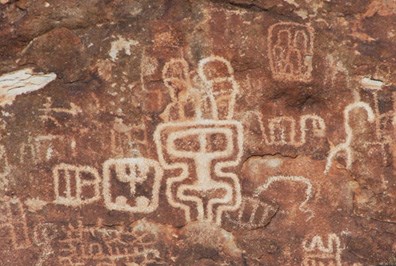 Petroglyphs
Determining the exact age of the petroglyphs is difficult. Evidence from recent research projects indicates that the age of the etchings spans a time period from as recent as 150 –200 years ago to more than 800 years ago. The native rocks are darkened by desert varnish and covered with hundreds of petroglyphs, chipped or scratched into the rocks' surface.
Last updated: December 9, 2015