Date:
October 14, 2015
National Park Service
U.S. Department of the Interior
LAKE MEAD NATIONAL RECREATION AREA News Release
For Immediate Release: October 14, 2015
Release No.: 2015-66
Contact: 702-293-8691
LAKE MEAD NATIONAL RECREATION AREA LAUNCHES VIRTUAL MUSEUM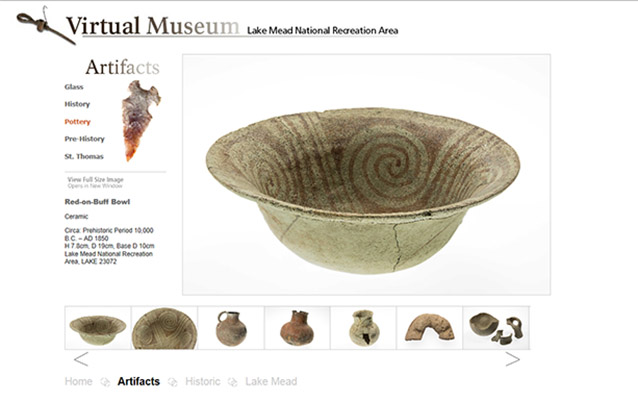 BOULDER CITY, Nevada –Oct. 15 marks the anniversary of the signing of the National Historic Preservation Act and Oct. 17 is International Archaeology Day. Lake Mead National Recreation Area is celebrating with the launch of its new Virtual Museum.
The museum, located at nps.gov/features/lake/museum, has a collection of historic photographs and cultural artifacts that have been carefully cataloged and stored by park archaeologists in a climate controlled room to protect and preserve them.
Lake Mead's cultural resources and artifacts tell a story about Native Americans, pioneers, miners, ranchers, settlers and dam builders who lived and in Southern Nevada and Northern Arizona. Historic photographs captured steamships, early settlements, ranger activities, recreation and explorations. St. Thomas, the once submerged town, is also included in the artifact and photo sections of the Virtual Museum.
The park doesn't have a brick and mortar museum;therefore visitors have been unable to see the park' artifacts, until now. The Virtual Museum, allows the virtual visitor to explore these photographs and artifacts online.
The Virtual Museum has two main categories: Historic Images and Artifacts. Within these categories are sub-categories to make it easier to navigate through the site. Visitors will find brief descriptions and dates, if available, for each item. 
-NPS-