News Release
South Cove Launch Ramp Closed – Alternative Ramp Available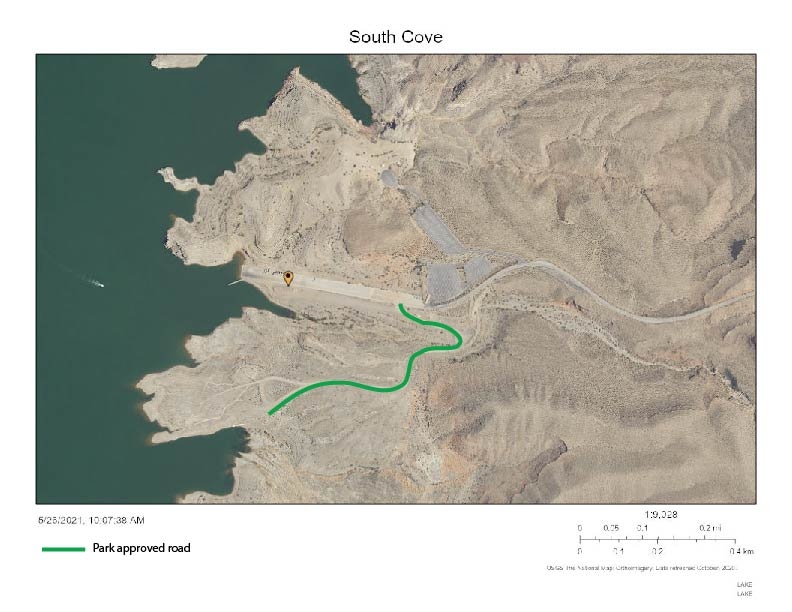 News Release Date:
June 17, 2021 BOULDER CITY, Nev. – The Lake Mead National Recreation Area launch ramp at South Cove is closed until further notice.
On Monday, a loader slid into the lake when land gave way at South Cove while working to reposition pipe mat to continue to provide launch ramp access. The operator was able to safely evacuate the cabin, and no bystanders were injured. The area is closed until further notice while the park evaluates the cause of the mishap and risks to public safety.  
The South Cove launch ramp is very steep with a cliff like drop-not far from the water's edge. "The park will no longer be able to provide safe access to the South Cove launch ramp," said Acting Superintendent Sarah Creachbaum "We understand that this launch ramp is extremely important to the community. Unfortunately, the low water levels and topography of the area leave us with few options. Visitor safety must be our priority."
Alternate launching is available just south of the launch ramp off a dirt road. This will be primitive launching. The park plans to move the courtesy dock to the primitive launch area and grade the dirt road in the future. We caution that boaters with larger vessels should consider launching at alternate locations including Temple Bar, Hemenway Harbor, and Callville Bay. All launch ramps on Lake Mohave are available for launching. The Pearce Ferry ramp is a take-out location only and is not approved for launching vessels.
To the extent possible, the National Park Service (NPS) will work to maintain boat launch access at Hemenway Harbor, Temple Bar, Callville Bay, and Echo Bay throughout the summer of 2021 using pipe mats to temporarily extend launch ramps.
Pipe mats are repurposed steel cooling pipes recycled from decommissioned coal fired power plants. Pipe mats can be used to temporarily extend concrete launch ramps to provide a surface for boaters to launch their boats. Pipe mat launch ramp extensions are narrower than paved concrete ramps, can be slippery, and are not a permanent solution for providing launch ramp access. Due to the decreased width of the pipe mat launch ramps, visitors are encouraged to plan as launching wait times are anticipated to be longer than normal. 
Boaters should check the status of their intended launch destinations before heading to the lake. The latest information on current boat launch and marina facilities can be found at:
Lake Mead National Recreation Area (U.S. National Park Service) (nps.gov)
. Projected water levels are provided on the 15th of each month by the BOR and are available at
https://www.usbr.gov/lc/region/g4000/24mo.pdf
.

-NPS-
Lake Mead National Recreation Area is the only national park minutes from Las Vegas that offers Joshua trees, slot canyons and night skies illuminated by the Milky Way. The park's rocks are as red as fire and the mountains are purple majesties. Lake Mead is the country's first and largest national recreation area and the fifth most visited national park in the country. Follow us at
www.nps.gov/lake
or on
Facebook
,
Twitter
and
Instagram
.
Last updated: June 17, 2021