Date:
August 14, 2013
National Park Service

U.S. Department of the Interior
LAKE MEAD NATIONAL RECREATION AREA News Release
For Immediate Release: August 14, 2013
Release No.: 2013-60
Contact: Christie Vanover, 702-283-2344

NEW RECYCLING PROGRAM AT LAKE MEAD NRA 'AMAZING SUCCESS'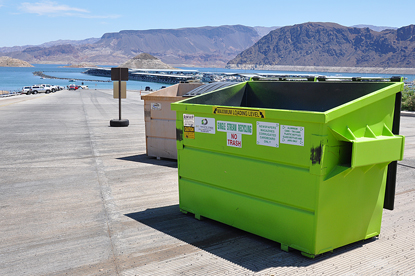 BOULDER CITY, Nev. – In just three months, recycling has increased an estimated 20 percent at Lake Mead National Recreation Area thanks to a new single stream no-sort recycling program.
More than 30 single stream dumpsters have been placed around Boulder Beach, Callville Bay and Katherine Landing, allowing visitors to throw all of their recyclables into one bin without sorting.
David Hughey, the park's field operations supervisor, said this program will help Lake Mead NRA meet the Department of Interior's goal to divert at least 50 percent of nonhazardous solid waste by fiscal year 2015.
"Every place there has been a dumpster, we will add a single stream dumpster," said Hughey."They'll be at every trailhead, all campgrounds and picnic areas."
The 1.5 million-acre park welcomes more than 6 million visitors each year, and with that visitation comes more than 300 tons of municipal waste. In 2012, the park recycled 95 tons, a diversion rate of 30.58 percent.
Hughey said the success of the new program is due in large part to how easy single stream recycling is. He said its best to describe what can't be recycled versus what can because the list of recyclable items is so long.
All nonhazardous waste can go into the dumpster except for clothes, food, waxed coated cups, Styrofoam and yard waste. Everything else from plastic to metal to glass is recyclable.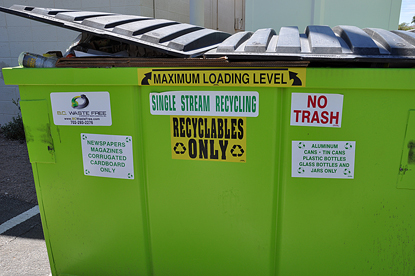 The bright green dumpsters are easy to spot, and they're clearly labeled with information about what to recycle. Traditional trash dumpsters are still located beside the single stream dumpsters to collect any remaining garbage.
"It's been pretty amazing," said Hughey. "In some places, we're doubling up on the dumpsters because of the success."
Shannon Swann, the park health officer, said new recycling programs have been added for park employees, as well. In addition to placing single stream dumpsters near office buildings, employees can now recycle batteries, fluorescent light bulbs and toner cartridges in the warehouse bay.
"Overall, we're reducing what goes into the landfill," she said.
Park employees have encouraged recycling for years. Wooden bins made by Eagle Scouts are still scattered throughout the park in areas where the new dumpsters haven't been placed yet. Hughey said they were installed as a trial program to see if the public would recycle.
"It worked. The public is willing to do this," he said. "It's easy now, so people are doing the right thing. We're doing the right thing. Continue doing what you're doing."
Single stream dumpsters will continue to be added throughout the park. The plan is to have 100 in place by summer 2014.
-NPS-