Date:
May 12, 2015
National Park Service
U.S. Department of the Interior
LAKE MEAD NATIONAL RECREATION AREA News Release
For Immediate Release: May 12, 2015
Release No.: 2015-23
Contact: 702-293-8691
CLEVELAND STUDENT SHADOWS LAKE MEAD NRA PARK RANGERS FOR SENIOR PROJECT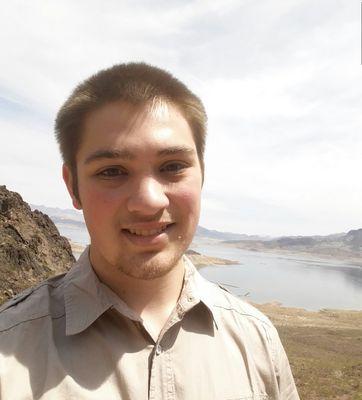 BOULDER CITY, Nevada –Joel Kavaras, a senior from Independence High School in Cleveland, Ohio, is spending the last two weeks of his high school career job shadowing park rangers at Lake Mead National
Recreation Area in Nevada and Arizona.
From May 11 to 19, he will get a behind-the-scenes look at the national park unit as he learns about the park's education, outreach and interpretation operations. As part of the senior project internship, Kavaras will share his discoveries and experiences through a blog and on social media.
To follow Kavaras' adventures, visit www.nps.gov/lake/learn/news/npsproject.htm or follow hashtag #NPSProject on social media.
In Ohio, Kavaras is a seasonal naturalist at Cleveland Metroparks. He provides customer service in the nature center and prepares and presents interpretive programs and exhibits related to the natural and cultural history of Northeast Ohio.
After high school, he plans to attend college and is considering a career with the National Park Service.
-NPS-