Date:
June 21, 2013
National Park Service
U.S. Department of the Interior
For Immediate Release: June 21, 2013
Release No.: 2013-45
Contacts: Christie Vanover, National Park Service, 702-283-2344
SEARCH CONTINUES FOR MISSING CHICAGO MAN
BOULDER CITY, Nev. – The National Park Service and Las Vegas Metropolitan Police Department continued searching June 21 for a Chicago man who went missing at Lake Mead June 20.
After seven hours, the search was suspended when winds began to gust to 22 mph.
The missing 35-year-old man, identified by family as Istvan Tibor Feichtner, was last seen around 4 p.m. June 20 between Painter's Cove and Castle Reef. Witnesses said he disappeared underwater after he went for a swim. They said he struggled in the high waves and was not wearing a lifejacket.
Search teams conducted a two-hour search June 20, but search efforts were suspended around 6:30 p.m. due to unsafe weather conditions.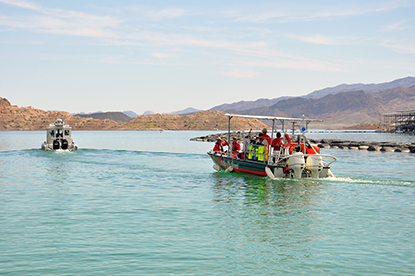 Around 6:30 a.m. June 21, the National Park Service resumed search operations. By 9:45 a.m., three NPS boats and one Las Vegas Metro Search and Rescue boat were on the water. Metro SAR used a combination of side scan sonar and divers to search the area. The search was suspended around 1:30 p.m.
The National Park Service will continue search operations June 22. The incident is under investigation.
When visiting Lake Mead National Recreation Area, boaters should be cognizant of the weather forecast. Lake conditions can change in an instant, which is why swimmers are advised to wear a lifejacket.
-NPS-