Date:
August 20, 2014
National Park Service
U.S. Department of the Interior
LAKE MEAD NATIONAL RECREATION AREA News Release 
For Immediate Release: August 20, 2014
Release No.: 2014-60
Contact: 702-283-2344
ROAD CLOSED, TRESPASSERS CITED
BOULDER CITY, Nevada – The National Park Service closed Eldorado Canyon Road Aug. 4 due to major storm damage. Visitors who choose to violate the closure, may be cited, fined and could face up to six months in jail.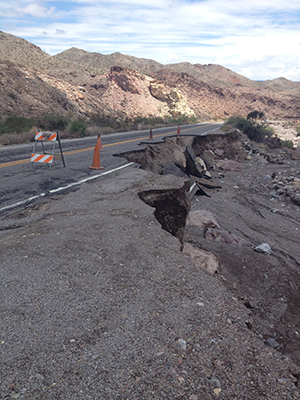 Aug. 4, a storm washed out half of Eldorado Canyon Road, which is the paved road within Lake Mead National Recreation Area that leads to Nelson's Landing. Road crews reviewed the damage and are concerned about the stability of the remaining half of the road.
Initially, temporary barricades were used to close the area, but visitors moved the barricades and cut the locks and chains.

Aug. 15, cement barricades were put in place to block the hazardous road. When rangers patrolled the area Aug. 16, they found that someone had moved those barricades, as well.
This closure is in place to protect the public from driving across a road that could possibly collapse, which could cause major injuries or death, as well as damage to personal property.
Anyone caught violating the closure may be cited and could face up to $5,000 in fines and six months in jail. Aug. 17, rangers encountered more than 30 people violating the closure who were traveling along the damaged road from the lake back toward the city. Many received citations.
At this time, access to Nelson Landing and Placer Cove is only available from the water or via Aztec Wash Road, an unpaved approved road that starts near the town of Nelson, Nevada. Four-wheel drive, high-clearance vehicles are recommended for those who travel down the backcountry road. Travel through the wash should be avoided when it's raining or when rain is in the forecast.
Visitors should not park at the closure and attempt to walk to the lake. In addition to the road being closed, the lake is 4.5 miles from the barricades. One person has already been rescued trying to attempt this trek.
A road crew from the Federal Highway Administration observed the damage and has estimated that the road repairs will take two to three months.
Outside the park, Nevada State Road 165 is still open, providing access to the Eldorado Canyon Mine and Aztec Wash Road.
-NPS-