Date:
August 21, 2014
National Park Service
U.S. Department of the Interior
LAKE MEAD NATIONAL RECREATION AREA News Release
For Immediate Release: August 21, 2014
Release No.: 2014-61
Contact: 702-293-8691
LAKE MEAD HITS RECORD LOW, WATER RECREATION STILL 'PREMIER'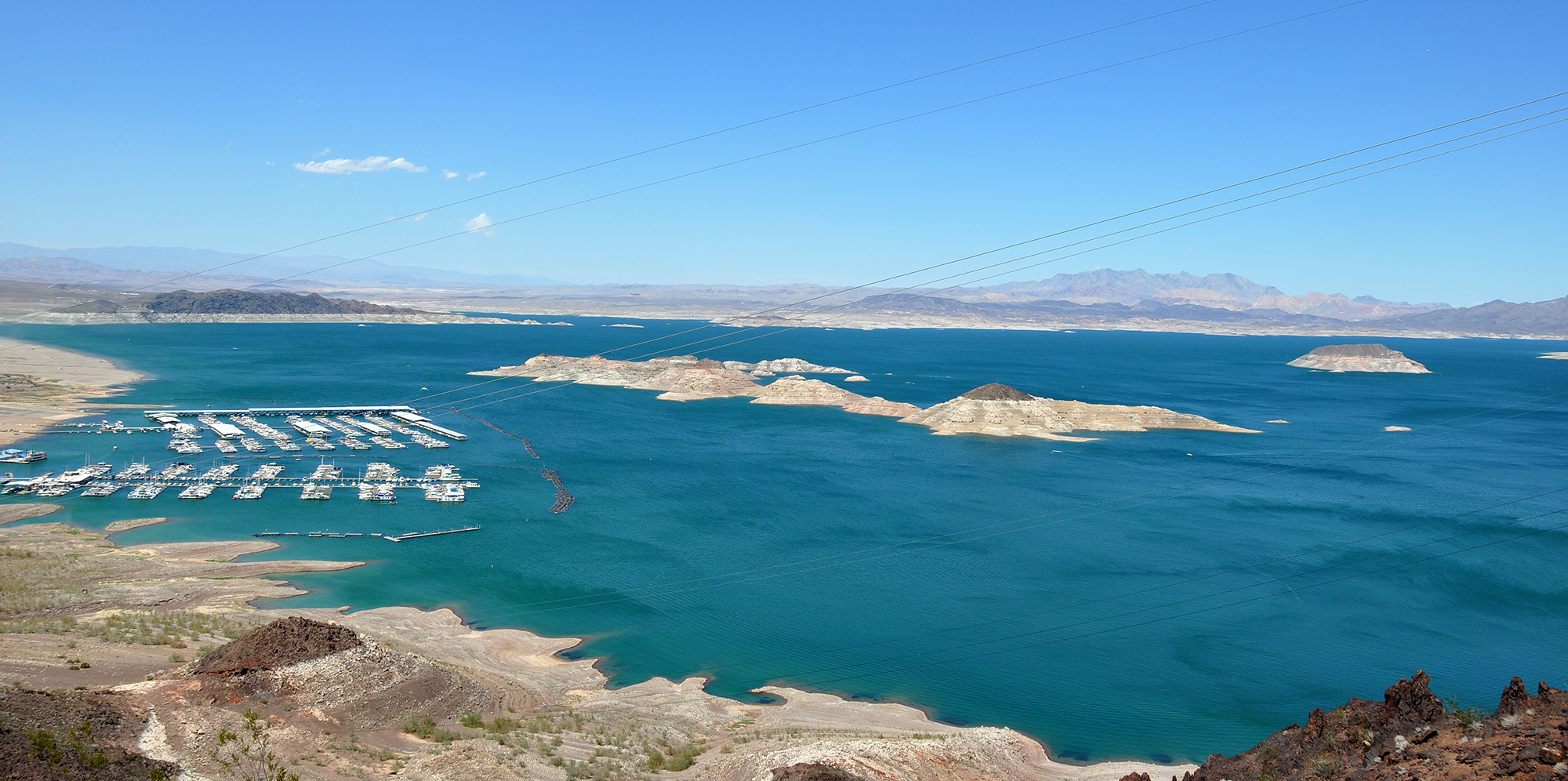 BOULDER CITY, Nevada –Throughout the summer, media have reported that Lake Mead is "sinking," "shriveling" and "drying to new lows." Yes, the lake has reached a record low, but the lake is nowhere near dry. The reservoir that began filling after the construction of the Hoover Dam remains one of America's largest man-made lakes and one of the National Park Service's most popular destinations.
In 1935, after the arduous feat of building the dam, Lake Mead began to slowly fill, reaching 1,100 feet in four years. Three years later, it reached a record high with an elevation of 1,220 feet. Over a course of 75 years, the lake has hit multiple highs and lows.
In 1983, the lake reached 1,225 feet. In August of 2014, it sat at 1,080 feet, breaking the record 1,081 feet set in 2010.
"The delicate balance of this reservoir is managed by the Bureau of Reclamation," said Patrick Gubbins, deputy superintendent. "The BOR has the challenge of adjusting flows based on supply and demand."
Supply mainly comes from snowmelt in the Rocky Mountains that travels down the Colorado River, into Glen Canyon National Recreation Area, through the Grand Canyon and eventually to Lake Mead National Recreation Area. As the water is released, it continues down river through Lake Mohave all the way to the Gulf of California.
Along the way, water managers take their allocations to provide water to their cities and counties.
"Lake Mead and Lake Powell are like water banks. They are designed to save water when it's in abundance and to release water during periods of drought," said Gubbins.
While BOR manages these liquid savings accounts, the National Park Service manages the recreational use of the water and its surrounding desert landscape. Lake Mead was designated as the National Park Service's first national recreation area Oct. 8, 1964, to preserve the recreation potential and scenic, historic, scientific and other important features of the area.
More than six million people flock to the lakes each year, making it one of the National Park Service's top ten most visited parks for 50 years and counting. In fact, since the lake began filling in 1935, more than 405 million people have visited the desert oasis.
Accommodating these visitors is a challenge when water levels rise and decline. When water is high, there are less beaches and coves and visitation becomes congested. When water is low, some harbors dry up and launch ramps end.
Over the past 13 years, five ramps have closed and four marinas have been relocated or closed. Each closure has devastating tourism impacts on nearby communities, which is one of the reasons the park is committed to extending launch ramps where possible.
From 2002 to 2012, Lake Mead managers acquired more than $30 million in alternative funding to maintain access to the lake. New launch ramps have been added, older ramps have been extended, parking areas and beaches have been graded, and navigational aids and docks have been relocated.
At the same time, once submerged cultural resources, including the historic town of St. Thomas and a crashed B-29 airplane, have resurfaced or are nearing the surface, requiring extra monitoring and protection.
According to BOR, Lake Mead may drop another 10 feet next summer, followed by another 5 feet in 2016, meaning all but one launch ramp will need additional permanent extensions. The park anticipates it will cost another $5 million to complete this work.
While park managers iron-out the behind-the-scenes details, visitors continue to get wet at Lake Mead.
"If it wasn't for the white 'bathtub ring' of mineral deposits that scar the canyon walls, tourists may not even realize that the lake is at 38 percent capacity," said Gubbins. "Once you launch your boat and hit the open water, you completely forget that the levels are low. You can travel dozens of miles in multiple directions, oftentimes in pure solitude."
However, because of recent coverage in the press stating the lake is "dry as a bone," tourists call the visitor center and marinas asking if the lake is still open. Officials anticipate overall visitation will be down in 2014.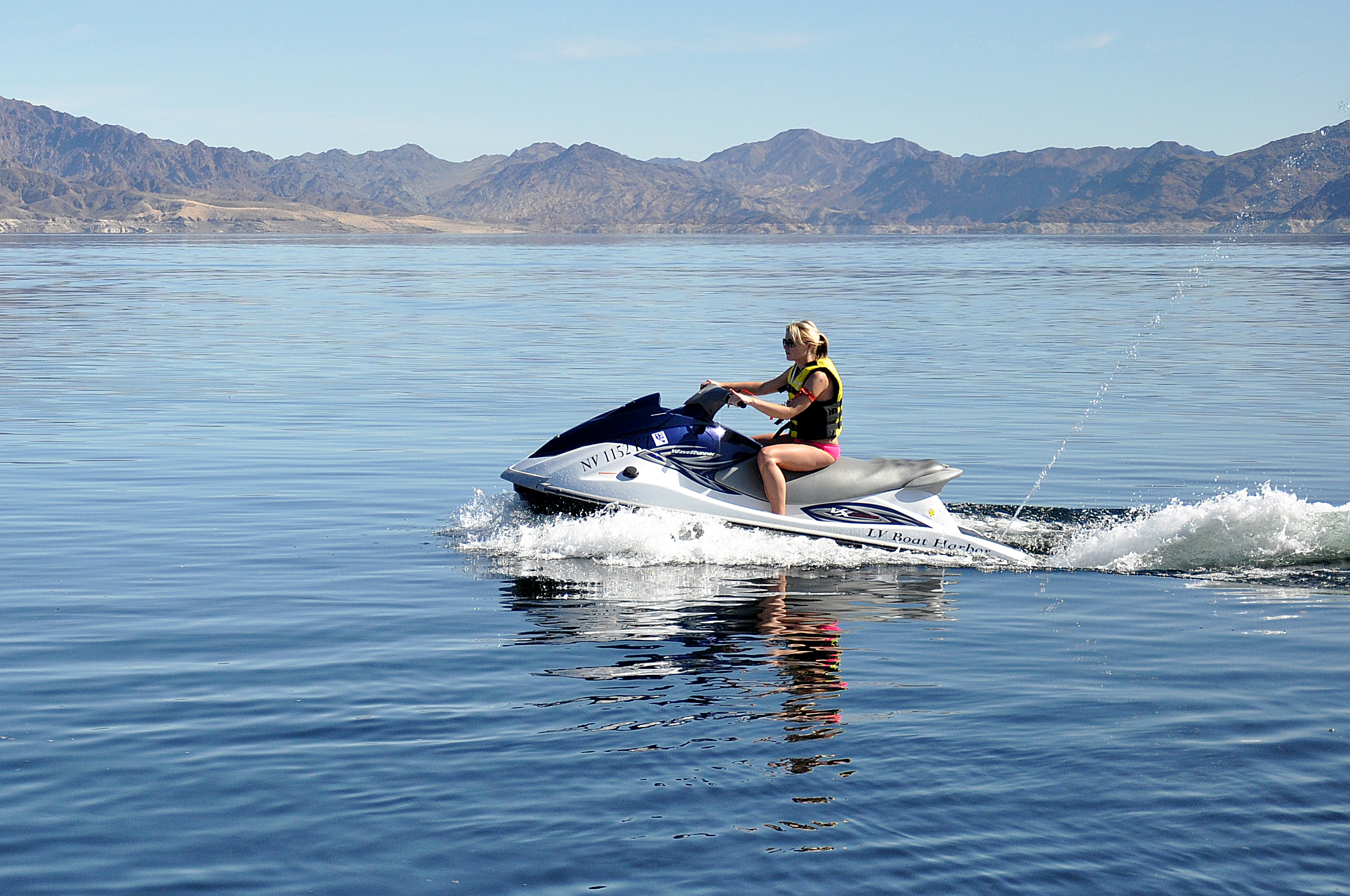 The marinas offer a variety of boat rentals, including houseboats, fishing boats, pontoons and even personal watercraft, which is convenient for Las Vegas tourists who stop in for the afternoon. The lake also features a Mississippi-style paddle-wheeler cruise that takes visitors to the Hoover Dam and back.
The national recreation area also manages Lake Mohave, just south of the Hoover Dam. This lake maintains a consistent water elevation each year and features the first National Water Trail in the Southwest –Black Canyon Water Trail. The lake is popular for rafting and kayaking, as well as houseboat rentals.
Despite the popularity of the lakes, surprisingly, only 13 percent of the 1.5 million-acre park is water. The park also manages a vast array of desert landscape with nine wilderness areas, stunning geology, petroglyphs, 900 plant species and 500 animal species, including 24 rare and threatened species.
"Lake Mead National Recreation Area is the premier inland water recreation area in the west," said Gubbins. "The park is a family-friendly playground that offers a variety of outdoor recreation in a natural and culturally historic setting of stunning desert mountains, aqua blue waters and starry, starry nights."
-NPS-