Date:
April 22, 2013
National Park Service
U.S. Department of the Interior 
LAKE MEAD NATIONAL RECREATION AREA News Release
For Immediate Release: April 22, 2013
Release No.: 2013-26
Contact: Christie Vanover, christie_vanover@nps.gov 702-283-2344
NATIVE PLANT NURSERY CELEBRATES GRAND OPENING ON EARTH DAY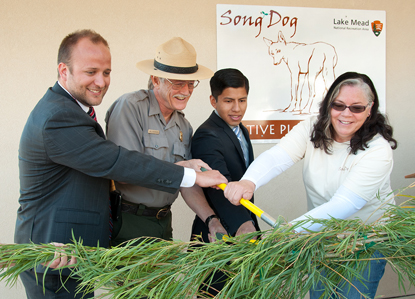 BOULDER CITY, Nev. - Lake Mead National Recreation Area celebrated Earth Day with the grand opening of the Song Dog Native Plant Nursery, April 22.
"We are reminded every Earth Day that we have a responsibility to act in ways that protect and restore the planet we live on," said Lake Mead NRA Superintendent Bill Dickinson during the ceremony. "This responsibility includes conserving our land and water resources and restoring lands."
The newly renovated $860,000 nursery will provide more than 40,000 genetically native plants per year for federal, state and local wetland, riparian and arid land restoration projects throughout Southern Nevada.
Plants germinated and grown at the Song Dog Native Plant Nursery are used to restore areas that have been damaged by illegal activities or construction or lands that have been invaded by non-native species, which out-compete native plants.
During the ceremony, representatives from the offices of Sen. Harry Reid and Sen. Dean Heller presented Dickinson with certificates of commendation and commemoration.
"This project would not have been possible without the funding from the Southern Nevada Public Land Management Act and the ongoing efforts of our Congressional delegation to ensure SNPLMA funding continues to be protected and available to Nevada and for important projects, such as this nursery," said Dickinson.
He also recognized the many partners who support the nursery.
"The partners and volunteers involved in this work have an unbelievable passion and commitment to the nursery and the restoration of desert lands," he said.
Alice Newton, the park's vegetation manager; Matt McKnight, Reid's representative; and Jafet Santiago, Heller's representative; joined Dickinson in cutting a garland of native willow branches, signifying the grand opening.
The facility was originally opened in 1993 and was renamed the Song Dog Native Plant Nursery in 2013 to recognize the role coyotes play in naturally restoring Mesquite trees.
Improvements to the facility include a separate temperature controlled seed storage area, a lab area, a germination chamber, office space and additional storage. The greenhouses and planting beds were also improved, and energy efficient utilities, such as photovoltaic panels were added to capitalize on the natural energy produced by the prevalent desert sun.
View more photos on Flickr at http://flic.kr/s/aHsjENPJjp.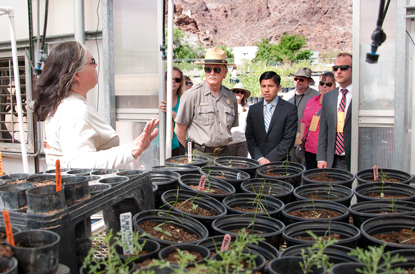 -NPS-