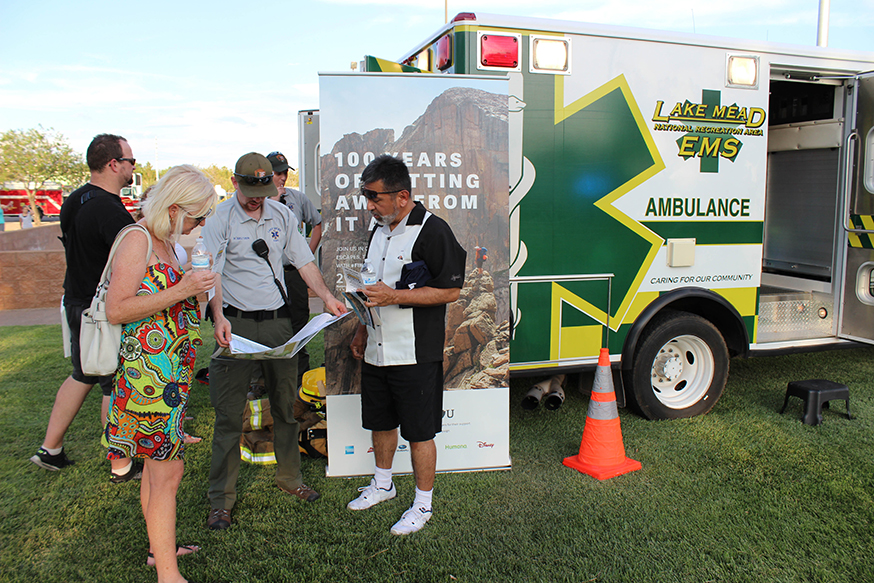 News Release Date:
August 3, 2016
BOULDER CITY, Nevada –At a time in America when tensions are high between some communities and police officers, Lake Mead National Recreation Area rangers helped build community trust by participating in National Night Out Aug. 2 at the Veterans Memorial Park in Boulder City, Nevada.
National Night Out is an annual community-building campaign held across the nation that promotes police-community partnership and neighborhood camaraderie."
"For many years now, Lake Mead rangers have participated in surrounding community National Night Out events in Boulder City, Searchlight and Laughlin," said Mark Hnat, deputy chief ranger, Lake Mead National Recreation Area. "We really appreciate the opportunity to spend time with our neighboring community members. It's a great time to talk about our role in public safety and law enforcement within the park, and it's also a great time for them, especially the children, to be able to see the variety of services we provide and the amount of training and equipment we need to fulfill the park service mission."
Other law enforcement and fire officials from the surrounding city, county, state and federal agencies also attended the event.
Events like this give rangers a platform to engage the public and promote the vast array of recreational activities that Lake Mead National Recreation Area has to offer. Through engagement, park rangers work to connect the local community with to their national parks and create the next generation of national park stewards.
-NPS-