Date:
April 3, 2015
National Park Service
U.S. Department of the Interior

LAKE MEAD NATIONAL RECREATION AREA News Release

For Immediate Release: April 3, 2015
Release No.: 2015-16
Contact: 702-293-8691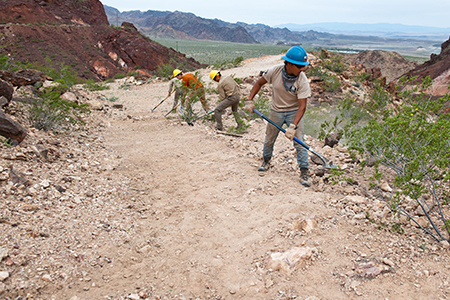 YOUTH RESTORE SPUR TRAIL LEADING TO HISTORIC RAILROAD TRAIL
BOULDER CITY, Nevada –Thanks to a youth trail crew from the Arizona Conservation Corps, there is another trailhead for the Historic Railroad Trail in Lake Mead National Recreation Area.
Now, visitors can park in the Hoover Dam Lodge parking lot off of Highway 93, near mile marker 2.5. From there, a .3-mile spur trail, which leads to the Historic Railroad Trail has been restored.
The youth crew worked on the trail for three weeks in March, adding benches and new gravel to better define the social trail.
The $15,000 maintenance project was funded through a grant from the National Fish &Wildlife Foundation in partnership with the Bureau of Reclamation and National Park Service.
To view photos of the restoration, visit https://www.flickr.com/photos/lakemeadnra/sets/72157651274594327/.
-NPS-