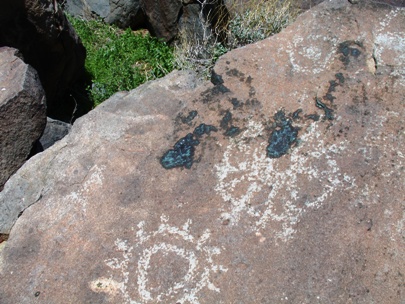 News Release Date:
March 24, 2010
Contact: Andrew S. Munoz, (702) 293-8691
HD Video: https://www.youtube.com/watch?v=gpqAVmq91ek
Photos: https://www.flickr.com/lakemeadnra
LAUGHLIN, Nev. – A 20-year-old Bullhead City, Ariz. man suspected of vandalizing petroglyphs at Grapevine Canyon in Lake Mead National Recreation Area was cited by park rangers on Friday, Mar. 19. He and a 13-year-old boy were reportedly shooting paintballs in the area.
At least four petroglyph panels and numerous rock faces were defaced with paint. This week, the National Park Service is coordinating the clean up with area tribes.
"This area in particular is incredibly sensitive and sacred to the Native American tribes of the Lower Colorado River. It's unimaginable to think of someone having a paintball fight in the Sistine Chapel; however from the perspective of local tribal members that's what happened here," said Rosie Pepito, chief of cultural resource management for Lake Mead National Recreation Area.
A caller to Bullhead City 911 reported that there were kids in the canyon shooting paintballs. Park rangers responded and contacted the man at the Grapevine Canyon trailhead parking lot. A preliminary investigation lead rangers to suspect that the man was responsible for the red and green paint splatters in the canyon.
The man was cited for defacing/disturbing an archeological resource, using and discharging a weapon, littering and vandalism.
He was cited and released but will be required to appear before a federal magistrate. His name is being withheld pending filing of formal charges.
Lake Mead National Recreation Area's archeological resources are protected by federal law and regulation. On lands administered by the National Park Service, it is unlawful to excavate, remove, disturb, deface or destroy any historic or prehistoric building, structure, ruin, site, or in-place exhibit, artifact or object, or to collect, appropriate, excavate, damage, disturb or destroy artifacts, pictographs, petroglyphs, objects of antiquity, fossils or scientific specimens.
Criminal penalties can include a year in jail and/or a $100,000 fine. Violators may also be responsible for restitution and reimbursement of costs associated with mitigation and restoration.
SITE LOCATION:
http://maps.google.com/maps?f=q&source=s_q&hl=en&geocode=&q=35.227041,-114.686097&sll=35.226586,-114.683672&sspn=0.004251,0.009602&ie=UTF8&ll=35.214771,-114.65538&spn=0.136039,0.43808&t=h&z=12