FREE LOANER LIFEJACKETS AVAILABLE AT LAKE MEAD, MOHAVE BEACHES
Date:
August 29, 2013

National Park Service
U.S. Department of the Interior


LAKE MEAD NATIONAL RECREATION AREA News Release
For Immediate Release: August 30, 2013
Release No.: 2013-64
Contact: Christie Vanover 702-283-2344
FREE LOANER LIFEJACKETS AVAILABLE AT LAKE MEAD, MOHAVE BEACHES
By Erin Murtaugh
Lake Mead NRA Volunteer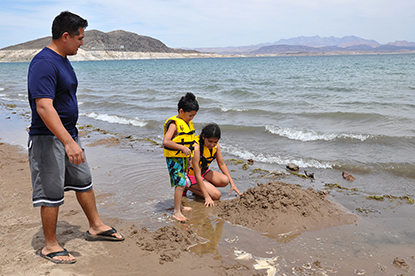 BOULDER CITY, Nev. – A Las Vegas dad felt safer letting his kids swim at Boulder Beach at Lake Mead National Recreation Area, Aug. 2, when he noticed the park's new lifejacket loaner station.
Henry Villafana's daughter, Cassandra, 11, and son, Nicholas, 5, had never swum in the lake before. He was planning to have them wear Floaties, until he saw a kiosk filled with lifejackets.
"I thought it was a rental station. It's fabulous," he said.
Lifejacket loaner stations were placed at Boulder Beach and Cottonwood Cove Memorial Day Weekend near the beach for easy access. There are lifejackets in sizes infant to adult and instructions to help visitors choose the right size. Visitors can borrow a lifejacket at no cost to use during the day and return it before they leave.
"What we are trying to do is raise awareness of the risk associated of swimming without a lifejacket and change behavior by providing lifejackets to people who otherwise wouldn't be using them on the shoreline," said Chief Ranger Mary Hinson.
A recent study of fatality reports, dating back five years, showed that the number one cause of unintentional death at Lake Mead NRA was drowning. This prompted a study to observe and record lifejacket use at the park. Student volunteers from the University of Nevada, Las Vegas and Veterans Tribute Career and Technical Academy were trained in risk management and data collection. They recorded lifejacket use by visitors on boats, personal watercraft and on the shoreline.
The results showed that only ten percent of all swimmers observed at Lake Mead NRA wore a traditional personal flotation device.
Visitors who don't wear lifejackets can unexpectedly find themselves in life threatening situations while swimming in the lakes. In 2012 and 2013, 100 percent of drowning victims were not wearing a lifejacket. Earlier this year, two women using pool toys at Boulder Beach were swept away by the wind and unable to swim back to shore. Ranger Stephen Neel was notified of their situation and rescued them by boat.
"We have to bring awareness of the importance of wearing a lifejacket. People think they don't need a lifejacket when they swim at Lake Mead. We want to change that thought process," said Neel.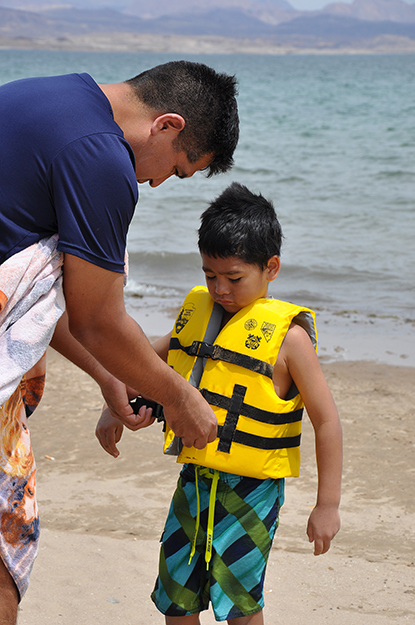 Now, when Neel patrols Boulder Beach, he said he sees people using the loaner lifejackets. "The station is emptied out when people are at the beach," he said.
Lifejacket loaner stations were designed for shoreline use because existing laws require boaters to have a minimum of one U.S. Coast Guard approved lifejacket for each person on board their vessel. Children 12 years and younger are required to wear lifejackets while boating.
"Our goal is to get everybody; kids, adults, teenagers, to wear their lifejackets while recreating in or near the water at Lake Mead," said Park Ranger Autumn Paulson, who helped coordinate the lifejacket study.
The study of lifejacket use at Lake Mead NRA continues this summer. Volunteers are also gathering data on visitor interactions with the lifejacket loaner stations. Data will be collected through Labor Day weekend and results should be available in November.
"We want zero fatalities out at the lake, and we know that a properly fitted lifejacket can be the difference between life and death," said Paulson.
-NPS-
Last updated: February 28, 2015