Date:
August 13, 2014
National Park Service

U.S. Department of the Interior

LAKE MEAD NATIONAL RECREATION AREA News Release

For Immediate Release: Aug. 13, 2014
Release No.: 2014-57
Contact: (702) 293-8691
KIWANIS CLUB DONATES LIFE JACKETS
BOULDER CITY, Nevada – In an effort to promote safety at Lake Mead and Lake Mohave, the Colorado River Kiwanis Club in Bullhead City, Arizona, donated 168 life jackets to the National Park Service earlier this year.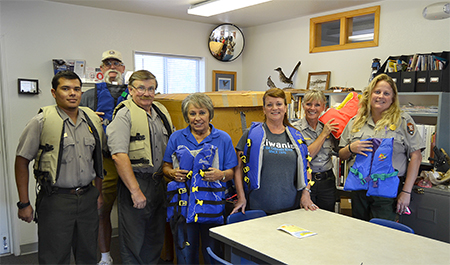 The life jackets range in sizes from adult to child and are being used this summer at the park's life jacket loaner stations. The free life jacket loaner service has been available at Boulder Beach on Lake Mead and at Cottonwood Cove on Lake Mohave since 2013.
Visitors simply walk up to an unmanned station, read the instructions and find a life jacket that fits. All the National Park Service asks is that they return the life jacket when they're done using it for other visitors to use.
-NPS-