Date:
April 5, 2013
National Park Service
U.S. Department of the Interior

LAKE MEAD NATIONAL RECREATION AREA News Release

For Immediate Release: April 5, 2013
Release No.: 2013-18
Contact: Erika Pope, epope@wearevoxsolid.com (702) 249-2977, Marina Nicola, mnicola@wearevoxsolid.com (702) 586-2137
COTTONWOOD COVE MARINA: WORLD'S FIRST FLOATING GREEN BUILDING TO RECEIVE LEED® GOLD CERTIFICATION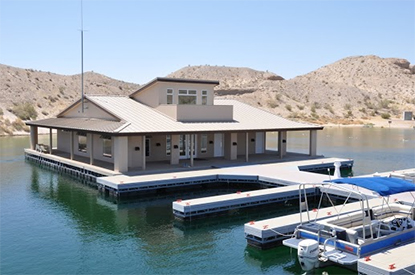 SEARCHLIGHT, Nev. - Cottonwood Cove Resort and Marina on Lake Mohave has made history, becoming the world's first floating green building to receive the prestigious LEED® (Leadership in Energy and Environmental Design) Gold certification by the U.S. Green Building Council (USGBC). Spearheaded by the National Park Service and Forever Resorts, LLC, the marina building opened June 2011, serving as the marina's operations office.
From decking made of rice hulls to exterior stucco made of recycled tires, from the beginning, the marina was lauded for its use of green materials. The floating eco-friendly structure features sustainable modular construction and state-of-the-art energy-efficient and environmentally responsible materials and fixtures. Use of low or no-volatile organic compound materials, paints and adhesives rid the building of the typical "new building" smell improving the overall indoor air quality.
For commercial buildings and neighborhoods to earn LEED certification, a project must satisfy all LEED prerequisites and earn a minimum 40 points on a 110-point LEED rating system scale. According to the UGSBC, participation in the voluntary LEED process demonstrates leadership, innovation, environmental stewardship and social responsibility.
"We, together with the National Park Service, are proud to have made history with this achievement," said John Schoppmann, executive vice president, Forever Resorts. "This building embodies Forever Resorts' company-wide commitment to embracing eco-friendly, sustainable business and public-private partnership principles."
The project's key earth-minded elements and commitments include the Forever Resorts Forever Earth Environmental Management System and a mix of new and existing programs:
Green Cleaning Program throughout the resort

Green Purchasing Program

Energy and Environmental Education Programs for boaters and community members

Extensive energy saving materials and systems, including high-performance insulated glass

High-efficient HVAC equipment and delivery systems

Extensive use of recycled and regionally extracted and manufactured materials, such as concrete, steel, drywall, metal studs and carpet

Finish materials, paints, adhesives, caulks and sealants that contain low or no volatile organic compounds to ensure healthy indoor air quality

Extensive natural daylight and views to the outdoors throughout, maximizing east/west orientation

Recycled and recyclable building and landscape materials

Prevention of night sky pollution
-NPS-