News Release
Interior Secretary Designates 76-Mile Mohave National Water Trail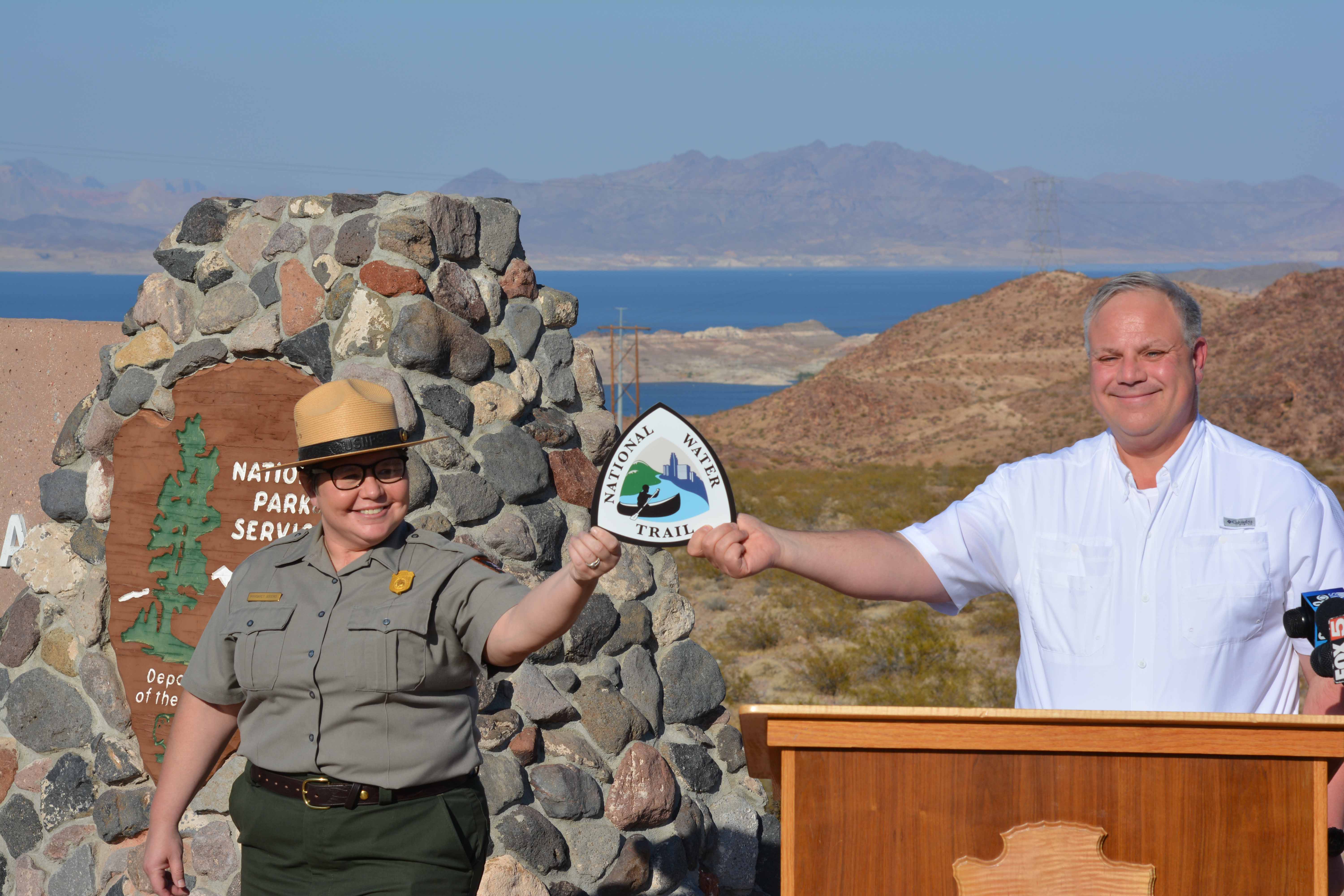 News Release Date:
October 23, 2020 National Park Service
U.S. Department of the Interior
LAKE MEAD NATIONAL RECREATION AREA News Release
For Release: October 23, 2020
Release No.: 2020-33
Contact: lake_information@nps.gov
Interior Secretary Designates 76-Mile Mohave National Water Trail
BOULDER CITY, Nevada – U.S. Secretary of the Interior David L. Bernhardt announced 30 new national recreation trails in 25 states, adding more than 1,275 miles to the National Trails System. The secretary made the announcement from Lake Mead National Recreation Area, where he designated 76 miles of the Colorado River within Lake Mead National Recreation Area as a national water trail.
The newly designated Mohave National Water Trail begins where the Black Canyon National Water Trail ends, providing water recreation opportunities for 106 miles along the Colorado River.
"I encourage Americans to get outside, enjoy our incredible public lands and visit a nearby national recreation trail. Spanning more than 83,000 miles, larger than the interstate highway system, the National Trails System provides easy access to a wide variety of outdoor experiences," said Bernhardt.
The Mohave National Water Trail begins at Eldorado Canyon and extends to the Laughlin Bridge beyond the Davis Dam. It provides access to 190 miles of shoreline in Arizona and Nevada, along with sandy beaches, scenic areas and cultural and historic resources.
"Providing recreation opportunities that conserve this amazing landscape while supporting our local businesses is fantastic," said Margaret L. Goodro, Lake Mead National Recreation Area superintendent.
There are a wide variety of services available for users on the trail, including developed areas with marinas, lodging, boat rentals, fishing piers and restaurants. Additionally, there are permitted outfitters who rent paddlecraft, lead guided tours, provide scuba instruction and offer fishing guide services.
The trail designation was made possible through the commitment of the Lower Colorado River Water Trail Alliance.  
"The Lower Colorado River Water Trail Alliance is excited to hear that yet another section of the Colorado River in the Lake Mead National Recreation Area has received this prestigious designation. We hope that all the visitors to the recreation area and these water trails see the beauty and join us in becoming regular visitors and stewards of these great places," said Rod Taylor, vice president, LMNRA Guest Services LLC.
For more information on the Mohave National Water Trail, visit
www.nps.gov/lake/planyourvisit/mohave-water-trail.htm
or
www.lcrwta.com
. Explore the entire National Water Trails System online at
www.nps.gov/watertrails
.
Last updated: October 24, 2020