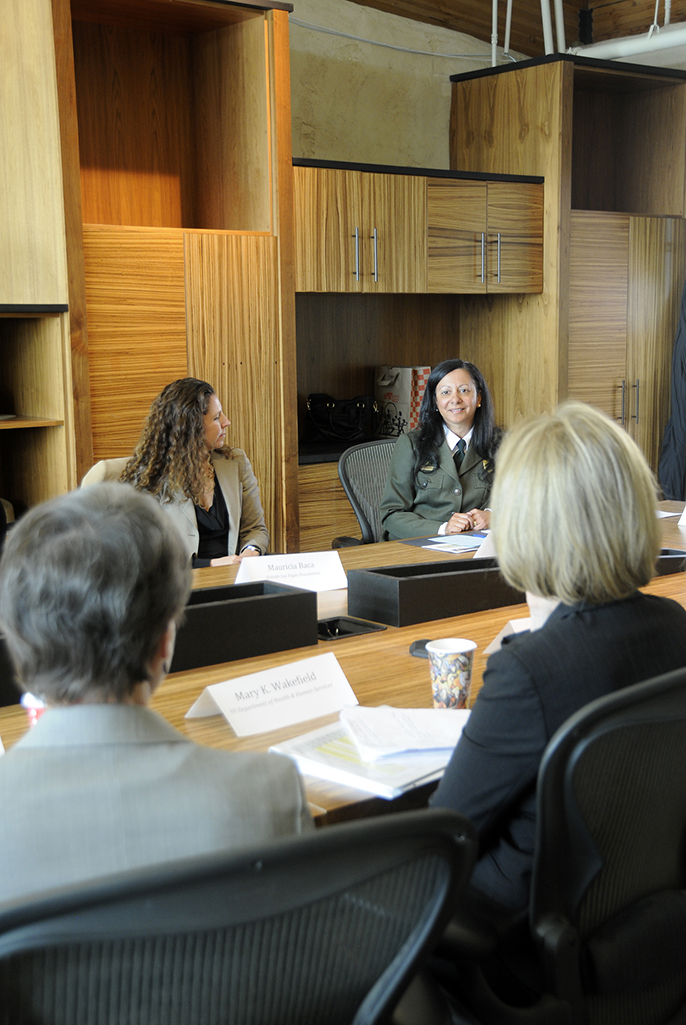 News Release Date:
December 4, 2015
National Park Service
U.S. Department of the Interior LAKE MEAD NATIONAL RECREATION AREA News Release 
For Immediate Release: December 4, 2015
Release No.: 2015-73
Contact: 702-293-8691
HEALTHCARE, OUTDOOR RECREATION AGENCIES PARTNER TO IMPROVE HEALTH OF SOUTHERN NEVADA
LAS VEGAS – U.S. Department of Interior Secretary Sally Jewell and U.S. Department of Health and Human Services Acting Deputy Secretary Mary Wakefield met in Las Vegas Dec. 4 to discuss the Affordable Care Act and how local agencies are connecting recreation with healthy living. 
"There is nothing to me that is more important than keeping people healthy in the first place," said Wakefield. "We are so pleased to be partners with organizations to drive a common agenda to improve the health and health status of people who reside in your great state. We share your commitment to have a healthy Nevada and a healthy Las Vegas." 
During a roundtable discussion at Springs Preserve, the secretaries spoke with representatives from Lake Mead National Recreation Area, Outside Las Vegas Foundation, YMCA, Southern Nevada Health District, Ramirez Group, Nevada Primary Care Association, Positively Kids and U.S. Senator Harry Reid's office. 
"It's very relevant for the Department of Interior to be highly engaged in the work you are all doing, and it wouldn't happen without outreach to the community," Jewell told the group. 
"Our public lands are a great way to help keep our communities healthier," she added. 
Through the nationwide Healthy Parks Healthy People initiative, Lake Mead National Recreation Area has worked with multiple partners to promote the health and wellbeing of school children through field trips and outreach programs. 
"Our focus has been with schools and the urban youth and finding that connection with their curriculum," said Lizette Richardson, Lake Mead superintendent. "We can provide the great outdoors and landscaping, and when we work with our partners to get those students out from the schools, it's been a win-win." 
Outside Las Vegas Foundation Executive Director Mauricia Baca said one of the reasons her organization partners with the National Park Service and Southern Nevada Health District is because 35 percent of kindergarteners are overweight or obese in Nevada, and the number is higher, 44 percent, amongst Latino kindergarteners. 
"The simplest thing you can do is put on a pair of shoes and go outside," said Baca. "It's one of the most equalizing elements that we have. You don't have to have any special equipment. You just need a pair of shoes to go out for a walk." 
Lake Mead has a myriad of recreational opportunities where people can get outside. Whether it's cycling or climbing or hiking, Richardson said there is something for the entire family. The park also encourages its concessioners to offer healthier food choices at their facilities, and the park hosts multiple walks, runs, marathons and triathlons each year. 
To make accessing the outdoors even easier, all of America's fourth graders can get free access to Lake Mead, Red Rock Canyon National Conservation Area, Valley of Fire State Park and hundreds of other public lands through the Every Kid in a Park program. 
During the meeting, Wakefield discussed the new Healthy Communities Challenge, a contest among 20 communities, including Las Vegas, aimed at increasing the number of people who are insured. She said at the end of the challenge, the community that does the best will have made a significant impact on the local community and the community's health. 
She added that the president will visit the winning community to help celebrate and to recognize their great achievement. 
"I hope you win the contest and get a visit from the president here," said Jewell, "because it will mean that a lot more people have healthcare coverage in this wonderful state, and hopefully, it will mean that they get out and enjoy this wonderful state beyond the Las Vegas Strip because it really is quite spectacular." 
To learn more about the Healthy Communities Challenge, visit https://www.whitehouse.gov/the-press-office/2015/11/06/white-house-announces-healthy-communities-challenge. 
-NPS-