Date:
August 23, 2013
National Park Service
U.S. Department of the Interior 
LAKE MEAD NATIONAL RECREATION AREA News Release
For Immediate Release: August 23, 2013
Release No.: 2013-63
Contact: Christie Vanover 702-283-2344
JENNIFER HALEY SELECTED AS LAKE MEAD NRA RESOURCE CHIEF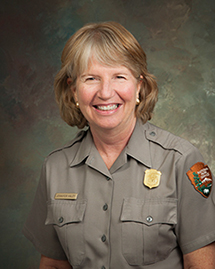 BOULDER CITY, Nev. –Jennifer Haley has been selected as the Chief of Resource Management for Lake Mead National Recreation Area and will assume her new responsibilities Aug. 25.
"Although there were a number of good candidates for this position, Jennifer stood out as our best choice," said Bill Dickinson, park superintendent. "Jennifer has been directly and personally involved in resource management in Southern Nevada for decades. She knows the resources, the challenges and the people. She brings personal knowledge and experience to the position, along with a passion and love for our desert landscape."
Haley has worked at Lake Mead NRA for 23 years. She began her career with the National Park Service as a Resource Management Specialist where she established and managed Lake Mead NRA's first Vegetation Management Program, which included grazing management, prescribed fire, upland and spring restoration, habitat management, and threatened and endangered species monitoring.
In 1999, she was named the Executive Director of the Southern Nevada Agency Partnership, a complex interagency/interdisciplinary partnership of four federal land managing agencies in Southern Nevada.
"She understands the importance and is experienced in working across agency boundaries to achieve resource objectives and is respected by park staff and other agency and organization managers as a leader in resource management and interagency cooperation," said Dickinson.
Most recently, Haley was the Chief of Visitor Services and Education and a member of the park's management team. She oversaw the development of the park's award-winning film and provided input into the formulation and implementation of park policies, including long-term strategic goals and management strategies.
In her new role, Haley will continue to serve on the management team as she develops, directs and manages programs for the protection of the park's 900 plant species, 500 animal species and more than 100,000 cultural resources spread over 1.5 million acres.
"I'm looking forward to the challenges that face us as we continue to protect the world-class resources at Lake Mead National Recreation Area," said Haley. "I'm particularly thrilled to be working with such a professional and experienced resource management team. They are one of the best teams in the National Park Service."
Haley holds a Master's Degree in Renewable Natural Resources Management from the University of Nevada-Reno and a Bachelor's Degree in Biology from the University of Santa Clara. After graduation, she worked as a plant ecologist for the University of Nevada-Las Vegas and a self-employed consulting biologist.
She has many awards and honors, including three Take Pride in America awards, a Service First Award for cooperative conservation in Southern Nevada and a Golden Hammer Award from Vice-President Gore for her role as the Chair of the California Desert Manager's Restoration Task Force. She also served as the chair of the Restoration Working Group of the Plant Conservation Alliance, an international partnership for awareness and support of native plant conservation.
Park Ranger Kevin Turner will temporarily be promoted to the Chief of Visitor Services and Education.
-NPS-