Date:
April 8, 2013
National Park Service
U.S. Department of the Interior

LAKE MEAD NATIONAL RECREATION AREA News Release

For Immediate Release: April 8, 2013
Release No.: 2013-19
Contact: Christie Vanover, e-mail us 702-283-2344
LAKE MEAD NATIONAL RECREATION AREA RANKED AMONG TOP 10 NATIONAL PARKS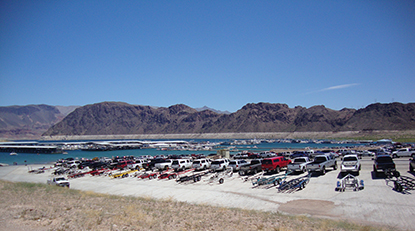 BOULDER CITY, Nev. - Recent reports show that Lake Mead National Recreation Area ranks among the top ten sites in the National Park Service when it comes to visitation, visitor spending and visitor-related jobs.
The National Park Service announced that the 1.5 million-acre recreation area was the fifth most visited site in 2012 with 6.2 million visitors. NPS also announced that in 2011, Lake Mead NRA visitors spent $246 million in nearby communities, which supported 2,965 local jobs.
"We are pleased that so many people from across the U.S. and around the world visit Lake Mead National Recreation Area every year," said Bill Dickinson, park superintendent. "Lake Mead is known for its unparalleled outdoor recreation opportunities, but these reports demonstrate that the park is also a critical economic engine for our gateway communities."
In addition to the recreational visitors, according to the Arizona Department of Transportation, about 4.5 million vehicles traveled through the park on U.S. Highway 93 in 2012. Twenty-three miles of the highway that spans from Boulder City to 17 miles south of the Hoover Dam is located in the recreation area.
"There are many site-seeing turnouts and trailheads along the highway, so people traveling to and from Las Vegas, can stop and take a short hike or just enjoy the naturally colorful rock formations prevalent in the Arizona and Nevada desert," said Dickinson.
The data collected are part of a peer-reviewed spending analysis of national park visitors across the country conducted by Michigan State University for the National Park Service. For 2011, that report shows $13 billion of direct spending by 279 million park visitors in communities within 60 miles of a national park. That visitor spending had a $30 billion impact on the entire U.S. economy and supported 252,000 jobs nationwide.
"It's great to see that people continue to value our national parks, and that after nearly 50 years, Lake Mead, America's first National Recreation Area and largest reservoir, is still a premier visitor destination," said Dickinson.
To download the 2011 report visit www.nature.nps.gov/socialscience/products.cfm#MGM and click on Economic Benefits to Local Communities from National Park Visitation, 2011. The report includes information for visitor spending at individual parks and by state.
Most visited places of the National Park System (2012)
1.Blue Ridge Parkway....15,205,059
2.Golden Gate National Recreation Area....14,540,338
3.Great Smoky Mountains National Park....9,685,829
4.George Washington Memorial Parkway....7,425,577
5.Lake Mead National Recreation Area....6,285,439
6.Lincoln Memorial....6,191,361
7.Natchez Trace Parkway....5,560,668
8.Gateway National Recreation Area....5,043,863
9.Gulf Islands National Seashore....4,973,462
10.Delaware Water Gap National Recreation Are....a4,970,802
Visitor spending in units of the National Park System (2011)
1.Great Smoky Mountains National Park....$818 million
2.Grand Canyon National Park....$467 million
3.Grand Teton National Park....$436 million
4.Yosemite National Park....$379 million
5.Blue Ridge Parkway....$340 million
6.Yellowstone National Park....$332 million
7.Golden Gate National Recreation Area....$289 million
8.Lake Mead National Recreation Area....$246 million
9.Glen Canyon National Recreation Area....$233 million
10.Lincoln Memorial....$204 million
Jobs supported by visitor spending (2011)
1.Great Smoky Mountains National Park....11,732
2.Grand Canyon National Park....7,361
3.Grand Teton National Park....6,397
4.Yosemite National Park....5,057
5.Yellowstone National Park....5,041
6.Blue Ridge Parkway....4,762
7.Golden Gate National Recreation Area....3,615
8.Acadia National Park....3,008
9.Lake Mead National Recreation Area....2,965
10.Rocky Mountain National Park....2,794
-NPS-