PARK RANGERS, COMMUNITIES CELEBRATE NATIONAL PARK SERVICE CENTENNIAL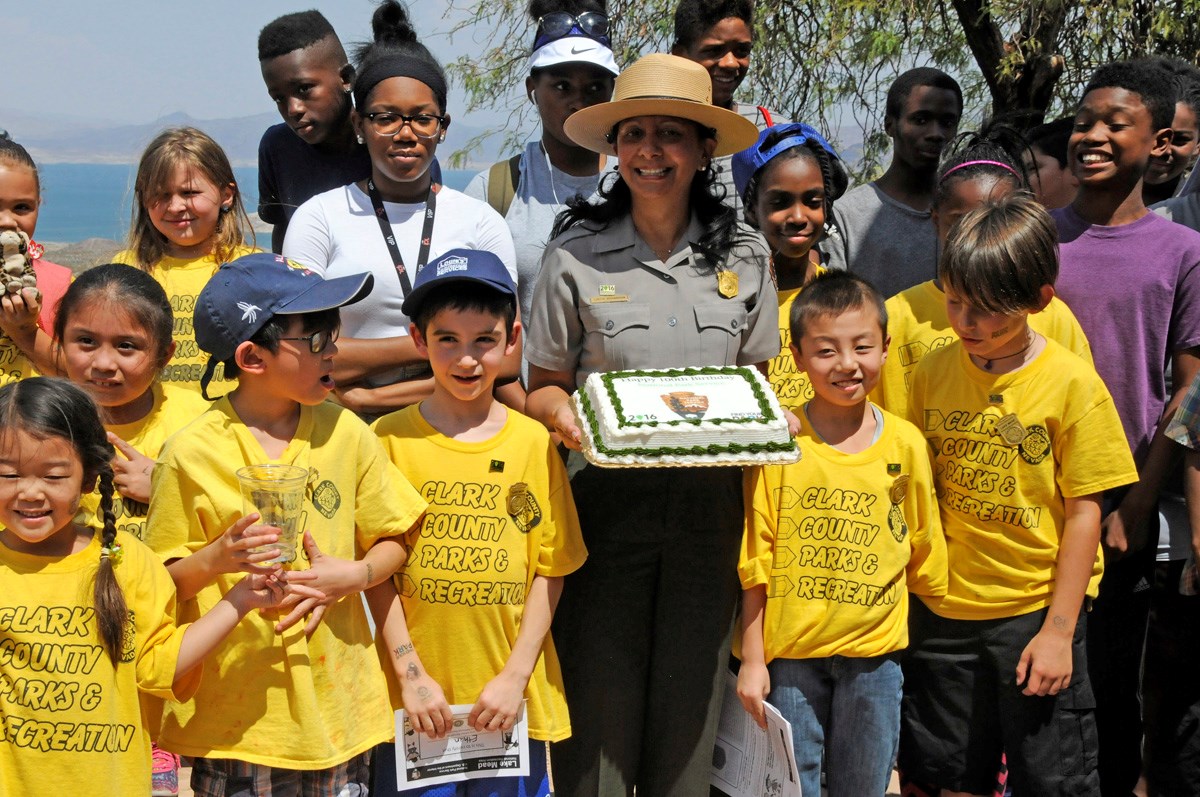 Date:
August 31, 2016
National Park Service
U.S. Department of the Interior
LAKE MEAD NATIONAL RECREATION AREA News Release
For Immediate Release: August 31, 2016
Release No.: 2016-40
Contact: 702-293-8693
PARK RANGERS, COMMUNITIES CELEBRATE NATIONAL PARK SERVICE CENTENNIAL
BOULDER CITY, Nevada –Lake Mead National Recreation Area, Tule Springs Fossil Beds National Monument and Grand Canyon-Parashant National Monument rangers celebrated the National Park Service centennial birthday with partners and supporters at a number of commemorative events throughout the region in August.
Clark County Proclamation
The Board of Commissioners of Clark County, Nevada, kicked off the celebration with a proclamation ceremony, Aug. 16, declaring the month of August 2016 "Enjoy Your National Parks Month."
"Clark County is the gateway to national parks in the Western United States, with nearly 25 national park units being within less than a five-hour drive from Las Vegas," Commissioner Mary Beth Scow told the crowd. "The National Park Service Centennial goal is to connect with and nurture the next generation of park visitors, supporters and advocates, including encouraging individuals and families to take advantage of our natural wonders and iconic sites as part of the 'Find Your Park' initiative, which Clark County strongly supports."
Parks in the Pines
Arizona's 22 national park units, including Lake Mead and Grand Canyon-Parashant, gathered to show off the diversity of Arizona's parks in the heart of downtown Flagstaff, Aug. 20. Lake Mead Ranger Todd Austin and Cinna, a brindle Dutch shepherd, performed K9 demonstrations for the crowd, while rangers passed out park information and centennial birthday cake.
Katherine Landing Access Road Opening
A ribbon cutting ceremony was held along Katherine Landing Access Road, Aug. 25, to celebrate the completion of an $11.3 million road construction project in the area. Park employees, the construction team, community partners, and officials from Mohave County and Bullhead City, Arizona, and Laughlin, Nevada, were all in attendance for the momentous occasion.
"Katherine Landing is a very important area of our park" said Lake Mead Superintendent Lizette Richardson. "This area alone welcomes 1.3 million annual visitors who contribute more than $57 million to Bullhead City and Laughlin, supporting around 750 local jobs."
Chairwoman Jean Bishop, from the Mohave County Board of Supervisors, presented a resolution during the ceremony, recognizing Aug. 25, 2016, as the centennial birthday of the National Park Service.
"We're celebrating 100 years of stewardship for America's National Parks and engaging communities through recreation, conservation and historic preservation programs," she said.
Richardson urged attendees to help spread the word that road construction is complete. "Katherine Landing Access Road is better than ever… This road will serve as our legacy of our investment to our partnerships with the Bullhead City and Laughlin communities," she said.
National Parks Day
Tule Springs Superintendent Jon Burpee and Lake Mead Chief Ranger Adam Kelsey were presented a proclamation at the entrance to Tule Springs by Las Vegas Mayor Pro Tem Steven D. Ross, proclaiming Aug. 25, 2016, as "National Parks Day."
The proclamation recognizes Tule Springs and Lake Mead for their contribution to Las Vegas and calls on residents to celebrate the many cultural and recreation opportunities that the park service brings to the community.
Centennial Birthday Celebration
At the Lake Mead Visitor Center, dozens of youth from the Cambridge Cultural Center celebrated the park service's 100th birthday, Aug. 25, by creating nature journals and learning about live animals of the Mojave Desert. Many were also sworn in as junior rangers. The youth, visitors, park employees and staff from the Western National Parks Association sang happy birthday to the park service and enjoyed birthday cake.
Find Your Park from Vegas
Park rangers continued centennial celebrations, Aug. 25, with an evening on Fremont Street in Downtown Las Vegas. The Fremont Street Experience played a special showing of the Find Your Park from Vegas film, starring Mayor Carolyn Goodman, a showgirl and an Elvis impersonator. The video can be viewed on YouTube at www.youtube.com/watch?v=188ak7MZG9o.
Rangers from Tule Springs and volunteers from the Protectors of Tule Springs displayed fossils from the park and handed out information about national parks that can be found within one, three and five hours of Las Vegas.
Gateway to Nature Center Grand Opening
Lake Mead's Deputy Superintendent Patrick Gubbins and Tule Springs' Superintendent Jon Burpee attended the opening of the Gateway to Nature Center in the heart of historic Los Angeles, Aug. 27, promoting Southern Nevada and Northern Arizona's national park units.
The center, operated by the Western National Parks Association in partnership with the City of Los Angeles, the park service and U.S. Fish and Wildlife Service, was designed to engage youth and diverse local communities with nature. The new facility, located at El Pueblo, the historic birthplace of Los Angeles, features educational and interpretive materials.
Other Local Support
Many companies and organizations, including the Las Vegas Convention and Visitors Authority, the Las Vegas Hospitality Association, Boulder City Chamber of Commerce and Hoover Dam Lodge, posted "Happy 100thBirthday National Park Service" on their digital billboards to commemorate the centennial.
To view photos from these events, visit https://www.flickr.com/photos/lakemeadnra/albums/72157673038204916. To learn more about how you can Find Your Park from Vegas, watch the Las Vegas 360 Travel &Tourism video on YouTube at www.youtube.com/watch?v=jzz-9FBFv9M or visit www.FindYourPark.Vegas or www.FindYourPark.com.
"We're so very grateful for the local support we have received for our centennial celebration. While we reflect on the past, our centennial is also a time to look forward to our future, a time to connect the next generation with these special places," said Richardson.
The next major centennial celebration event will be held at Lorenzi Park in Las Vegas Oct. 15. The free event includes rock climbing, fishing, live music, food and displays from Nevada's national and city parks. For more information, visit www.getoutdoorsnevadaday.org.
-NPS-
Last updated: August 31, 2016