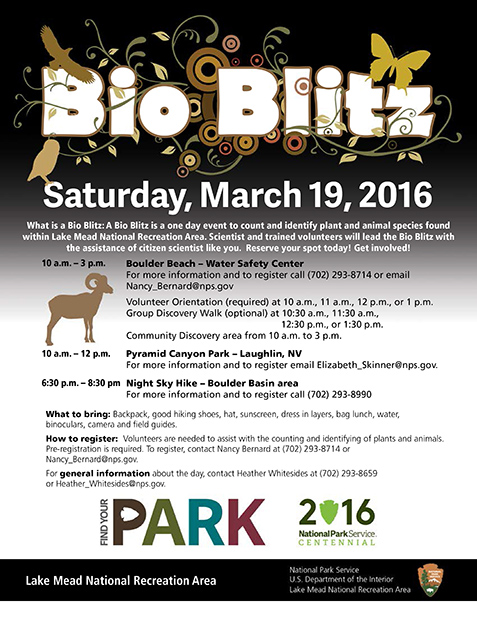 News Release Date:
March 11, 2016
National Park Service
U.S. Department of the Interior
LAKE MEAD NATIONAL RECREATION AREA News Release
For Immediate Release: March 11, 2016
Release No.: 2016-10
Contact: 702-293-8691
CITIZEN SCIENTISTS NEEDED FOR LAKE MEAD NRA BIOBLITZ, MARCH 19
BOULDER CITY, Nevada. –Citizens are invited to become scientists for a day at Lake Mead National Recreation Area's BioBlitz March 19.
A BioBlitz is a quest to discover living organisms. During the rapid biological survey, scientists and volunteers of all ages and backgrounds work together to compile a "snapshot" of biodiversity. Observations will be used to share stories of scientific and personal discovery to inspire people to get out and find their park.
Scientists and trained volunteers will lead the one-day event with BioBlitzes being held at both Lake Mead at Boulder Beach, as well as Lake Mohave at the Pyramid Canyon Day Use Park in Laughlin, Nevada. Citizen scientists will count and identify plant and animal species found within Lake Mead NRA using the Inaturalist app, cameras and field guides.
Event orientation will begin at the top of the hour between 10 a.m. and 1p.m. and an optional group discovery walk will be held after each orientation.
This BioBlitz is part of a nationwide effort coordinated by the National Park Service to celebrate the centennial. This is a great opportunity, especially for families, to learn more about the biodiversity of a park and contribute to greater understanding of the biodiversity of the nation.
To reserve a spot, call Nancy Bernard at (702) 293-8714 or email nancy_bernard@nps.gov.
-NPS-