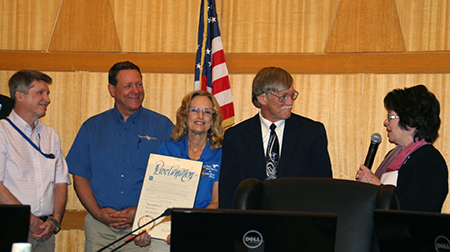 News Release Date:
May 6, 2014 National Park Service
U.S. Department of the Interior
LAKE MEAD NATIONAL RECREATION AREA News Release
For Immediate Release: May 6, 2014
Release No.: 2014-23
Contact: 702-293-8691
COUNTY COMMISSION RECOGNIZES LAKE MEAD'S 50TH ANNIVERSARY, PROMOTES MAY 17 SUMMER KICK-OFF
BOULDER CITY, Nevada – The Clark County Board of Commissioners recognized Lake Mead National Recreation Area's 50th anniversary and National Safe Boating Week with a proclamation presentation at the commission meeting in Las Vegas May 6.
"Today, we're recognizing Lake Mead National Recreation Area's 50th anniversary, and we're encouraging our citizens to participate in the park's May 17 summer kick-off event," said Commissioner Mary Beth Scow.
"Very often, when people talk about what a great place Clark County is to live, we mention our outdoor amenities, especially this time of year," she said. "Warm weather is here, and we think of Lake Mead and the wonderful activities that we can partake of there."
While Lake Mead began filling after the construction of the Hoover Dam in 1936, it wasn't officially declared a unit of the National Park System until Oct. 8, 1964. On that date, Congress passed enabling legislation that declared 1.5 million acres of land and water in Nevada and Arizona as America's first National Recreation Area.
Since its establishment, the park has remained one of the most visited sites in the park system, welcoming more than 350 million visitors over the past 50 years.  
"6.3 million visitors come every year to visit Lake Mead, many of those among us," said Scow. "The locals enjoy swimming, hiking, boating and fishing. There are so many things available there."
The community will celebrate the park's anniversary noon to 4 p.m. May 17 at Hemenway Harbor near Boulder City with a Summer Kick-off Party.
"We would like you all to come and join us on May 17," said Lake Mead Superintendent Bill Dickinson. "We will be celebrating National Safe Boating Week that day. There will be a number of vendors and activities offered down at the lake. Please come and join us and enjoy the diversity of natural, cultural and recreational opportunities that are available to you."
The day's activities include exhibits from partners and area businesses that provide recreation opportunities in the park, such as boating, kayaking, scuba diving, hunting and fishing. Guests can view an array of rental boats, walk along the marina or take a Lake Mead Cruise to the Hoover Dam.
At 1 p.m. guests will "Ready, Set, Wear It!" as they don their life jackets to attempt to break a world record. Rangers will offer water safety programs for kids at 1:30 and 2:30 p.m. At 2 p.m., the winner of the Clark County School District Lake Mead Commemorative Seal Art Contest will be announced.
The Nevada Department of Wildlife will be on hand to share boating safety and life jacket tips. The U.S. Coast Guard Auxiliary will conduct free vessel inspections near the launch ramp to help visitors ensure their boats are ready for the season.
Flanked by the other commissioners, Scow presented the official county proclamation to Dickinson, Deputy Superintendent Pat Gubbins, Forever Resorts Regional Vice President Rod Taylor and Las Vegas Boat Harbor Manager Gail Kaiser.
"Thank you for promoting safety at the lake," she said. "We're very excited about the 50th anniversary."
-NPS-