Date:
July 14, 2015
National Park Service
U.S. Department of the Interior
LAKE MEAD NATIONAL RECREATION AREA News Release
For Immediate Release: July 14, 2015
Release No.: 2015-46
Contact: 702-293-8691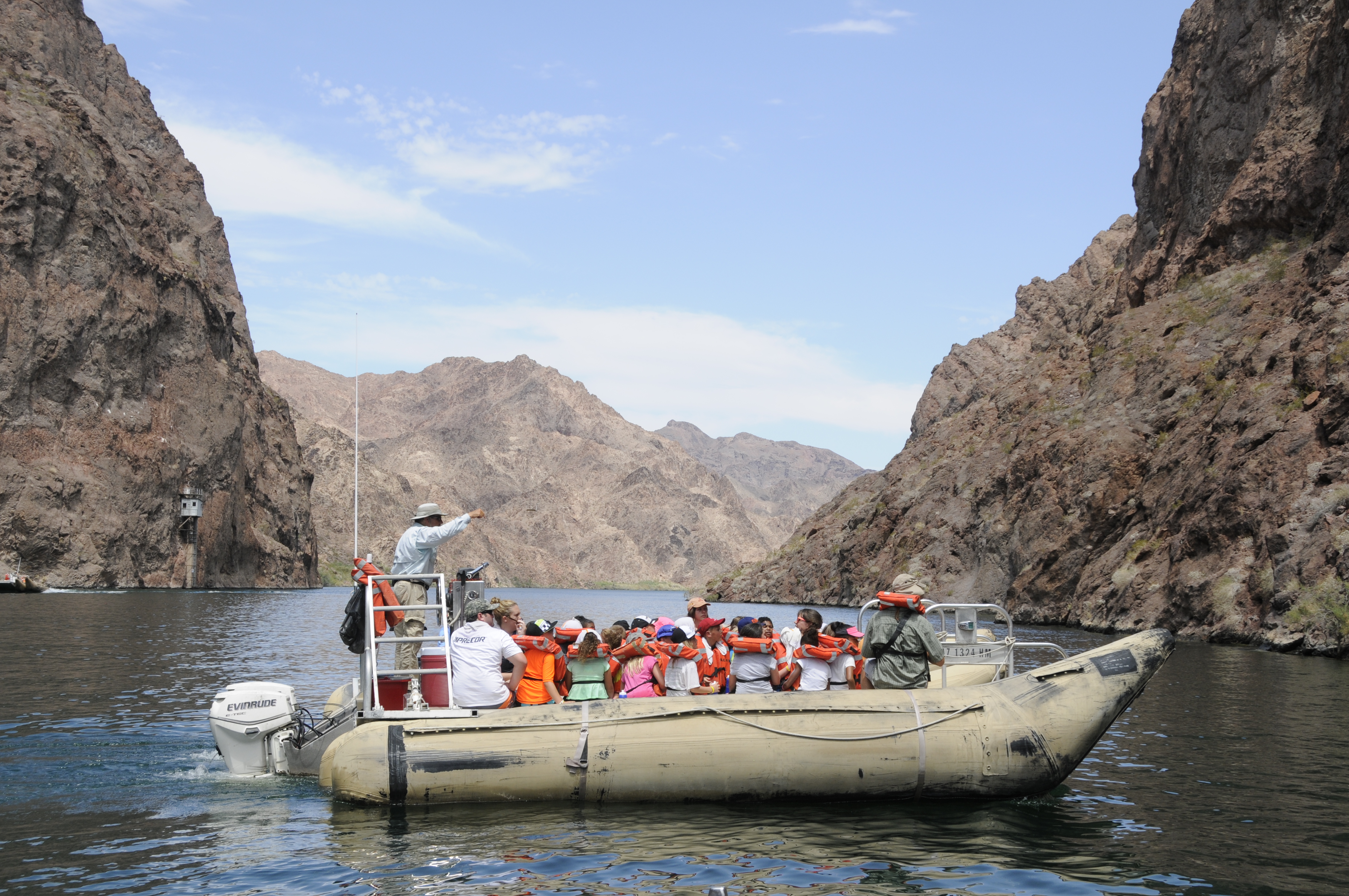 LAS VEGAS YOUTH, YMCA CAMPERS EXPERIENCE NATIONAL WATER TRAIL
By Chelsea J. Kennedy,
Public Affairs Specialist
BOULDER CITY, Nevada –Park Rangers from Lake Mead National Recreation Area and partners from the Lower Colorado River Water Trail Alliance hosted 200 YMCA of Southern Nevada summer campers at Willow Beach June 29 to July 2 to introduce them to the Black Canyon Water Trail.
The Las Vegas youth rafted and kayaked on the national water trail, giving them the chance to apply classroom lessons in a hands-on and interactive way. Prior to the trip, rangers taught six classroom lessons at four YMCAs in Southern Nevada. The classes focused on water conservation, ecosystems and Camping 101/Leave No Trace.
"The classroom lessons called plumbing the Colorado teach summer campers about how water comes into the tributaries down to the Colorado River, and how it's used as it goes down the river, and how the water is removed from the lake for a variety of uses as it flows south into Mexico," said Sky McClain, Lake Mead NRA interpretive park ranger.
In the spring of 2015, the Outside Las Vegas Foundation entered into a formal agreement with the YMCA of Southern Nevada to provide curriculum based science and environmental education programs and associated field trips.
"When you think about field trips, they provide a unique hands-on experience that can't be fully replicated in a classroom setting," said Amanda Rowland Lake Mead NRA education and outreach specialist. "The field trips connect them to their community and environment in a different way. The activity gives them a chance to see where their drinking water comes from and how the city survives in the desert."
The field trip modeled and applied lessons learned during classroom lessons.
"In order for kids to learn they need different experiences," said Rowland. "The field trip is experiential learning;they will remember the river by doing the classroom activity and then being on the river they are reinforcing that knowledge through different learning approaches."
The Black Canyon Water Trail, a 30-mile section of the lower Colorado River that lies south of historic Hoover Dam, was recently designated as the Southwest's first National Water Trail. Partnerships with the alliance, OLVF and YMCA will help increase the understanding of the economic, cultural, natural and community resources that the water trail provides for Southern Nevada and Northern Arizona.
June 23, the Department of Interior identified Las Vegas as a priority city for youth engagement, promising to connect more local youth to public lands near the city.
Photos from the event can be viewed online at https://www.flickr.com/photos/lakemeadnra/sets/72157655468538998.
-NPS-