Date:
April 29, 2015
National Park Service
U.S. Department of the Interior
LAKEMEAD NATIONAL RECREATION AREA News Release  
ForImmediate Release: April 29, 2015
Release No.: 2015-20
Contact: 702-293-8691  
LAKE MEAD NRA RANGERS CONNECT KIDS TO ART, SCIENCE AND TECHNOLOGY
BOULDER CITY, Nevada -- Lake Mead National Recreation Area park rangers will be connecting kids with science, technology and art May 1 and 2 at First Friday and the Giant Science & Technology Expo.
The events are part of the fifth annual Las Vegas Science &Technology Festival that started April 24.
"We are thrilled to be so heavily involved in the nine-day festival because it connects the next generation with America's national parks," said Christie Vanover, Lake Mead NRA public affairs officer. "As part ofthe largest educational event in Nevada, rangers are able to engage kids in art, science and technology through nature and our public lands."
At First Friday, rangers will have lots of hands-on activities in the KidsZone at the corner of Casino Center Boulevard and California Avenue 5 to 9 p.m. May 1.
In the KidsZone, kids can participate in nature yoga, paint wildlife images, create a nature postcard and create a solar system. They can also become Junior Paleontologists as they learn about Nevada's newest park,Tule Springs Fossil Beds National Monument.
Western National Parks Association will also have an art booth, showcasing different art pieces that show all sides of nature. Kids will be able to meet some of their favorite park characters at the event, including Mojave Max the desert tortoise, Puddles the blue goose and Smokey Bear.
At the Giant Science & Technology Expo held at Cashman Center 10 a.m. to 6 p.m. May 2, there will be more than 80 interactive demonstrations, including paleontology activities, the Southern Nevada Agency Partnership mobile exhibit, a Grad 2016 display and a connect to nature art board. The Diverse Outdoor Leaders Institute will host a meet and greet 10:30 to 11:30 a.m. to discuss the new program that trains community members to become outdoor leaders.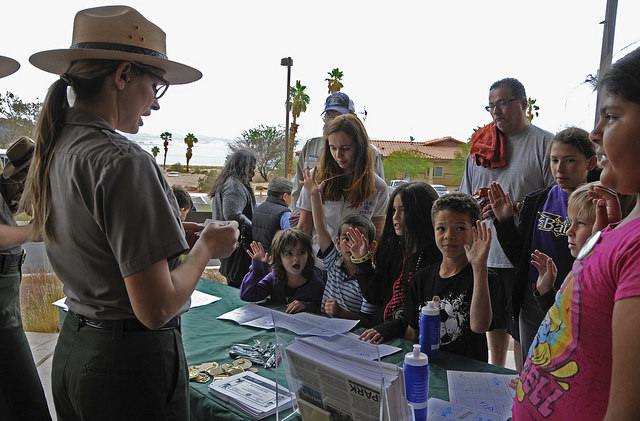 Earlier this week as part of the festival, Lake Mead National Recreation Area hosted Junior Ranger Day at the Boulder Beach Picnic Area. There were more than 400 event attendees, and a record breaking 239 kids were sworn in as Junior Rangers.
"We received a flyer from the school and thought it would be fun to get out of the city with the kids," said Kathleen Flores, who brought her two kids to the event. "They love being outdoors and walking trails, so we thought we would come out and try something new."
Her son Evan excitedly nodded when asked if he was having fun at the event.
Kids weren't the only ones enjoying themselves. Ranger Cook,who was helping kids try on firefighting equipment that rangers use, was all smiles.
"I'm a huge kid at heart," said Cook. "I think it's a lot of fun to interact with the kids and get them excited about this stuff."
April 26, the park also participated in Science is Everywhere Day where more than 50 children participated in nature painting in the park and more than 30 toured the park's native plant nursery.
For more information about the Las Vegas Science & Technology Festival, visit www.lasvegassciencefestival.com. For more information about First Friday, visit http://fflv.net/menu.
To download photos from Junior Ranger Day, visit www.flickr.com/photos/lakemeadnra.
- NPS -